Flooring
Looking to replace that worn out carpet in your classic car, or the vinyl mat in your truck?  From replacement auto carpet, to vinyl mats, to custom floor mats, we have the selection you're looking for.  All of our replacement carpet and vinyl mats are custom made in the USA by ACC (Auto Custom Carpets), and most are heat-molded to precisely fit the contours of your vehicle's floor.  They are available in a wide variety of colors and materials, offering you the ability to go original or custom.  We also offer jute padding if you'd like to add more cushion. All flooring products are available in carpet and vinyl - Select desired material on product page
Looking to replace that worn out carpet in your classic car, or the vinyl mat in your truck?  From replacement auto carpet, to vinyl mats, to custom floor mats, we have the selection you're looking for.  All of our replacement carpet and vinyl mats are custom made in the USA by ACC (Auto Custom Carpets), and most are heat-molded to precisely fit the contours of your vehicle's floor.  They are available in a wide variety of colors and materials, offering you the ability to go original or custom.  We also offer jute padding if you'd like to add more cushion. All flooring products are available in carpet and vinyl - Select desired material on product page
Automotive Flooring
ACC manufactures over 25,000 custom flooring items ranging from carpeting and vinyl flooring, to floor mats, to trunk mats and sound deadeners.  They offer a huge selection of replacement automotive flooring items that fit vehicles from the 1940s through today, and we carry all of them.  Whether you're looking for a vinyl mat for your 2001 Ford Super Duty, a trunk mat for your 1967 Pontiac GTO, or a replacement carpet for your 1953 Chevy 3100 truck, we have the Auto Custom Carpet products to help.
All of our replacement auto carpet and replacement truck flooring products are listed with their respective material type and colors, but feel free to contact us if you're looking for something that you don't see.  Most of the ACC carpet is available in original materials and colors to help with your restoration project, and every product is made to fit the vehicle that it's listed for.
---
Molded Carpet – Typically in vehicles from the early 1960's to current.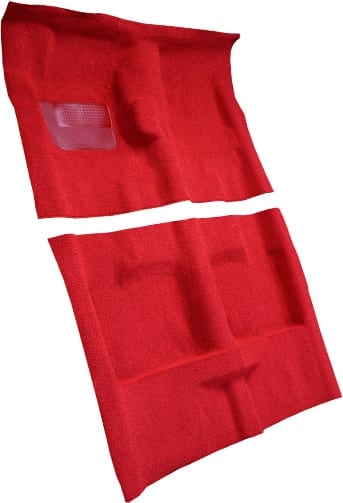 Molded to fit the contours of your specific floor pan (trimming may be required).
Padding — Included where padding was original.
Heel Pad — Accurately applied using the same method as the OEM.
Meets or exceeds OEM specifications.
Optional items including kick panels, door planels, wheel wells, tail gate pieces, etc.
Optional Mass Backing — Adds heat and sound control plus adds value to the overall look of the product.
Easy Installation — Visit our How To page for Installation Help.
---
Cut & Sewn Carpet – Typically in vehicles before 1960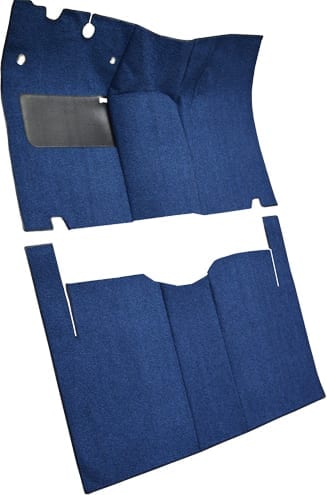 Cut using CAD controlled CNC equipment for precise fit.
Vinyl or suge-bound edges per original specifications.
Heel Pad — Accurately applied using the same method as the OEM.
Padding — Included where padding was original.
Original style materials to match original material.
---
Material Options
Our standard materials are designed to be a replacement for the original materials offered by the OEM. We use the same material on both Flooring and Floor Mat products to insure a perfect match. Available in over 230 color options.

---
Optional Materials
Essex – Essex is an Ultra Plush upgrade over our standard Cutpile. It creates a truly high end look to the interior of any vehicle. Be sure to specify Essex when you want the best. Available in 12 Color options.

Vinyl – Vinyl is an excellent option for trucks, Jeeps, SUVs, utility vehicles, and taxi cabs. Our Vinyl is a heavy duty, long lasting alternative to carpet. Available in 4 Color options.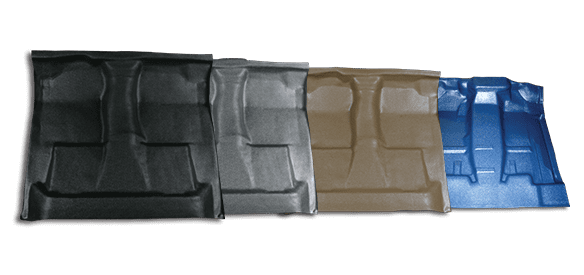 ---
Mass Backing Option
Great sound and heat barrier.
Increases the overall look of the carpet after installation.
Add-on option for most any Molded Carpet.
Approximately 45 mil thick EVA material.