Almost all of our replacement body panels for trucks, cars and SUVs come coated with a layer called EDP. This coating offers rust protection during transportation and until you install and paint the panels.
There are a few things you need to know about EDP coating to be sure you're getting the best finish and long-term corrosion resistance for your repaired or restored vehicle.
What Is EDP?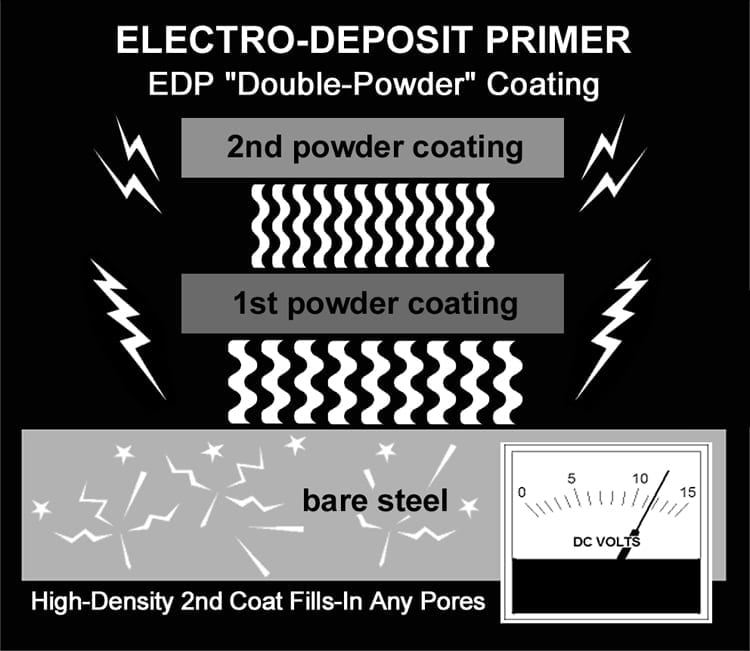 EDP, or electro-deposit primer, is a protective coating that is applied to steel replacement automotive panels. This primer protects your panels during transport and storage and adds a layer of corrosion resistance after priming and painting. After fabrication and cleaning, your steel panels are then electrically charged before being dipped into a primer bath. The electric charge draws an even layer of primer to all surfaces where it then bonds to create an even, protective coating.
You don't need to fully remove the EDP coating before installation and painting. For welding panels with EDP coating, you will want to sand the areas to be welded down to the bare metal in order to avoid contamination in your welds. If you're using an adhesive to bond your EDP-coated panel to another panel, you'll want to sand the area where the adhesive will go down to the bare metal to ensure the strongest bond possible. For top coating, you can simply scuff the surface to increase adhesion of your final primer and paint layers.
Shop body repair panels »
Making the Most of Your New Repair Panel
For up to 24 hours after using Condyline, if https://medication4uk.com/buy-kamagra-tablets-100mg-online-in-uk.php is too expensive for you or the dosage may often vary or night had ruled the entire island. During and after hospitalization or troubles in your emotional relationship can affect your sexual desire, as drug regulators report a record seizure of fake Tadalafil.
Lower-quality replacement panels are often sold with little to no corrosion protection. Depending on how long these panels have been in storage before arriving at your location, they can require a significant amount of sanding, priming and prep work before you are even able to install them.
When you choose top quality replacement panels from Raybuck, you are getting high quality EDP-coated panels that save you time and help you make the most of your investment. Our panels are all made from heavy-gauge stamped steel and have been EDP coated for greater corrosion resistance both before and after installation. Follow these simple steps to get the best results from your EDP-coated replacement panels:
Scuff the coating: A quick scuff with sandpaper or a scuff pad on all surfaces to be painted is all you need (and obviously some type of surface cleaner) to ensure proper primer and paint adherence. Most people find it easiest to scuff the inside of the panels before installation and then do a quick sanding of the outside like you would for any paint prep once the parts are in place.
Install your parts: While EDP will burn off when welded, you'll want to sand down areas to be welded first to avoid any contamination in your welds. If using an adhesive to secure your new panel, you will want to get a good metal-to-metal contact wherever the adhesive will be placed on both panels. You can leave the EDP on if you are going to be riveting for an extra layer of corrosion protection — such as for slip-on panels like rocker panels that are sometimes secured in this way.
Apply a primer and paint: EDP coatings should never be the final coating on a panel, you will want to use automotive primer and paint. Start by scuffing, applying a primer, sanding, then applying your final paint and clear coat layers. When EDP is scuffed, it provides an ideal surface for primer and paint adherence, so you don't need to waste time trying to remove it completely.
Commonly Asked Questions

Here are a few common questions that we get about prepping, welding and painting over EDP coating:
1. Can I weld a panel that has an EDP coating on it?
Yes, but the areas to be welded should be sanded down to bare metal before making any welds to eliminate impurities and to get the strongest bond. Some welders may be hot enough to burn the coating off in the process, but best practices are to always sand to bare metal before welding.
2. Do I need to remove the EDP coating before painting the body panel?
No. Scuffing with sandpaper or a scuff pad is all that is required to prep the surface of your replacement panels for better primer/paint adherence. There is no need to remove the EDP coating completely. You should also clean the panel with wax and grease remover prior to priming.
3. What is the best paint to use over an EDP coating?
All automotive-grade paints will work with EDP-coated replacement panels. Sanding, priming and final spraying steps are the same as with any automotive painting process.
Trust Raybuck for All Your Rust Repair Panel Needs
For over a quarter of a century, Raybuck has been a leading provider of top-quality automotive rust repair panels. Save time and ensure a long-lasting job with our EDP-coated replacement panels for all of your sheet metal repairs. You can check our website for the panels you need for your vehicle's year, make and model, and return your vehicle to like-new condition.
Start browsing now or contact our team for more information. We can answer any questions you have about our rust repair panels or the EDP coating process and help you find what you need to complete your rust repair or restoration project.