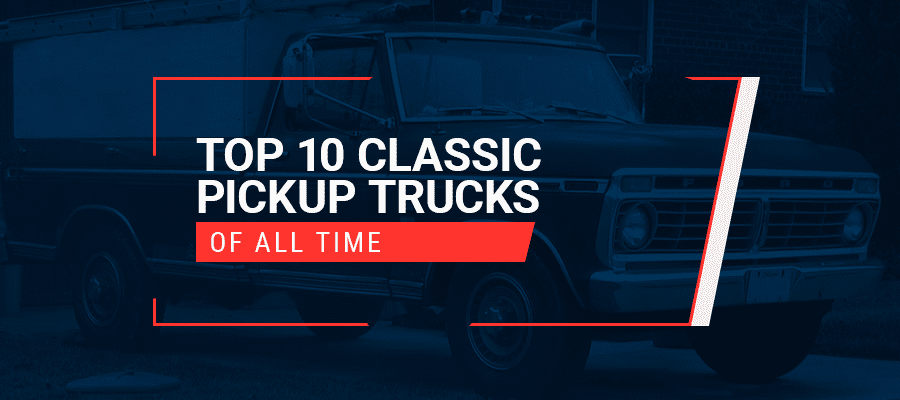 Some of the best classic trucks include various Ford, Dodge or Chevrolet models. For the truck enthusiast, repair expert or anyone who wants to know more about truck history, learning the top 10 classic pickup trucks can expand your knowledge and inform you about your next purchase.
Here's a countdown of some of the best classic pickup trucks of all time.
10. 1975 Ford F-150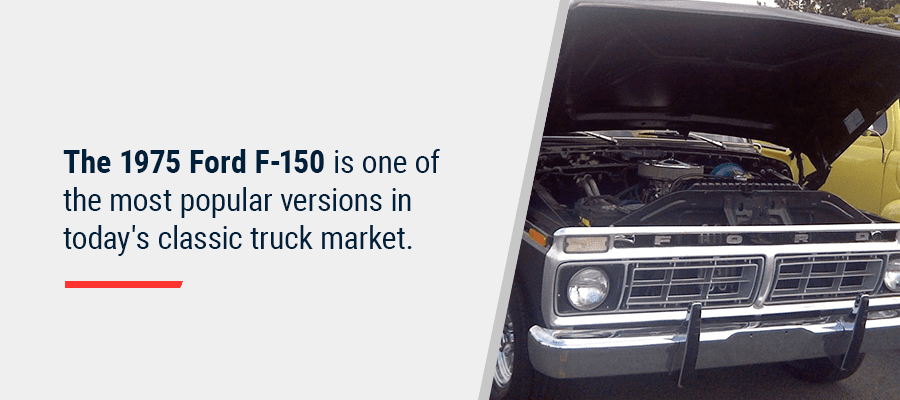 The Ford F-150's first generation model was made with manual transmission. It came with driver- and passenger-side windshield wipers and washer fluid capabilities, making it a massive step forward in terms of Ford's technological abilities.
The second-generation Ford F-150 models were made with new, updated engines. Ford updated the truck's chassis and created a vehicle with a roomy interior and options for an inserted radio, lighter, dome light or armrests.
The 1975 Ford F-150 is one of the most popular versions in today's classic truck market. The truck was known for its heavy-duty, beefy suspension capabilities and a gross vehicle weight of more than 6,000 pounds. Today, the F-150 has transitioned to all-electric. The Ford F-150 Lightning takes inspiration from the classic truck and is popular among consumers today.
9. 1956 Ford F-100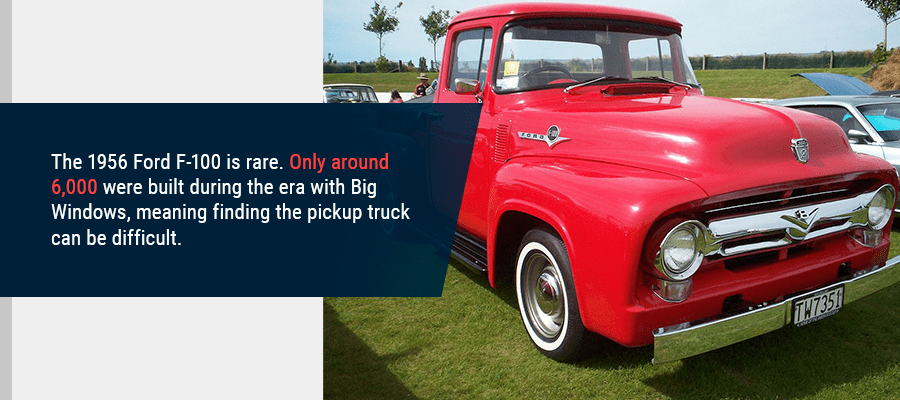 The 1956 Ford F-100 had a full-wrap or wrap-around style windshield. The wrap-around style included glass curved on each side of the pickup truck, meaning the truck had a smooth, bubbled aesthetic. Ford also changed the A-pillars to be more vertical than slanted, which was typical for other models.
The full-wrap rear window on many of the F-100s was named the "Big Window." Big Window trucks are rare today, often containing a revised grille without the distinctive V-shaped top bar that many Ford enthusiasts know. The 1956 Ford F-100 is known for its classic and streamlined look.
The 1956 Ford F-100 is rare. Only around 6,000 were built during the era with Big Windows, meaning finding the pickup truck can be difficult. Due to its rarity and iconic design, the truck is highly sought-after in many circles. Many of the 1956 models available today can be seen in shows around the United States or at vintage meets where the pickup truck is sure to create buzz.
8. Chevrolet Cameo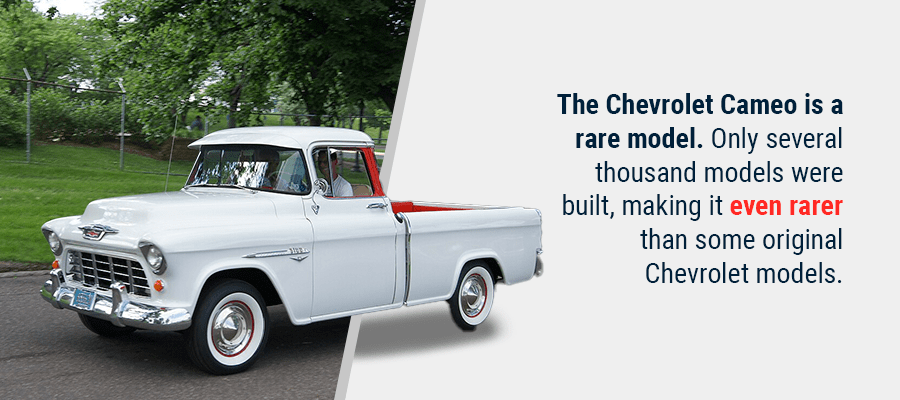 One of the most popular classic Chevy trucks, the Chevrolet Cameo housed a refined trim and car-style hubcaps. With an iconic two-tone paint job and smooth pickup bed, the Cameo turned heads wherever it went. Perhaps the biggest change from other Chevrolet trucks was the Cameo's bed. With a larger shape and unique features like a hinged rear bumper housing a spare tire, the Cameo truck bed stood out among older models.
Featuring additions from other Chevrolet models, like tail lights with trim or a rear bumper like the Bel Air, many customers appreciated that the new model included standard Chevy pickup truck features.
The Chevrolet Cameo is a rare model. Only several thousand models were built, making it even rarer than some original Chevrolet models. Because of this, the Cameo is popular with collectors across the country and can be found at auction for hefty prices.
7. 1947 Chevy 3100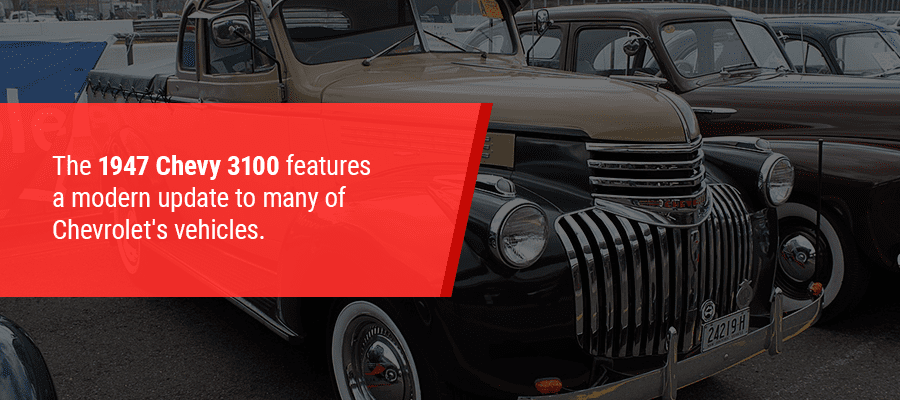 The 1947 Chevy 3100 features a modern update to many of Chevrolet's vehicles. The pickup truck had integrated fenders, a tinted windshield and a bigger truck bed for improved hauling. Chevrolet also gave consumers a choice between three engine variations and three payload sizes. With a broader, stable track, the Chevy 3100 was accurately named the "Advanced Design."
Many car industries were involved in the WWII effort during this time, meaning that from 1942 to 1945, Chevrolet planned to market a new series truck post-wartime. The 1947 Chevy 3100 marked the beginning of a new design and improved technology for Chevrolet. The design of the post-war American vehicle is considered revolutionary.
6. Chevrolet C/K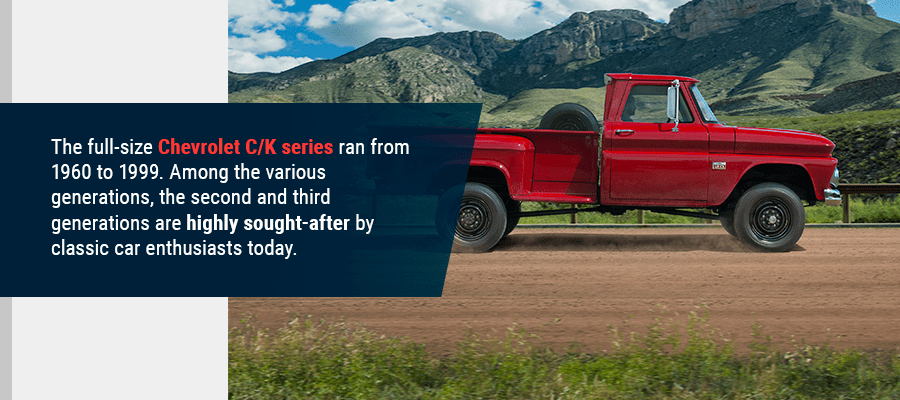 The full-size Chevrolet C/K series ran from 1960 to 1999. Among the various generations, the second and third generations are highly sought-after by classic truck enthusiasts today.
The second-generation Chevrolet C/K models began in 1967. It created a basis for what many consumers now expect pickup trucks to look like and set the bar for modern pickup truck aesthetics.
The third-generation Chevrolet C/K model was nicknamed the "square body" truck. Built in 1973, the square body C/K had advanced updates and a well-engineered boxy design. Many appreciated the pickup truck for its comfort and spacious interior.
Finding many of the second- or third-generation models today can be difficult. If you stumble on the Chevy C/K, you're fortunate. Because many models in the series ran for a limited time, classic truck enthusiasts and collectors make this a highly sought-after addition.
5. 1963 Jeep Gladiator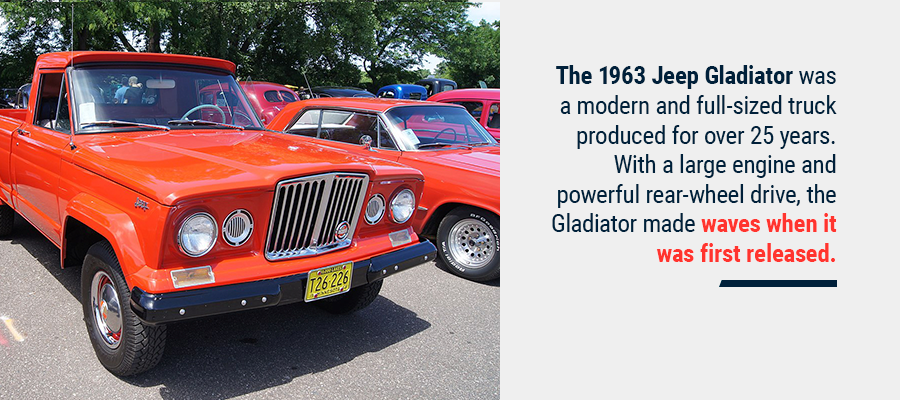 The 1963 Jeep Gladiator was a modern and full-sized truck produced for over 25 years. With a large engine and powerful rear-wheel drive, the Gladiator made waves when it was first released.
The Jeep Gladiator is a rare find. It ceased production in 1971, only to return a few years later once the J-series was produced. With a different name that made it easy to distinguish from other Jeep models, the 1963 Gladiator is sought-after among many collectors and truck lovers across America.
4. 1991-1992 GMC Syclone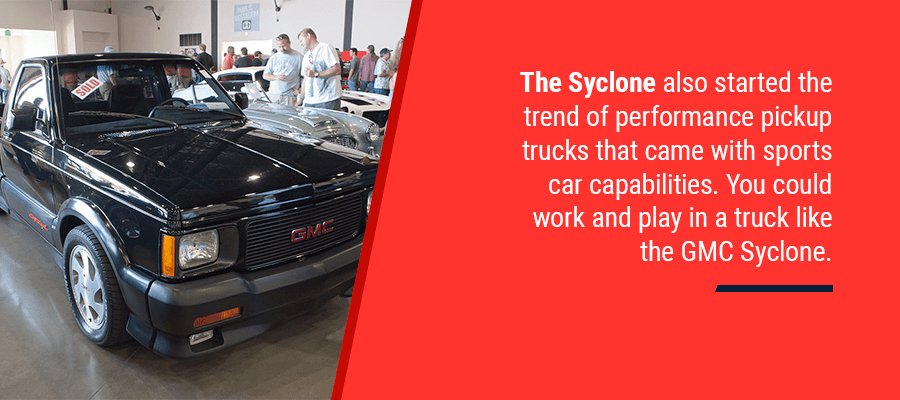 The 1991-1992 GMC Syclone was known to handle any and every terrain possible. It could even keep up with famous sports cars or performance vehicles, meaning you could drive with style and power. The Syclone also started the trend of performance pickup trucks that came with sports car capabilities. You could work and play in a truck like the GMC Syclone.
The GMC Syclone is a popular pickup truck among muscle car lovers and gearheads, meaning it's sought-after in many classic truck circles. While the GMC Syclone is unique, it's most remembered for its straight-line racing abilities. Those who enjoy a truck with power and speed will love the Syclone.
3. 1946 Dodge Power Wagon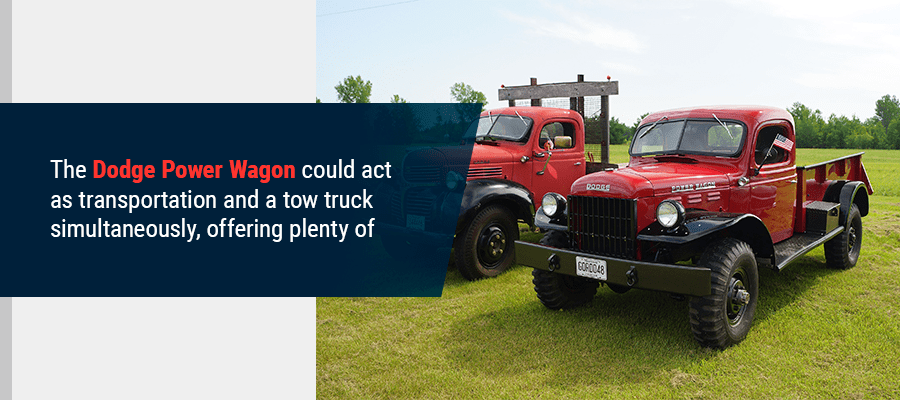 The 1946 Dodge Power Wagon offered a consumer model to the general public. It featured a more extended cargo box and a wheelbase over 120 inches. With 94 horsepower and manual transmission, the truck had speedy, dual-power take-off. The Power Wagon could be used for many things, from hauling to pulling a plow to transporting a large family.
The Dodge Power Wagon could act as transportation and a tow truck simultaneously, offering plenty of power. With such intense strength and abilities, its post-war design is unique to the era, making it one of the most classic pickup trucks ever made.
2. Ford F-250 Highboy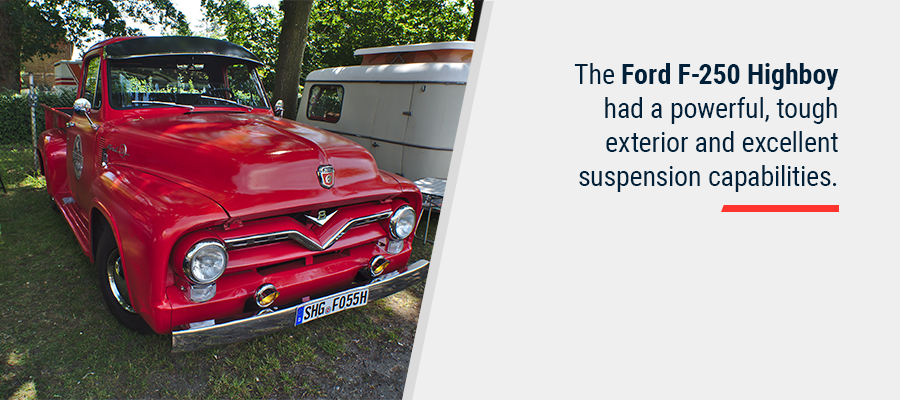 The Ford F-250 Highboy had a powerful, tough exterior and excellent suspension capabilities. Many consumers enjoyed that they could swap out tires with little to no effect on the suspension. One of the reasons the F-250 earned the name "The Highboy" was the popularity of swapping out the original 31-inch tires with 35-inch tires.
The suspension opportunities make it popular to this day. The style of the Highboy is iconic and recognized among many truck-enthusiast circles. With the rising popularity of the Highboy, the Ford F-Series quickly became one of the most loved pickups in America.
1. 1978-1979 Dodge Li'l Red Express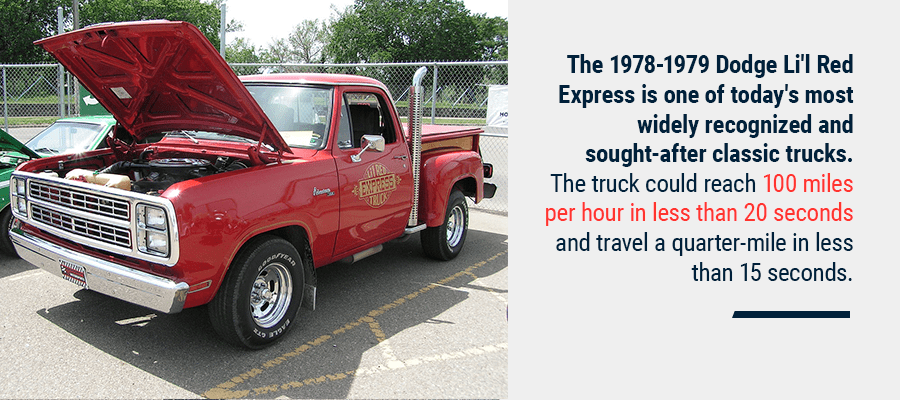 The 1978-1979 Dodge Li'l Red Express is one of today's most widely recognized and sought-after classic trucks. Back in the day, Dodge ran ahead of its competitors with the new addition of the Red Express. The truck could reach 100 miles per hour in less than 20 seconds and travel a quarter-mile in less than 15 seconds.
The Red Express was incredibly fast. It quickly rose in popularity and has become a classic pickup truck recognized in many truck-enthusiast circles. The iconic coloring and design, along with its incredible speed and power, mean the truck's recognition has yet to be surpassed.
Find Quality Pickup Truck Parts at Raybuck Auto Body Parts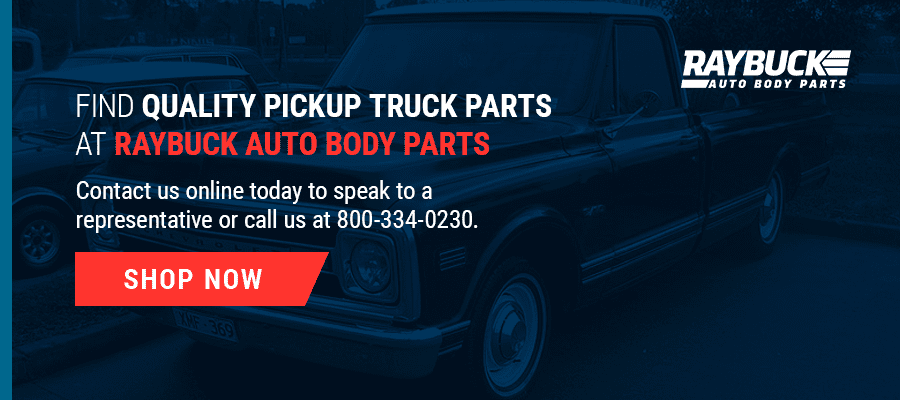 Raybuck Auto Body Parts offers high-quality truck parts and services for those who need fair pricing on restoration and replacement parts. Our company is a top supplier of aftermarket parts, whether you want to restore the parts to your Ford F-150 or want to find replacement services for your Chevy Cameo.
Contact us online today to speak to a representative or call us at 800-334-0230.