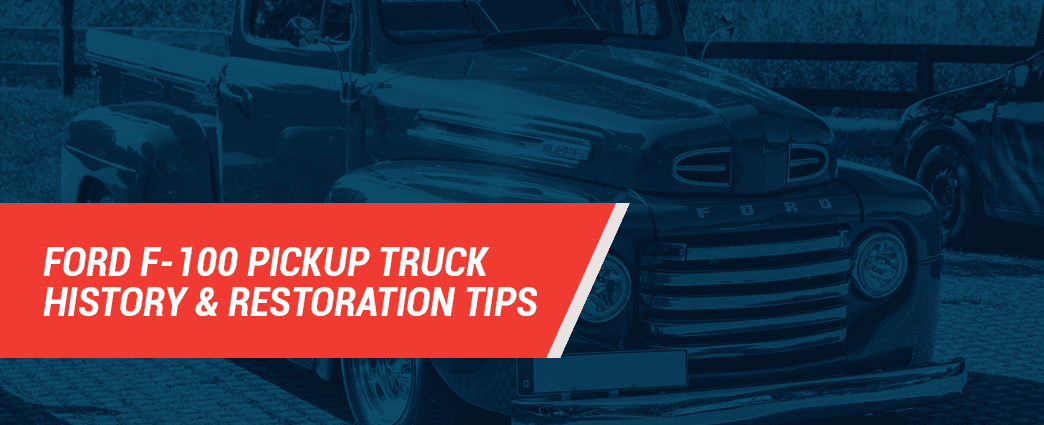 Back in its prime, the Ford F-100 was one of the leading trucks on the market, and today, it remains one of America's most iconic pickup series. Ford Motor Company innovated the performance, design and comfort of these vehicles to create a pickup that appealed to not just workers in certain sectors but the general public as well.
If you have an F-100, it may need some restoration work to get it running and looking its best. Raybuck Auto Body Parts is a leading supplier of restoration auto body parts for Ford trucks. We are truck enthusiasts like you, so we understand what it takes to complete the perfect restoration. Understanding your truck's history and reading through this F-100 restoration guide will help you get the results you want.
Quick links:
History of the Ford F-100 Pickup Truck: 1948-1983
The Ford F-series is the epitome of what it means to own a pickup in the U.S., and it all started with the F-100. Before Ford's smallest pickup series debuted, little attention was given to the safety, comfort, handling and fuel economy of pickups.
From the start, it was Ford's goal to create a pickup for people who wanted a true workhorse. However, the seven generations of the F-100 classic truck underwent significant changes over time, and the trucks began to transform into a vehicle that everyone could drive, as well as a tough, dependable truck. The company wanted to make the pickup truck more accessible to the average American as opposed to just commercial fleets and farmers.
Although the series is no longer in production, it's one of the most sought-after Ford pickups for restoration enthusiasts. Collectors and owners love restoring them and appreciate the build of these old-time trucks. Through our Ford F-100 history and restoration guide, you can learn how to fix up your vehicle and keep in looking like new for years to come.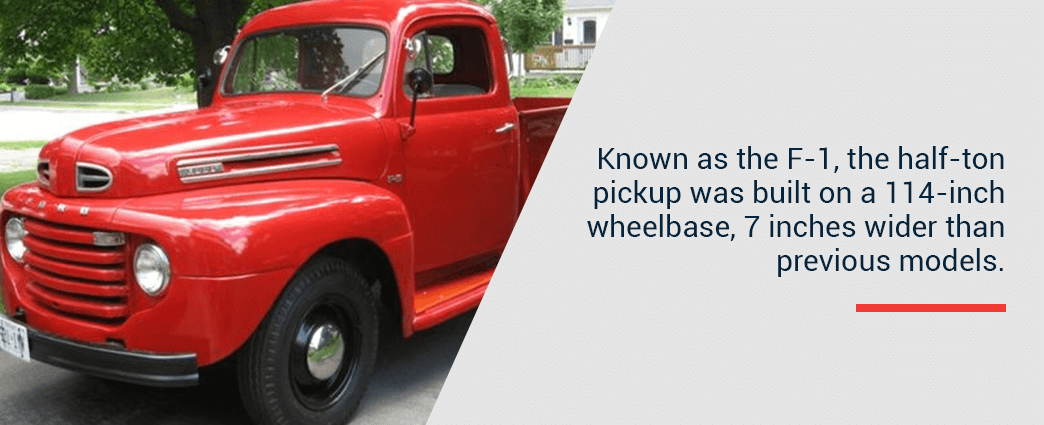 First Generation: 1948-1952
In 1948, the Ford Motor Company designed its first F-series, known as the "Ford Bonus Built." It was the fist pickup available through Ford after World War II. It was a time of innovation and new designs as jobs became plentiful for Americans.
Known as the F-1, the half-ton pickup was built on a 114-inch wheelbase — 7 inches wider than previous models. The design of the front fenders was taller, wider and appeared as a single, coherent piece. Ford also molded rounded rear fenders and a horizontal, rather than vertical, grille. They moved the doors forward by 3 inches for easier access and added a three-way ventilation system with vent windows.
Another nickname for the F-1 was the "Million Dollar Cab" because it had more features and updates than previous trucks. Ford sold thousands of pickups in the first year, making it their best year of sales since 1929.
In 1950, sales increased because the U.S. was heading into the Korean War, and customers worried that it would lead to limited availability. A single bar grille and protruding headlights were introduced in 1951, and 1952 saw few changes.
Shop 1948-1952 Ford Truck Parts

Second Generation: 1953-1956
Only five years into manufacturing the F-1 pickup, Ford celebrated its 50th anniversary in 1953. To commemorate their achievement, they renamed the F-1 to the F-100. It's now one of the more prized collector's items. Ford F-100 pickup trucks were referred to as "Effies" by enthusiasts worldwide.
It was the first generation to get rid of flathead engines by upgrading to an overhead valve, also known as a "Power-King." The Y-Block V-8 engines could reach up to 130 HP, which was a big deal back in the day.
New features of the second-generation pickup included wood floor beds and a low floor to ground height. More curves characterized its longer hood, and the truck now had a double-bar grille. One of the major contributing factors to the F-100's popularity was a curved windshield known as the "Big Window."
Ford Motor Company — FOMOCO — also began promoting the economic benefits of their vehicles. With the 1954 line approaching, they started promising triple economy benefits from the F-100 model. The trucks began to hold more capacities that could save people money in the long-run.
The 1955 version had an iconic V-shaped grille as its dominant feature and a bigger cargo bed. The "Styleside" body also made an appearance. It formed a smoother transition as the cab and bed of the truck came together. Ford made their cargo bed bigger compared to other manufacturers at the time who were making them only appear wider. The Styleside delivered more space compared to the "Flareside" approaches from previous styles of Ford and other brands.
The 1956 model was the easiest to identify in the second generation because it had a complete body alteration that included vertical windshield pillars.
Shop 1953-1956 Ford Truck Parts

Third Generation: 1957-1960
In the late 1950s, Ford introduced practical feature updates as well as style-related modifications to the F-100 series. With a more streamlined appearance, the Styleside pickup was ahead of the game when it came to power, comfort, safety and load capacity features.
The 1957 model came with a full redesigned look as compared to the 1956 version. With its squared-off fenders, the truck had four headlights, not two. It also had two-tone paint for enhanced aesthetics. Ford created a custom cab upgrade that featured color-keyed upholstery, along with other improvements such as an illuminated cigarette lighter, sun visors and custom cab script on the doors. The third generation saw many changes to the grille.
In 1959, FOMOCO introduced the four-wheel-drive option in their factory-built vehicles. Before, they had to get the trucks converted into four-wheel drive. Many manufacturers at the time began exploring how they could do it themselves in the factory, which eliminated the need to outsource.
If you're restoring your third-generation F-100, Raybuck offers various high-quality parts that can help your 1957-1960 pickup look and function as well as it did in its heyday.
Shop 1957-1960 Ford Truck Parts

Fourth Generation: 1961-1966
In 1961, Ford developed the "unibody" style. The Styleside pickup from the generation before was one of the most popular classes in the current market. Therefore, Ford wanted to introduce an even more appealing version.
The unibody pickup had enhanced stylistic features that also reduced the company's manufacturing costs. They decided to eliminate the gap between the cab and bed of the truck to give the vehicle a sleek appearance while boosting storage space.
Although it looked amazing, it was quite controversial. When people began hauling things with the rig, it went downhill. There was little to no flexibility with the new design, causing too much weight to fall in the back. As a result, drivers experienced twisting issues. Doors would also open at random or not open at all. The rocker panels would rust easily from improper door sealing, too.
The unibody was the first design that didn't go as planned. So, Ford got rid of it and developed the Twin-I-beam suspension in 1965. The new suspension had coil springs instead of leaf springs, as well as larger shock absorbers to make for a smoother ride. The F-100 also went back to two headlights and positioned Ford lettering at the center of the grille.
In 1965, the name "Ford Ranger" appeared as a package option within the F-series models. Ford then revealed a four-door crew-cab F-100 in 1966, which made it easier for people to transport passengers. It was a major selling point that we often can't imagine our current vehicles without.
Raybuck has a multitude of Ford F-100 parts for your 1961-1966, fourth-generation pickup. We are here to support your restoration projects, whether you're conducting a complete or partial restoration.
Shop 1961-1966 Ford Truck Parts

Fifth Generation: 1967-1972
By the fifth generation, the curved hood was reduced and became straight-edged or squared-off. Ford began focusing on the masses by designing a truck for everyone — not solely for workers. They started with a complete restyling of the pickup and began offering more engine options. Trucks used to be pretty standard, but at this point, you could choose between many features.
The company was known for offering packages that catered to different types of drivers. For example, they provided the Camper, Contractor and Farm and Ranch Specials. Other features included a wider cab and more trim choices. 1967 was also the year FOMOCO changed the chassis and body styles of the F-100s. The generation was referred to as the "Bumpside" truck because of its wider bumpers.
In 1968, Ford introduced window cranks, armrests, interior door handles, heater control and upper trim molding. The new components were geared toward a more ergonomic and comfortable ride for passengers and drivers alike. In 1969, Ford brought in the V-8 engine, which was 390 cubic inches. The rest of the years in the fifth generation saw small changes. In 1971, Ford sold about 515,400 pickups — a record-breaking achievement.
When you're ready to restore your 1967-1972 F-100, Raybuck has a vast selection of parts and body panels for your project.
Shop 1967-1972 Ford Truck Parts

Sixth Generation: 1973-1979
Ford Motor Company continued with the squared-off look of the previous generations, then transferred it to the headlights by getting rid of the rounded versions. In 1973, Ford designed what was known as the "Dentside" model because engineers got rid of the bump component. The truck also underwent grille and headlight changes, along with the addition of body side moldings.
In 1974, a new F-100 model was released called the Supercab because of its extended chassis. 1974 was also the first year where the truck underwent no grille changes. Additional comfort components appeared in the sixth generation, including updated heating and air conditioning.
In 1977, the Ford F-100 was dubbed "America's Favorite Pickup." By 1978, Ford sold more than 1.3 million F-series trucks, solidifying their popularity in the USA. The company also came up with their famous slogan in 1979 — "Built Ford Tough."
F-100 restoration projects require high-quality parts. Raybuck has an extensive inventory of 1973-1979 Ford restoration parts and panels that can accommodate both large and small restoration projects.
Shop 1973-1979 Ford Truck Parts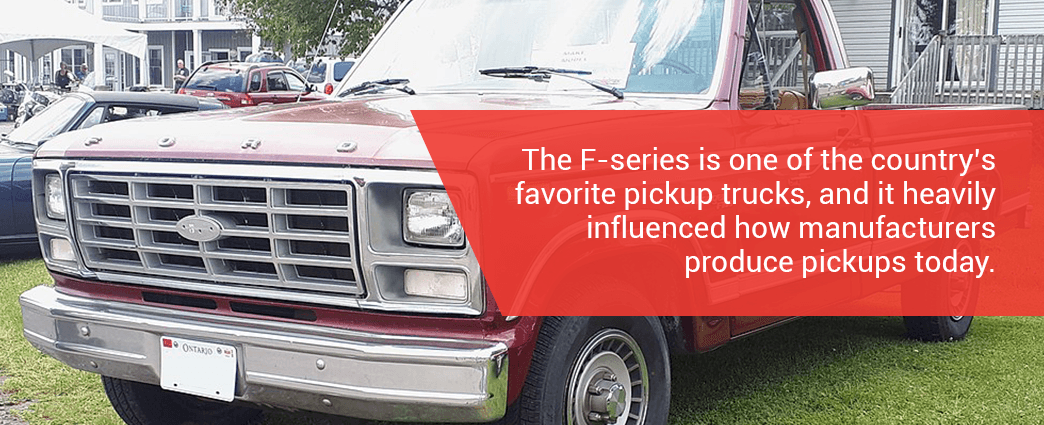 Seventh Generation: 1980-1983
The seventh and final generation of F-100s began to experience a decrease in popularity because the F-150, introduced in 1975, was the new up and coming truck. By 1983, Ford discontinued the company's smallest, classic trucks. Over time, the F-150s rose to be America's favorite pickup.
If you own a 1980-1983 F-100, Raybuck knows how much you value your pickup. Restoration requires precise solutions, so we carry a large inventory of F-100 restoration parts and body panels to keep your truck looking and performing its best.
The F-series is one of the country's favorite pickup trucks, and it heavily influenced how manufacturers produce pickups today. As of 2020, the brand will be celebrating 72 years of engineering F-series trucks.
Knowing the history of your particular Ford can help you understand which parts were the most prominent and game-changing for its era and give you ideas on how to restore your vehicle.
Shop 1980-1983 Ford Truck Parts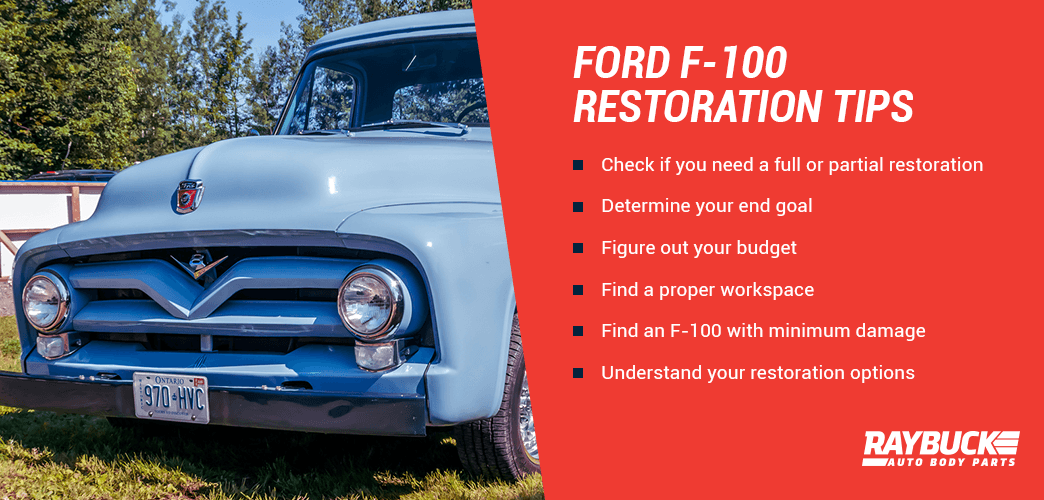 Ford F-100 Restoration Tips
Before revving into the restoration process, consider a few tips to help you from start to finish. It's always a good idea to plan out the process and determine your overall expectations for the project. No matter if you have one of the first F-100 models or the latest, you will want to put significant time and consideration into your restoration.
1. Do You Need a Full or Partial Restoration?
A full restoration involves restoring every component of your pickup, including its engine, suspension, floors, body panels, interior and more. If you choose a partial restoration, you will be focusing on particular areas on your Ford.
As a third option, you can also consider RestoMod — part restoration and part modification. You can combine the classic components of your vehicle with modern technology. It's a way to keep the original style of your F-100 while also enjoying modern comforts and capabilities.
2. What Is Your End Goal?
Start by asking yourself what you want to get out of the restoration project. Do you drive your F-100 every day? Do you display it at car shows? How you use your pickup will help determine which changes you want to make. You can also decide which pieces mean the most to your project. You may want to include only original features or try to create a unique look by adding modern components as well.
As you're figuring out your goals, create a schedule. Can you take your time on the restorations or do you have a strict timetable?
3. What Is Your Budget?
Figuring out how much money you can spend will help you obtain your restoration goals. You can even restore one component at a time in order of importance. This approach can help you stay on budget while ensuring you get the most vital upgrades done.
4. Do You Have a Proper Workspace?
Having the right workspace can make all the difference in a restoration project. You will need a big enough space, such as a workshop, barn or garage, and will also need to invest in the correct equipment and tools — everything from simple drills and car jacks to welding materials.
5. Are You Buying an F-100, or Do You Have One Already?
If you have an F-100 you bought ages ago, you're off to a good start. However, looking for an F-100 can be a bit challenging. You will want to find one with minimum damage, rust and corrosion. You will also want to find as many of the original parts as possible, especially the trim. Make sure to research the truck and determine the expected repair costs of different options.
Other things to look out for are how much it's been driven and what its storage facility looks like. Be wary of any that may have spent the better part of their lives outdoors in the elements. Make sure to conduct a thorough inspection and check its VIN.
6. Do You Want to Include Wood Floor Beds in Your F-100?
The second generation of Ford F-100s began the integration of wood floor beds. Some generations may look better without, while some can gain an enhanced, retro look. The boards give your truck more of a 1960s look with a fresh exterior. You can choose to invest in a kit or craft your own wood floor bed design.
DIY restoration enthusiasts can choose to renovate their vehicle to its original design or add personal touches. You can opt for a wood floor bed or choose a RestoMod approach. Your options are endless, no matter what F-100 year you have. By following our tips, you'll be on your way to getting your truck back into mint condition.
Shop Ford F-100 Restoration Parts Online Today
Raybuck Auto Body Parts offers high-quality Ford F-100 restoration parts and body panels to help you complete a successful restoration. Our experts are here to help you economically restore your vehicle and meet your project goals.
Browse our inventory or contact us online to speak with our knowledgeable staff. We provide competitive pricing and offer guidance to help you through the restoration process. Raybuck employees are truck people like you and use our parts on our projects, too.