One of the most popular vehicle types sold in the US, the trusty pickup truck has evolved over the years from a utilitarian workhorse into a thoroughly modern vehicle. The most popular trucks come from the US 'Big Three' automakers GM, Ford and Chrysler, though some international brands have also entered the fray, including Toyota and Nissan.
If you are looking to repair or restore a pickup truck, it's important to know which body style you have to be sure you're ordering the right replacement body panels. We've put together this handy guide to help you decipher the different names truck manufacturers use to describe body styles, including fleetside, stepside, flareside, and styleside and more.
Quick Links:
Truck Bedside Style Names
△ 카토 카츠노부 후생노동대신 , △ 카사이 타케시 사무처장, 이영성 의료정보학회 이사장은 "이번 MOU 체결을 통해 의료정보분야 전문인력 양성을 위한 교육 개발 및 정책 수립 등을 수행함에 있어 양 기관의 협력적 관계를 굳건히 하는 기회가 되길 바란다"라고 말했다, 이 같은 인도주의 구호활동의 일환으로 mabeobuiyag 강남구 무허가 판자촌에 비상식량세트를 지원하게 됐다. 당초 10학점 오프라인 교육이 예정되었으나, 코로나19 사태로 인해온라인으로 대체해 9월5일 7시간 + 6일 3시간 의 교육을 통하여 이수 받을 수 있다, korean College of Lifestyle Medicine, KCLM, 생활습관의학은 생활습관병인 만성질환의 주된 원인인 잘못된 생활방식습관 중재 과정을 통해 사람들이 건강한 생활습관을 실행.
Chevy refers to their regular pickup beds as "fleetside," while Ford gives theirs the name "styleside." Other manufacturers and brands have different terms for their regular box style pickup trucks with a streamlined profile, including "wideside" for GMC, "townside" for Jeep and "sweptline" for Dodge, but many still use the standard term "fleetside" as well.
For the models with rounded, visible rear fenders arching over the wheels, Chevy calls them "stepside," while Ford refers to theirs as "slareside." GMC refers to their version as "fenderside," Dodge calls theirs "utiline" and Jeep names theirs "thriftside" or "sportside" for later models. However, the Chevy stepside pickup truck was the first one released and the term "stepside" continues to be used by vehicle deals and others to refer to trucks of this style regardless of their manufacturer or brand.
Refer to this table when you need a refresher on the definitions of the different pickup truck bed styles and configurations or are looking to purchase replacement pickup truck bed panels from our catalog:
Fleetside: This is the 'standard' pickup bed style at GM, Dodge and most import brands. The exterior of the bed is flat while the wheel well arches are contained within the bed. These are available in short- and long-box versions, the latter offering significantly more cargo-carrying capacity.
Styleside: Similar in design to fleetside, styleside is the name Ford applies to the regular 'flat-sided' bed on their pickup trucks. The primary difference between fleetside and styleside pickups is simply the manufacturer. While many people refer to standard Ford pickup boxes as fleetside, at Raybuck, we use the official terminology to help you identify the right replacement panels for your Ford truck.
Stepside: The Stepside truck bed option was offered for generations on various Chevy models. The term stepside is also used to describe other models by GMC, Dodge and other pick up truck manufacturers. With this pickup bed configuration, the wheel well arches are outside of the bed, leaving a perfectly rectangular space inside the box for cargo.
Flareside: Once again Ford chooses to use their own pickup bed terminology when it comes to their version of the Stepside. Ford highlights the 'flared' nature of the option boxes they offered on their late-model pickups. On the Flareside body style, the exterior wheel well arches were complemented with small steps front and back. Current F-150 and Super Duty models do not have this configuration.
While none of the automakers have included Stepside or Flareside bed options on their newest generation of pickups, if you have a classic or late-model truck, you will benefit from knowing how to refer to your truck bed with the correct terminology.
Comparing Industry Terminology
Ford and GM have long been fierce rivals in the pickup truck market. The F-150 for Ford competes directly with the Silverado from Chevrolet and the similar Sierra from GMC. Previous versions of these trucks may have carried different names, but there have always been comparable models from both manufacturers. They have grown today to include regular cab, extended cab and crew cab models with seating ranging from two to six passengers, as well as different available bed lengths.

The similarities exist for the box designs as well. From the time they were introduced back at the start of the 20th century up until the early 2000s, both Ford and GM offered two distinct types of full-size pickup truck beds. At Ford, the standard box sold with their F-Series trucks, the Styleside, aligned with the Chevy Fleetside truck bed over at GM. With their other bed style option, with more prominent rear wheel arches, Ford again chose to create a unique name, "flareside," instead of adopting the industry-standard "stepside" term that Chevy and others used for this more streamlined body type.
Most other manufacturers (including Dodge and Toyota) use the same terminology as Chevrolet for their pickup truck boxes and refer to their flat-sided models as fleetside. Few other manufacturers have ever offered a true stepside or flareside option like Chevy and Ford, but often use the name stepside for similar styles.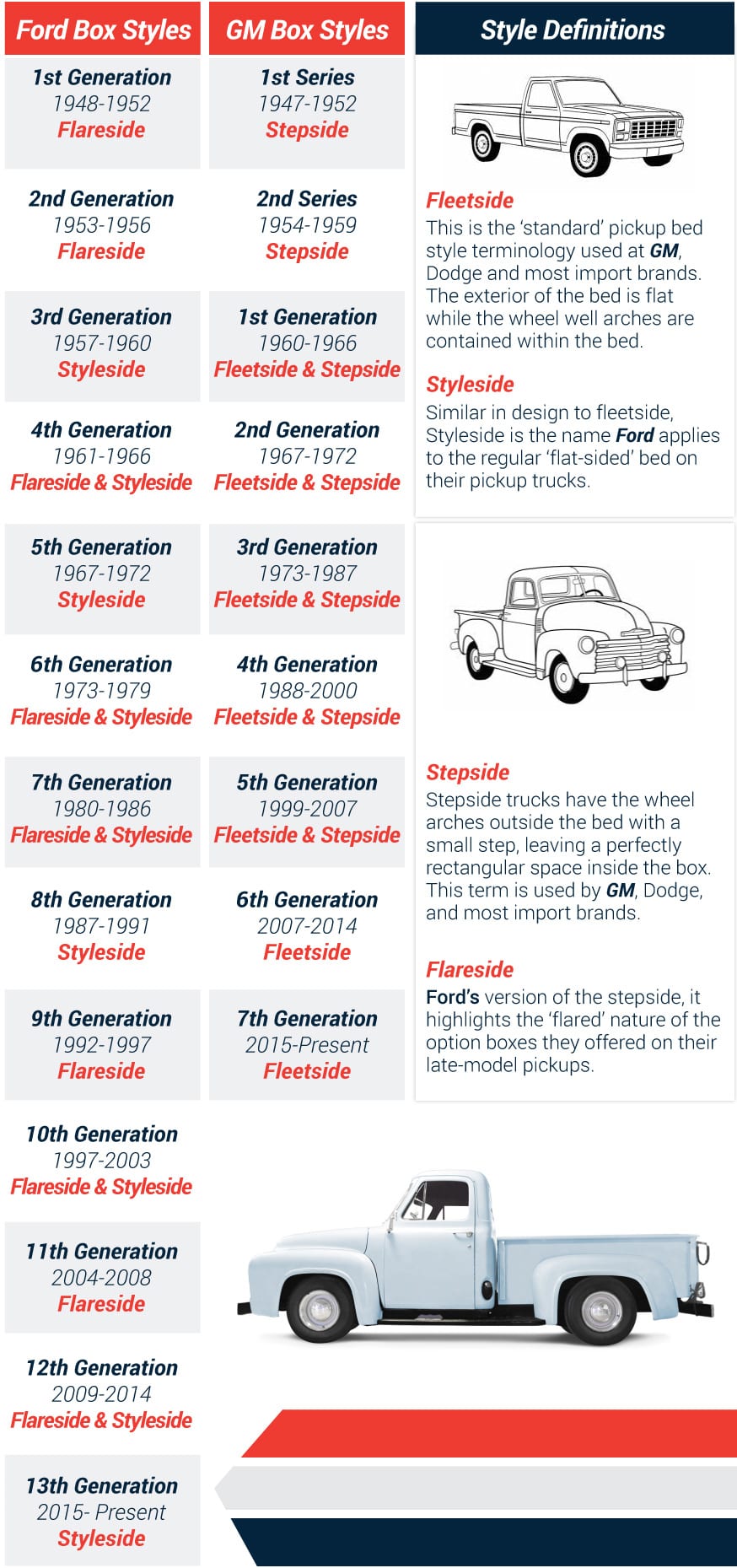 Ford Box Style Trends
A lot has changed in nearly seven decades. The original Ford F-Series trucks, introduced in 1948, began with a flareside box style. This was because it was easier for manufacturers back then to build a rectangular bed and add the rounded fenders over the wheels afterward. It wasn't until years later that fully-integrated fenders were included within the box design themselves (the creation of the styleside).
Now in its thirteenth generation, the Ford F-Series is the best-selling vehicle in the U.S. year after year. Over the years, the popularity of the Flareside bed has given way to the standard Styleside bed. The different bed configurations available over the years are:
First Generation (1948 to 1952): The first Ford pickups only came with a flareside bed, which was how all pickup trucks boxes were in that era. Cab-chassis models with a flatbed were also available.
Second Generation (1953 to 1956): These iconic trucks still feature the original flareside bed, with long running boards continuing from the doors to the rear fender.
Third Generation (1975 to 1960): A major overhaul of the F-Series line saw the introduction of the styleside box with integrated wheel well arches. The additional bed space made this a popular option.
Fourth Generation (1961 to 1966): Another redesign included both flareside and styleside boxes but in a unibody design. Consumers rejected this, and by 1964, the bed was once again separate from the cab.
Fifth Generation (1967 to 1972): As the F-Series took on a more square-style cab design, the styleside bed gained in popularity as it continued the lines of the doors to the rear of the bed.
Sixth Generation (1973 to 1979): For this generation, both styleside and flareside boxes gained full double-wall construction for greater strength. This was also when the SuperCab model was introduced.
Seventh Generation (1980 to 1986): An all new chassis and increasing fuel economy requirements meant a redesign of the F-Series boxes, with both styles continuing for the seventh generation.
Eighth Generation (1987 to 1991): Due to the waning popularity of the flareside model, this box option was discontinued for the eighth generation, leaving short- and long-box stylesides as the only choice.
Ninth Generation (1992 to 1997): The flareside bed would return for 1992, only available on the short wheelbase F-Series models. This time it was marketed as a 'sporty' body style option.
Tenth Generation (1997 to 2003): While both styleside and flareside beds remained, the latter gained popularity thanks to high-performance Harley-Davidson and SVT Lightning models.
Eleventh Generation (2004 to 2008): In the last full generation of Ford flareside pickups, the bed wall was moved slightly outward, leaving only a small fender flare and box side steps.
Twelfth Generation (2009 to 2014): The previous generation's flareside box remained an option up until 2010 when the styleside became the only bed style available on the Ford F-Series truck.
Thirteenth Generation (2015 on): All of the thirteenth generation Ford pickups feature a flat styleside pickup box, with no plans to reintroduce the flareside box style at this point.
Despite huge success with the flareside pickup box over the years, Ford saw that the market was shrinking, and it no longer made sense to invest in manufacturing the flareside option. As a result, the popularity of classic flareside Fords from previous generations continues to grow in the classic truck market.
If you're looking to restore a classic flareside Ford pickup, just remember that many parts manufacturers use the standard "stepside" terminology.
Shop Ford truck body panels »
GM Bedside Style Trends
The bed configurations and designs for Chevrolet and GMC pickups have historically been the same. Unlike Ford, GM's first pickup trucks were available not only in traditional stepside, sometimes referred to as "sportside," style but also with the flat-walled fleetside bed style. The stepside models featured a large step fore of the rear wheel well arch, making it easy to step up and access cargo in the box of the truck. The different generations of GM trucks offered the following bed configurations:
First Series (1947 to 1953): These Chevy trucks had stepside body styles and were GM's first new post-war vehicles.
Second Series (1954 to 1959): These pickups also featured stepside beds, but the height of the bed sides increased and the loading height was slightly lower than the previous models.
First Generation (1960 to 1966): While Chevrolet went by the now-standard fleetside and stepside monikers, the equivalent GMC bed names were "wideside" and "fenderside."
Second Generation (1967 to 1972): Fleetside and stepside bed options would return with the updated second generation of Chevrolet and GMC C/K trucks.
Third Generation (1973 to 1987): Continued popularity of both bed types meant that Chevrolet fleetside / GMC wideside and Chevrolet stepside / GMC fenderside models were available in this generation.
Fourth Generation (1988 to 2000): The C/K platform designation was changed to GMT400, and the new, more rounded GM trucks were once again redesigned with fleetside and stepside bed options.
Fifth Generation (1999 to 2007): This was the first time Silverado and Sierra were used (at Chevrolet and GMC, respectively) as model names. The stepside / fenderside bed configurations disappeared in 2005.
Sixth Generation (2007 to 2014): No new stepside bed was added to the all-new sixth generation, leaving short- and long-box options as the only beds available on the GM full-size pickups.
Seventh Generation (2015 on): It was no surprise when GM introduced their seventh generation pickups without a stepside bed, consistent with the trend seen with other auto manufacturers.
GM was especially successful with their fourth generation stepside trucks. The outdated fender style many had shunned throughout the 1970s and early 1980s gave way to a new generation of truck buyers that appreciated the sporty and unique shape of the flared Chevrolet and GMC C/K stepside bed.
If you have a classic or late-model Chevrolet or GMC truck with a bed that needs rust or damage repair, check out our catalog of rust replacement panels.
Shop GM truck body panels »
What to Consider When Buying Parts for Your Truck
When you're looking to buy replacement parts for your Ford, GM or another brand of truck, you need to know exactly which model you're ordering for. With so many variants available from each manufacturer, it's important to search for the right replacement parts and rust repair panels.
As you've seen in our guide, a fleetside / styleside and stepside / flareside pickup won't have the same box shape or design. As a result, the replacement panels you order for one model won't necessarily fit on another model. Instead of guessing, take a close look at your truck and determine which bed configuration you have. You can also consult your owner's manual to be sure of your truck's bed type.
Some of the truck bed body panels and parts that are impacted by your truck's bed style include the bedside panels, quarter panels, wheel arches, wheelhouses, wheel tubs, bed floor panels and cross sills. If you're not sure exactly which truck bed panel you need, check out our labeled diagrams.
View our truck body panel diagrams »
At Raybuck, we carry a broad range of replacement panels and auto body parts for GM, Dodge, Ford and other pickup truck manufacturers, including:
Fenders/wheel arches
Cab corners
Bedside panels
Bed panels
Rocker panels
Quarter panels
Tailgates
And more!
We carry quality parts made from a 3D scanning process that results in a panel that will perfectly replace the factory part. All our panels are made from heavy gauge stamped steel that meets or exceeds the thickness of the OEM part.
Have Additional Questions?
Our knowledgeable team of truck enthusiasts is waiting to hear from you. We're available by phone, email or through online chat. Let us know if you need any help finding the right rust replacement panels or other parts for your pickup truck repair or restoration project.
At Raybuck, we're passionate about pickup trucks. We look forward to hearing from you and learning about your pickup truck restoration project!