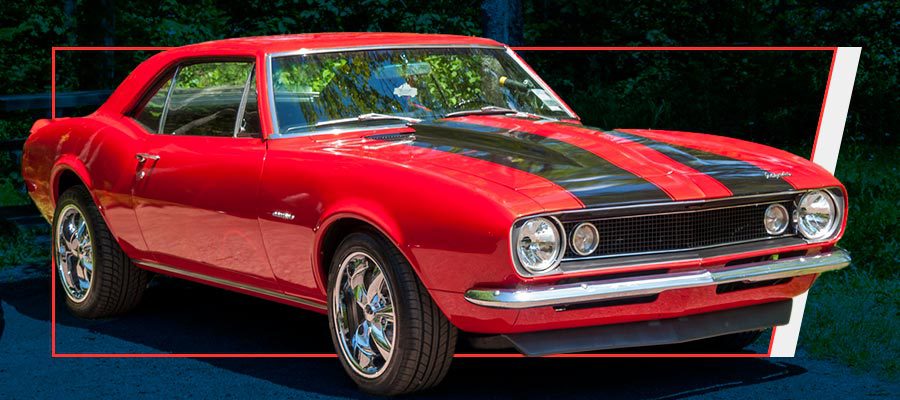 A classic vehicle restoration project is an investment that leads to a transformation. Some popular classic muscle cars are easy and affordable to restore. Restoration tips can help you determine which vehicle is best for your car restoration project.
Our list of the top 10 most popular classic vehicles will help you determine which cars are the best for a restoration project, which are the easiest to restore, which models are most readily available and which have the most affordable parts.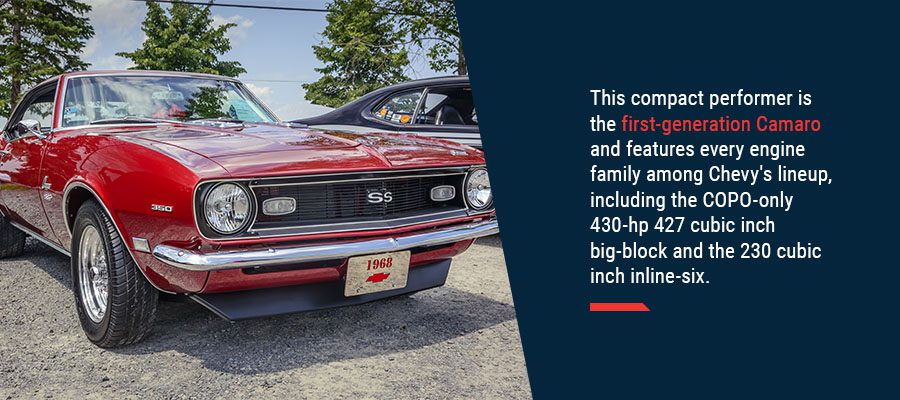 1. Chevrolet Camaro (1967-1969)
One of the most popular classic cars to restore is a 1967-1969 Chevrolet Camaro. Chevy followed the pony car market started by the Ford Mustang with its Camaro. This compact performer is the first-generation Camaro and features every engine family among Chevy's lineup, including the COPO-only 430-hp 427 cubic inch big-block and the 230 cubic inch inline-six. Manufacturers reproduce each part for this Camaro generation, including complete body stampings.
The first generation of Chevy Camaros comes with a rear-wheel-drive, F-body platform. Two models were built, including the convertible and the hardtop coupe. The hardtop coupe is more affordable and has more room for passengers, with two back seats and two front seats. Engine options for the first generation of Camaros included the 6.5-liter V-8 with 375 horsepower and the 3.8-liter straight-six reaching 140 horsepower.
Everything you need to rebuild a Camaro is available in brand-new condition due to the huge demand for these vehicles. If you're looking to keep your restored car, they're reliable, powerful and fun to drive, thanks to aftermarket performance parts. Get parts including the 1967 Chevy Camaro Molding Grille Upper and 1968 Chevy Camaro Windshield Molding Upper Inner.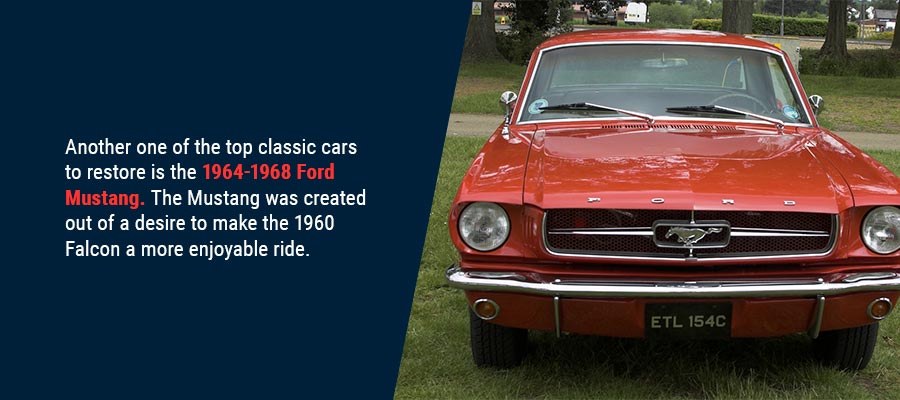 2. Ford Mustang (1964-1968)
Another one of the top classic cars to restore is the 1964-1968 Ford Mustang. The Mustang was created out of a desire to make the 1960 Falcon a more enjoyable ride. The compact-class Falcon was a success because of its low cost and fuel consumption, but it needed sprucing up to be more fun. Following some failed attempts, a sport version of the Falcon was envisioned, and the Mustang entered the market, accelerating the race in muscle car production.
In its first year, more than 400,000 Mustangs were sold. Over the following decade, more than a million Mustangs were built. You may have seen the original Mustang in "James Bond Goldfinger" or the 1968 version in Steve McQueen's "Bullitt."
You can find the parts you need online, and every part has been reproduced. If your dad's Mustang is more rust than car, you can get an exact replica of the classic sheet metal and factory-spec interiors, including hardware.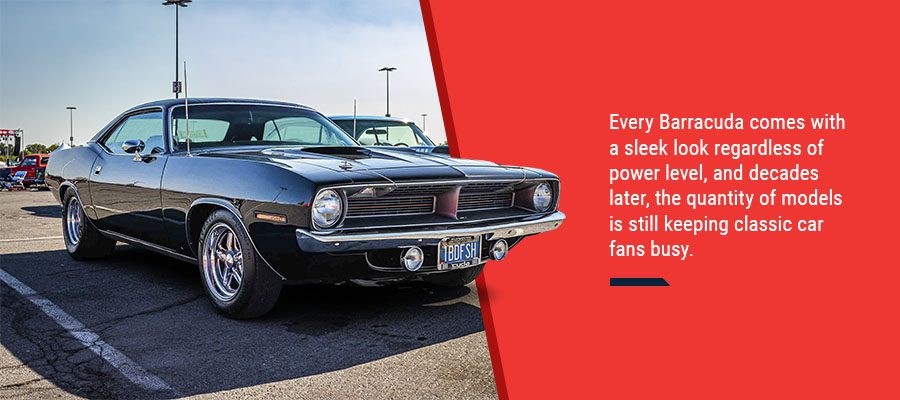 3. Plymouth Barracuda (1970-1974)
Being late to enter the market worked in Chrysler's favor. After learning from competitors' mistakes, Chrysler launched the Plymouth Barracuda in the 1960s. The Barracuda was built with a 108-inch wheelbase two inches shorter than the Dodge Challenger, a shaker hood package and a 425-hp Hemi big-block V-8. Every Barracuda comes with a sleek look regardless of power level, and decades later, the quantity of models is still keeping classic car fans busy.
If you want the most affordable models, purchase a 1973 or 1974 with the smaller 318 cubic inch V-8s or 340 cubic inch V-8s. Restoration is easy with a huge supply of new interior, trim and body parts. Each year, more parts are reproduced for the 1970-1974 E-body Plymouth Barracuda. Parts you can get for your Plymouth include:
Lights
Floors
Doors
Grilles
Hoods
Mirrors
Fenders
Bumpers
Interior trims
Exterior trims
Rocker panels
Wheel arches or quarter panels
Values will continue rising for small-block engine cars and later models. Demand for a Plymouth Barracuda will always exist, thanks to this car's wide appeal and good looks.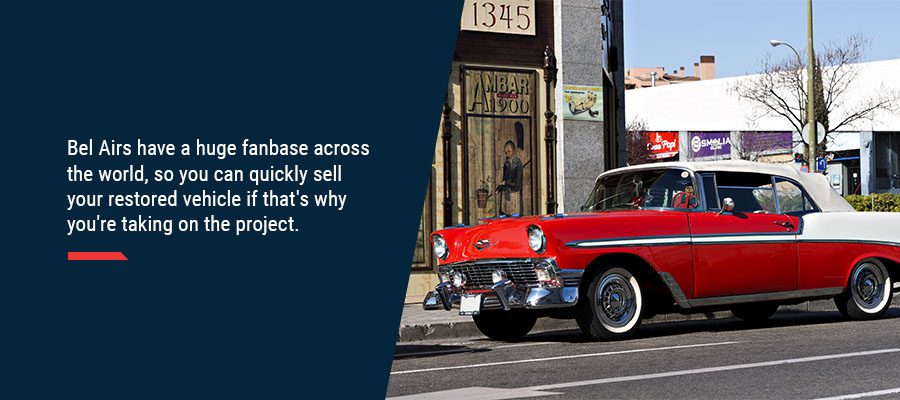 4. Chevrolet Bel Air (1955-1957)
Love '50s-era Chevys? You're in luck. The 1955-1957 Chevrolet Bel Air is perfect for restoration. Reproduction parts are still increasing in production — you can easily buy all the electrical and mechanical parts you need for a restoration project. High-performance upgrades, like disc brake conversions, are readily available. Since you can find every part needed to rebuild a Chevy Bel Air, including new body shells for the 1957 model, this is a great option for a restoration project.
Bel Airs have a huge fanbase across the world, so you can quickly sell your restored vehicle if that's why you're taking on the project. Parts often available for a Chevy Bel Air include the Nomad Floor Plan Panel Complete Hardtop/Convertible, the Nomad Door Exterior Handle Pair and the One-Fifty Series Windshield Weatherstrip Seal Without Trim Groove.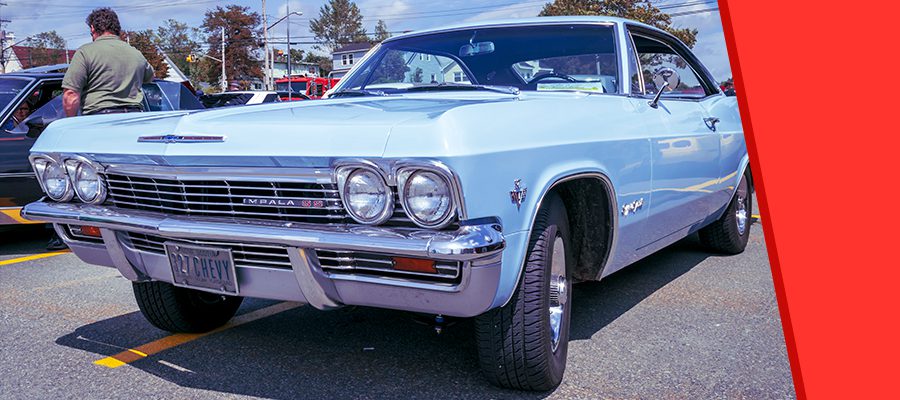 5. Chevrolet Impala (1965)
One of the best antique cars to restore is the 1965 Chevrolet Impala. This fourth-generation Impala was among the best-selling car in America in the mid-1960s. Most 1961-1964 Chevrolet Impalas have been turned into low-riders or customized, which makes the 1965 model the next affordable Chevy.
The 1965 model comes with six separate taillamps and a sloping roofline. In Super Sport trim, the Impala comes with a 427 cubic inch L72 engine with a whopping 425 horsepower.
In 1965, the Impala retired the original X-type frame for a full-width perimeter frame. The 1965 Impala was also redesigned with:
A pointier angled windshield
Customized full-coil suspension
Reshaped vent windows
Frameless, curved side glass
This redesign was successful, selling more than a million units in the U.S. in 1965 and becoming the best year for the classic Impala. Though reproduction parts are more plentiful for early models, even the 1965 model has plenty of available new parts. This means even the rustiest car restoration project is easy to finish. Find Impala restoration parts for the 1958-1985 models, from replacement lamp bezels to mirrors and lock kits.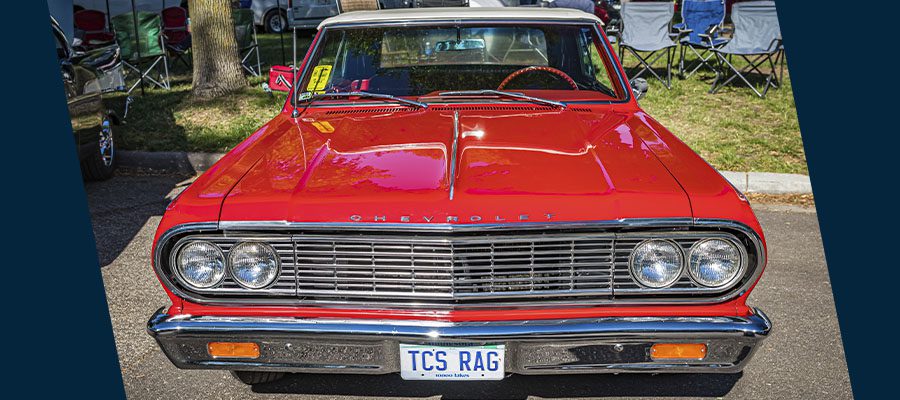 6. Chevrolet Chevelle (1964-1972)
The 1960s introduced midsize vehicles that supported the muscle car movement. General Motors became a leader in identifying ways to get big sales from younger buyers. They did so by taking an affordable intermediate passenger car and giving it a powerful V-8.
In 1963, Chevy introduced the Chevelle, riding the muscle car upswing. As a muscular option without being overly bulky, the Chevelle bridged the gap between the Chevy Nova and the Impala. The Nova was compact, while the Impala was bulkier and larger. Those who wanted a vehicle in the middle ground could choose from several body styles, including a station wagon or sport coupe.
In 1964, Chevy replaced the original 220 horsepower engine with a 327 engine that maxed out at 300 horsepower. This high-performance vehicle is available in numerous styles. With the 115-inch wheelbase, the ride is smooth and easy. The basic body formula remained consistent through 1972 with few changes. This classic vehicle is still available in abundance and supported by specialized aftermarket companies, online forums, events and clubs.
Of all the A-bodied Chevelles sold between 1968 and 1972, a large number were SS models. A portion of those came with a big-block 454 V-8. At your local car show, you're likely to find an SS 454 with the iconic cowl induction bulged hood. The A-body's muscular look makes it a customizer's dream, so parts are easy to find.
The most affordable models tend to be the 1971-1972 convertible and hardtop models. Thanks to the basic construction of body-on-frame, Chevelle restorations are straightforward projects. They'll sell quickly and at a reasonable price with this model's many admirers.
7. Pontiac GTO (1964-1972)
If you're looking for the best antique car to restore, try a 1964-1972 Pontiac GTO. One of the best moves Pontiac made was introducing a new muscle car concept to the world by taking the full-size Catalina's 389 cubic inch V-8 and adding it to the midsize Tempest. Rather than compete with other pony cars like the Ford Mustang, the Pontiac GTO started a new segment of muscle cars.
For the greatest affordability, consider a 1971 or 1972 model. If you want a GTO with the most power, go with an earlier model. Trim and body parts have been reproduced in abundance to enhance the performance of your vehicle. While values for the Pontiac GTO will keep rising for factory-correct, restored models, this classic car remains affordable for your restoration project.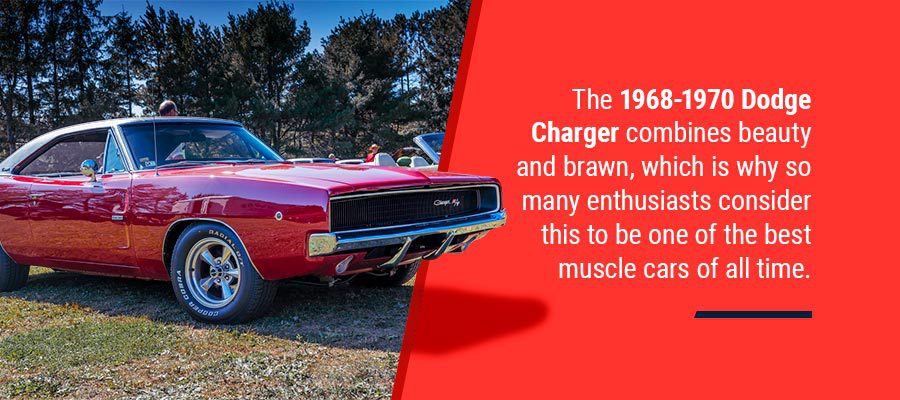 8. Dodge Charger (1968-1970)
The 1968-1970 Dodge Charger combines beauty and brawn, which is why so many enthusiasts consider this to be one of the best muscle cars of all time. For decades to come, the outstanding design of the Charger will keep this model one of the most popular classic vehicles to restore. You can obtain any mechanical part, and the list of reproduction body panels is growing every day. Rust can be a problem, as with any car from this era, but patch panels are widely available.
The amount of money and time that goes into your car restoration project depends on what condition you find the car in. But if you have time and skill, you can restore a Charger even in poor initial condition to its former glory.
You'll pay more for a bigger engine upfront, but this will add to the vehicle's value when the restoration is complete. No matter which engine you choose, the Dodge Charger is one of the most iconic classic cars you'll find. It's fun to drive, fantastic to look at and handles well.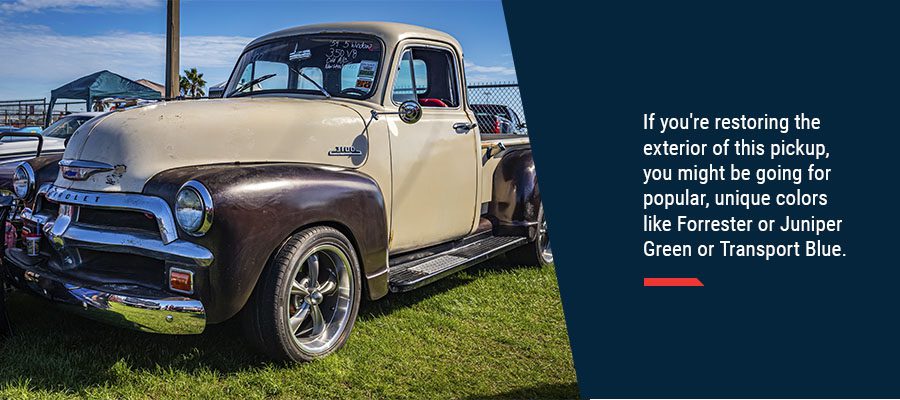 9. Chevy Advance Design Pickup (1947-1954)
Chevrolet's Advance Design replaced 1941-1947's AK Series of pickup trucks. These redesigns were considered sleeker and more powerful, with an appealing larger body than the AK Series. If you're restoring the exterior of this pickup, you might be going for popular, unique colors like Forrester or Juniper Green or Transport Blue. You might even find 1954 two-tone, white-top cabs.
These pickups are just as popular today as they were during their release. Whether you're restoring to resell or want to show off your Chevy at a truck show, your project is sure to have some eyes on it. When you're looking for restoration parts, you might see models referred to as "1947-2nd Series" and "1955-1st Series."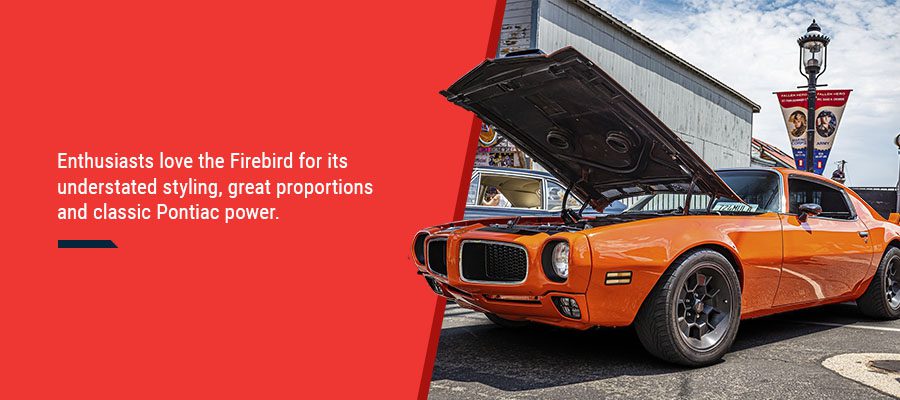 10. Pontiac Firebird (1970-1973)
Perhaps the best classic car to rebuild is the 1970-1973 Pontiac Firebird. Early second-generation Firebirds are highly sought-after now that prices for the first generation have soared. Enthusiasts love the Firebird for its understated styling, great proportions and classic Pontiac power. The Firebird comes with everything, including a 400 cubic inch V-8 and overhead-cam straight six. The Firebird offers something for everyone.
While the average enthusiast may not be able to afford a first generation, the 1970-1973 models are more affordable. We recommend the Trans Am and Formula models. Many reproduction parts are available, including new body panels. Though rarer than Camaros, the strong aftermarket support means surviving Firebirds have nearly limitless potential. You can easily restore and sell a Pontiac Firebird as long as you correctly restore the model to factory specs. For a classic with a cool 70s vibe, consider a Pontiac Firebird for your next car restoration project.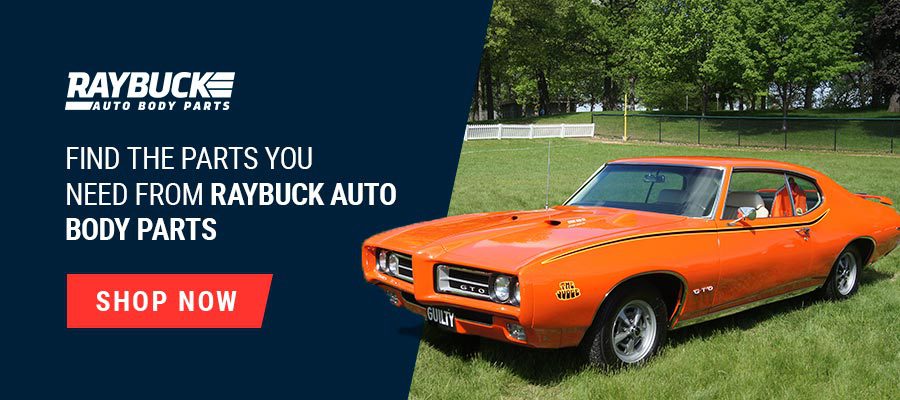 Find the Parts You Need From Raybuck Auto Body Parts
At Raybuck Auto Body Parts, we provide our customers with the best quality parts and service available. We have spent decades honing our parts line down to the best offered in the industry. Now, we're a top supplier of aftermarket restoration parts for your classic car, light duty truck, van or SUV.
When you choose Raybuck, you'll find quality parts for fair prices and a higher level of customer service. Whether you need replacement parts for your Ford, Chevy, Jeep, Dodge or Volkswagen, we have a wide selection of quality parts to choose from. Contact us at Raybuck to find the right parts for your classic car restoration project today!