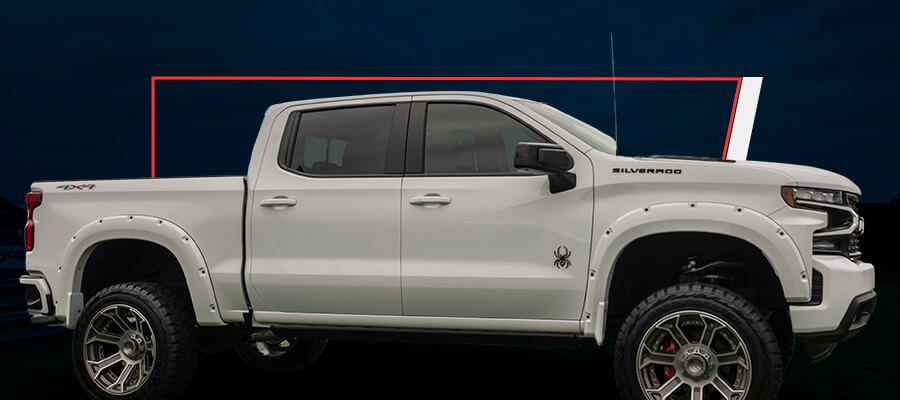 Common Issues With Chevy Silverado Pickup Trucks
The Chevy Silverado is an American icon. Modeled after the GMC Sierra, this light-duty truck is ideal for work and leisure. But as it ages, it is prone to developing some issues.
This post will explain some common problems with the Chevy Silverado and how to solve them.
Typical Issues With 2019-2023 Chevy Silverado
GM completely overhauled the Silverado for the 2019 release. With a new platform, powertrain range and overall design, the latest generation offers more configuration options than ever.
Though these trucks are still fairly new, owners have reported experiencing several problems with them.
1. Fire Risks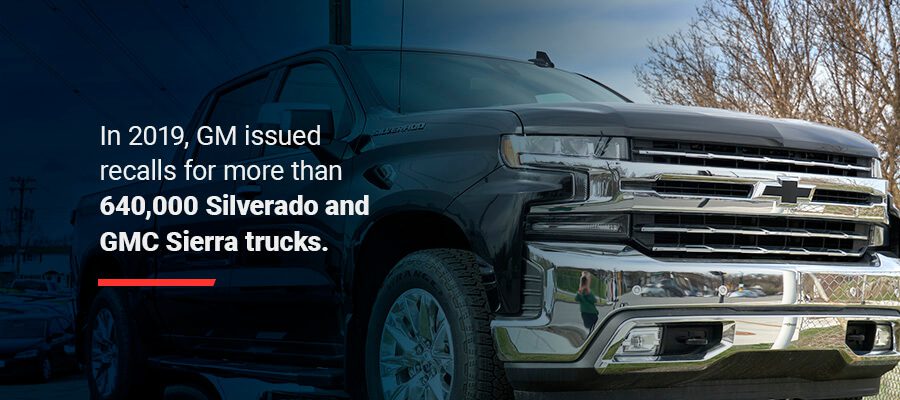 2019 and 2020 Silverados could experience engine fires, especially those with carpeted floors.
In 2019, GM issued recalls for more than 640,000 Silverado and GMC Sierra trucks. The company also released a stop-sales order until they could fix the problem.
Two potential fire causes include the following.
Leaking oil cooler lines: One of the truck's oil cooler lines may leak into the engine and ignite, causing a fire. Replacing it can prevent an emergency.
Pretensioner gas: If the vehicle suffers a crash where the pretensioners activate, the hot pretensioner gas could vent through the bracket and ignite the carpeted floor.
Check the National Highway Traffic Safety Administration's recalls database to find out whether the recall applies to your truck. If it does, bring it in for repairs as soon as possible.
2. Defective In-Car Electronics
The newest Silverados have advanced Android-powered infotainment systems that connect to drivers' mobile devices. While these systems are convenient for drivers who like to stay in touch, they're also the source of many complaints.
Here are some issues customers have experienced with their in-car electronic systems.
Faulty radios: The radio systems in 2018-2020 Silverados might unexpectedly jump to the maximum volume, creating a safety hazard. Many drivers have also experienced issues where the radio cut out frequently.
Bluetooth calls: Another widespread report is a continuous ringer sound playing throughout a phone call. Drivers having this problem resolved it temporarily by shutting the car off, opening and closing the door and switching the ignition back on.
Reverse camera: Some drivers noted that the reverse camera image would remain active for up to a minute after shifting into drive.
Bad touchscreen: Many customers have reported a glitching or otherwise unresponsive touchscreen.
You can try to reset the truck's computer by disconnecting the battery and allowing it to rest for about a minute before reconnecting it. Once it's back on, press and hold the radio's power button for approximately five seconds. If you are still experiencing issues, bring your truck in for diagnostics.
3. Engine Control Module Problems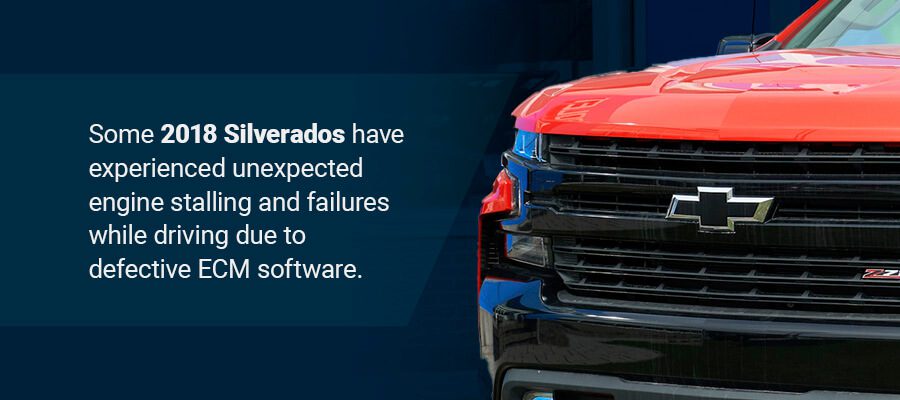 Some 2018 Silverados have experienced unexpected engine stalling and failures while driving due to defective ECM software.
Running a software update has solved this issue for most owners. GM issued a service update bulletin on the truck and now offers complimentary updates to affected owners.
A service update bulletin is different from a recall. Instead, the manufacturer sends information to dealerships and other service centers about specific problems with a vehicle. Typically, affected vehicle owners can receive free repairs to resolve the issue.
4. Transmission Issues
Transmission and driveshaft problems are also common in this generation of Silverados. Many drivers noticed the following issues at low mileage:
The truck would lunge or jerk forward while shifting.
The truck would shake or shudder while accelerating.
The transmission would fail.
Despite taking their trucks in for repairs, some drivers said their issue had not improved. In some cases, it would even get worse.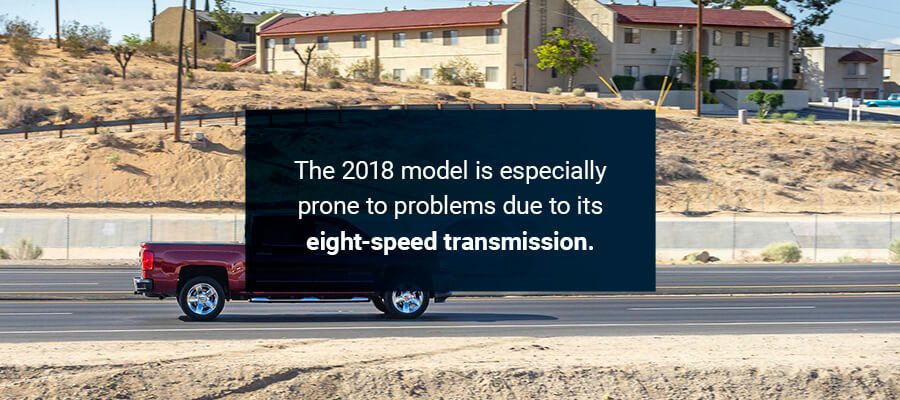 The 2018 model is especially prone to problems due to its eight-speed transmission. In this model, the automatic transmission may unexpectedly downshift to first gear regardless of the current driving speed, potentially causing the engine to lose power.
Additionally, customers with six-speed and eight-speed transmissions experienced overheating, which meant the car would unexpectedly stop driving.
Your best option is to take the truck to your dealership or mechanic to diagnose the problem.
Known Problems With 2014-2018 Chevy Silverado
The third generation of Silverado shared many of the same issues as the previous generations, including 4WD sensor failure and HVAC problems.
Its redesign also brought some new issues — many drivers consider the 2018 Silverado to be an especially problematic model for this reason. Customer reviews for this model are significantly more negative than other models, even within the same generation.
1. Seat Haptic Motor Failure
You may have a seat haptic motor failure if you see a driver service assist message on your dashboard.
The two haptic motors, located on either side of the driver's seat cushion, connect to sensors in the bumper. These sensors alert the driver when they get too close to other vehicles or objects.
In most cases, the door-side sensor failed due to its position on the seat.
You can often fix this problem yourself by replacing the motor. However, if the error message continues to appear, it may be worth bringing your truck to a professional.
2. Clunking Steering Column
You may hear or feel a clunking noise in the steering column while turning, possibly due to a loose bolt on the frame or ball joint.
This problem can affect Silverados of all generations, typically around the 88,000-mile mark. Many owners have found the clunking worsened over time, even with repairs.
Replacing the steering shaft can permanently solve the problem.
3. The "Chevy Shake"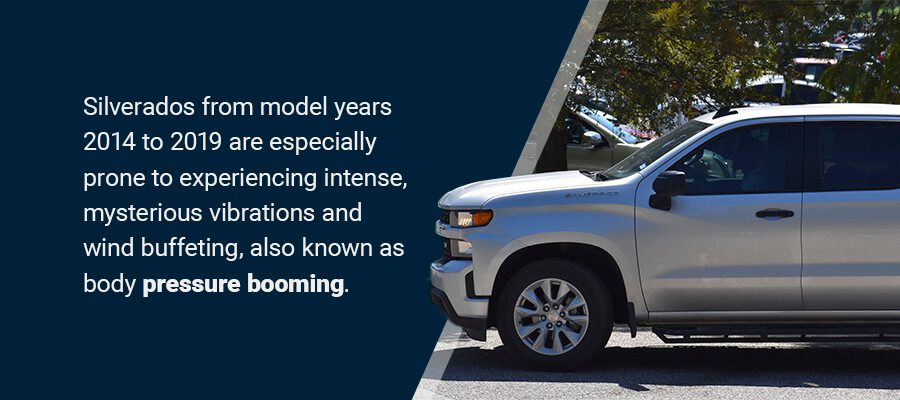 Silverados from model years 2014 to 2019 are especially prone to experiencing intense, mysterious vibrations and wind buffeting, also known as body pressure booming. These vibrations often begin at about 35 mph and escalate at higher speeds, causing discomfort for drivers and passengers.
Because this problem affects other full-sized GM vehicles that use the K2XX platform, including the GMC Yukon, Chevy Suburban and Cadillac Escalade, owners have nicknamed it the "Chevy Shake."
The Chevy Shake may result from issues with one of two parts.
Eight-speed transmission: A defective hydraulic mechanism within the transmission system may put excess strain on the gears, leading to transmission failure.
Aluminum driveshaft: If the aluminum driveshaft wears down, it can cause powerful shaking when traveling at higher speeds.
Regardless, owners have had little success resolving the issue despite bringing their vehicles in for multiple fixes.
4. Fuel Pump System Failure
In 2018, Texas motorists brought a lawsuit against GM to seek damages for defective CP4 high-pressure fuel injection pumps.
They complained that the CP4 fuel pump was incompatible with diesel fuel. The pump, originally designed for European use, came standard on all 6.6L Duramax diesel trucks. European diesel has a higher lubricity than American diesel, so the pump must exert higher pressure to deliver good fuel efficiency.
However, with the thinner American diesel, such high pressure is unnecessary. Instead of improving fuel efficiency, the high pressure causes the internal metal parts to rub against each other and generate friction. Metal shards then fall off and contaminate the system, leading to sudden failure.
Often, the injection system fails while the truck is in motion, which can be incredibly dangerous.
Common Issues With 2007-2013 Chevy Silverado
Some people call the second-generation Silverado the GMT900 because it runs on the GMT900 platform. Buyers could choose from either V6 or V8 Vortec engines and two interior designs.
The redesign solved some of the first generation's issues, but also created new problems. For example, most of the common issues of this generation and the one after it stem from sensor failures.
1. Fuel Level Sensor Failure
At around the 100,000-mile mark, drivers noticed their fuel level sensors would begin malfunctioning, affecting the dashboard reading.
In most cases, the fuel gauge would decrease faster than necessary, making it seem like drivers went through more gas. However, there have been some reports of the fuel gauge doing the opposite.
Though this problem rarely affected driver safety or truck performance, it could leave drivers stranded if they unexpectedly ran out of gas mid-drive. Replacing the sensor is the best way to resolve this issue for good.
2. Excessive Oil Consumption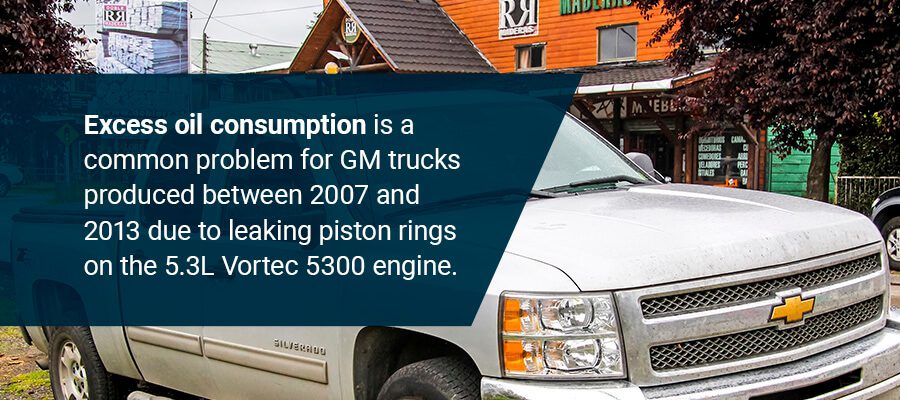 Excess oil consumption is a common problem for GM trucks produced between 2007 and 2013 due to leaking piston rings on the 5.3L Vortec 5300 engine. Oil would escape through these rings and flow into the combustion chamber, where it would either burn up or form a carbon deposit.
The questionable active fuel management system didn't help much, either. It's likely the AFM system only made the problem worse.
Additionally, the oil monitoring system does not alert drivers to the problem until it's too late to prevent engine damage. Some drivers claimed their trucks burned through as much as a quart of oil in only 1,000 miles.
If left unchecked for too long, the issue could affect other systems in the truck, like the catalytic converter. Bring your Silverado to a professional for the best results.
3. Taillight Switch Failure
Another problem with this generation of Silverados is that the brake lights may remain on even after turning off the truck. Typically, this issue arises when the brake light switches fail due to faulty connectors or broken wires.
As the name implies, the brake light switch should activate the taillights when you stop your truck. Because it connects to the truck's internal computer, it can affect other systems.
Other common symptoms of this issue include:
Broken cruise control
ABS light malfunctions
Truck does not turn on
Replacing the brake light switch is the only lasting solution to this problem. It's possible to do this repair yourself if you prefer. However, it's best to bring your car in to the shop unless you have specialized equipment like car jacks on hand. 
Common Issues With 1999-2006 Chevy Silverado
The original Silverado 1500 was a larger, more robust version of the Chevy C/K. Built on the GMT800 platform and containing a 270-hp 5.3L Vortec V8 engine, this new series of pickup trucks could handle harder work than its lightweight predecessor.
Like every new vehicle, it had some flaws. Here are some of the most common issues drivers experience with this generation.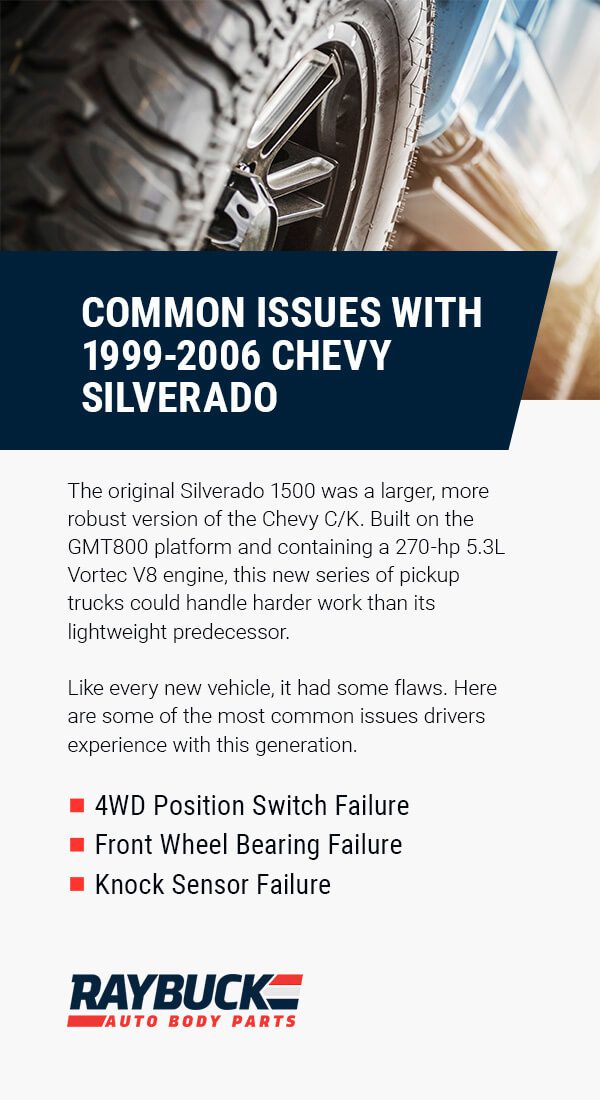 1. 4WD Position Switch Failure
Almost every generation of Chevy Silverado has suffered various issues with the 4WD switch.
Drivers of early models reported that their truck would automatically switch between 4WD and 2WD and the Service 4WD light would appear on the dashboard. They also couldn't manually change modes while the problem was happening.
Typically, this problem was due to a worn position sensor, which would become defective and interfere with the drivetrain. Drivers usually experienced position switch issues around the 100,000-mile mark, but trucks that had seen heavy-duty use often started acting up earlier.
Though a faulty position switch isn't necessarily dangerous, it detracts from fuel efficiency.
2. Front Wheel Bearing Failure
One of the most common issues with early Silverados is premature failure of the front wheel bearings. This generation was susceptible to rust issues developing in and around the hubs, which would often spread to the wheel bearings.
A rusted wheel bearing would become loose and push the ABS sensor out of position, which would often cause the ABS to activate even when driving at slow speeds.
Other signs of a faulty front wheel bearing include:
A growling or humming noise while driving
Uneven tire wear
Soft-feeling brake pedals
Illuminated ABS warning light
This issue is easy to diagnose. Hold the wheel at the 12 and 6 o'clock positions and attempt to move it in and out. If it moves, the wheel bearing is loose. You will need to replace it for best results.
3. Knock Sensor Failure
The knock sensors detect combustion issues that could cause catastrophic damage to your engine. When they fail, you could end up with a failing engine as well.
This problem is typical in LS-powered GM trucks, including the original Silverados. Over time, the rubber plugs sealing the sensors dry out and harden, which also causes them to shrink. Then, moisture enters the area containing the sensor, which can interfere with its ability to detect problems.
Additionally, after long-term exposure to engine heat, the harness that connects the knock sensor to the engine can become dry and brittle. This issue can also lead to sensor failure.
Symptoms of knock sensor failure include:
Illuminated check engine light
Engine misfiring
Abnormal vibrations, especially at high speeds
Knocking or thumping noises from the engine
Reduced fuel efficiency
Poor acceleration
Typically, when one knock sensor fails, it's best to immediately replace both rather than to replace one and wait until the other fails as well.
Evolution of the Chevy Silverado
Though the Silverado is a relatively young truck compared to its competitors, it's been through some significant changes over the years. Many of these directly affect the common problems drivers experience.
First Generation
Released in 1999 along with the second-generation GMC Sierra, the first generation of Chevy Silverado trucks was the successor to Chevy's previous C/K truck line. The Silverado was a larger, more muscular version of the C/K that featured several new innovations, including:
Vortec V8 engines
Hydroformed body frames
Driver message centers
As one of the first-ever trucks to use hydroformed parts, the Chevy Silverado had a strong yet lightweight and aerodynamic frame. Chevy released the purpose-built 2500 the next year for more intense applications.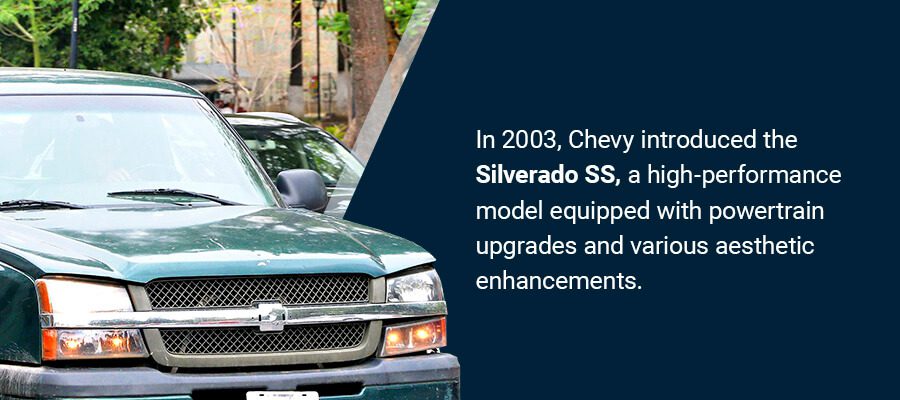 In 2003, Chevy introduced the Silverado SS, a high-performance model equipped with powertrain upgrades and various aesthetic enhancements.
Second Generation
Chevy released the second-generation Silverado in 2007 with a more stylish, aerodynamic design, enabling better fuel efficiency. The design also included 170-degree access doors and an optional trailer-brake controller for heavy-duty applications.
2009 saw the release of the Silverado Hybrid, which featured a dual-mode hybrid transmission and a fuel efficiency of up to 30 miles per gallon. This year also introduced the rearview cameras for some models and updated the wheel designs.
The later models of this generation further improved the in-cab experience with an updated navigation system, cooled and heated seats and reduced wind noise.
Third Generation
The 2014 model kicked off the third generation with new high-tech features like 4G LTE Wi-Fi and Chevrolet MyLink, a Bluetooth-enabled infotainment system that empowered drivers to take control of their rides. It also came with the new 4.3 liter V6 EcoTec3 engine, which upgraded the original powertrain to compete with other trucks released that year.
The 2016 models got a noticeable facelift that changed the headlights and front grille designs. Chevy also changed the wheels and stickers for this release.
Finally, the interior software received an upgrade as well. All Silverados released after 2016 have new, larger touchscreens and the ability to run either Apple CarPlay or Android Auto.
Fourth Generation
The most recent Silverados are part of the line's fourth generation.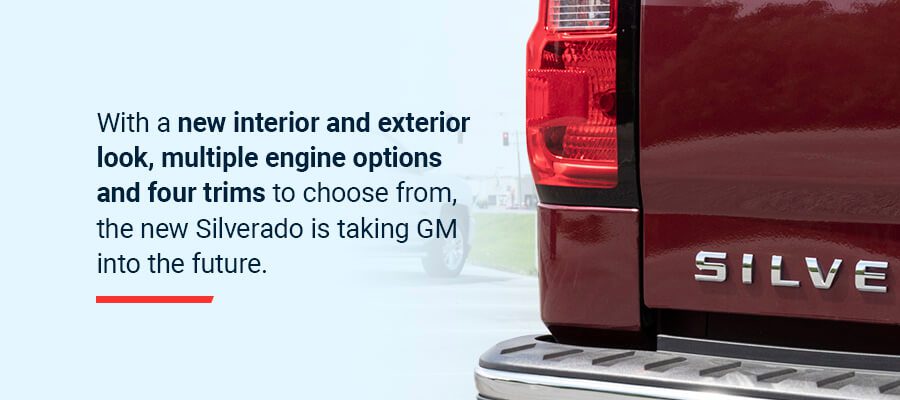 Chevrolet completely updated the Silverado in 2022 to suit the new needs of the era. With a new interior and exterior look, multiple engine options and four trims to choose from, the new Silverado is taking GM into the future.
Other changes include increased leg space, parking sensors, blind-spot monitoring and forward pedestrian detection with braking.
Three distinct Silverado models are currently available.
1500: The Silverado 1500 has a maximum towing capacity of 13,300 pounds and a maximum payload of 2,280 pounds. This highly versatile model is excellent for light work.
2500: Released in 2000, the 2500 is a heavier-duty truck designed for towing and hard work. It has a towing capacity of up to 14,500 pounds and a max payload of 3,900 pounds.
3500: If you're looking for a real heavy-duty truck, the Silverado 3500 might be the best match for you. With a maximum towing capacity of up to 36,000 pounds and a maximum payload of 4,593 pounds, this truck is ideal for tough work.
Recently, GM also introduced two new models for medium-duty work — the 4500 and the 5500.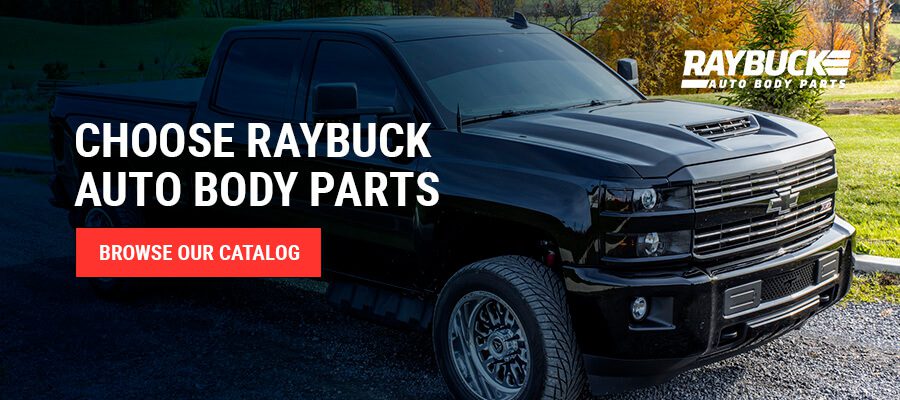 Choose Raybuck Auto Body Parts
At Raybuck Auto Body Parts, we carry body panels and parts for every generation of the Chevy Silverado. We offer aftermarket parts for every model, including the 1500, 2500 and 3500, so you can keep your truck running at peak condition.
Browse our catalog to see our inventory, and feel free to contact us with any questions. Our experts can help you find the right parts for your vehicle.