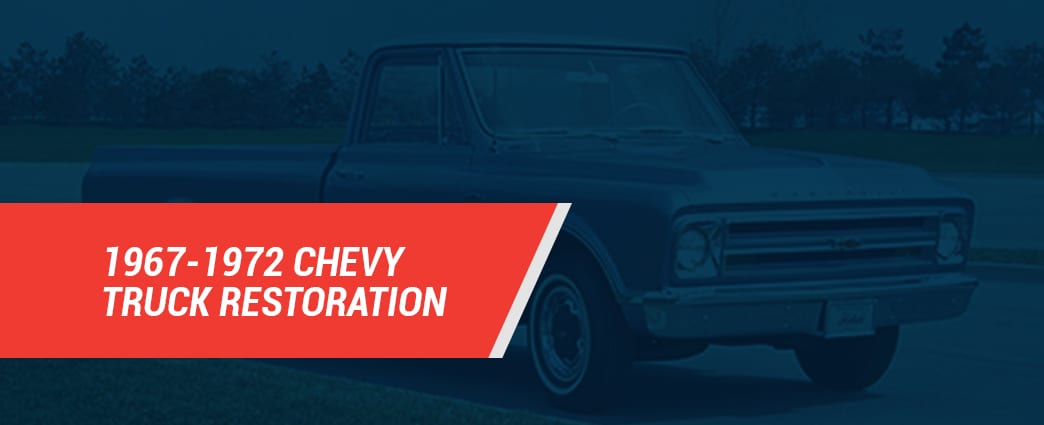 The 1967-1972 Chevrolet truck is one of the most popular classic pickups and makes a fantastic start for a DIY restoration project. The second generation of C/K pickups was a major turning point in the Chevy truck evolution. The vehicles, once geared toward the working class, were now suitable for the public. The 1967 C/K models had modern conveniences and more comfort features compared to other light-weight trucks in the automotive industry.
Restoring these trucks gives you the freedom to return the truck to its original look or to modernize it with anything from a fuel injection-based driveline, pro-touring suspension, or maybe just rat rod it. Raybuck Auto Body Parts has top-grade Chevy C10 restoration parts for DIYers and professionals.
Understanding Chevy Truck Terms
With the introduction of the Chevrolet C/K pickup series in 1960, a truck could either be designated with a "C" or a "K." The C stood for "conventional" and indicated a rear two-wheel drive, and the K indicated four-wheel drive. Chevy made the C/K trucks available in half-ton (C/K10), three-quarter-ton (C/K20) and one-ton models (C/K30).
The C/K10 had a 135 horsepower (HP) V6 engine, the C/K20 had a 150 HP straight-6, and the C/K30 had a V8 with 180 HP. In the beginning, you could choose between long and short beds, along with base or custom trim lines.
You could also pick between two body styles — the "Fleetside"/"Wideside" or the "Stepside"/"Fenderside."
The Chevy Fleetside had smooth body panels down the side of the bed to give it a more linear look. The Stepside version had contoured panels, which outlined the rear wheel wells. The Stepside also had a step behind the passenger's side door.
The 1967-1972 GMC vs. Chevy comparison has more similarities than differences. General Motors manufactured the C/K trucks but marketed them under the Chevrolet brand. Some cosmetic differences existed between the two truck lines, such as the grille options.
GMC also used the same C/K prefixes, but implemented 1500, 2500 or 3500 to signify the truck's tonnage, instead of the 10, 20 and 30 used by Chevy.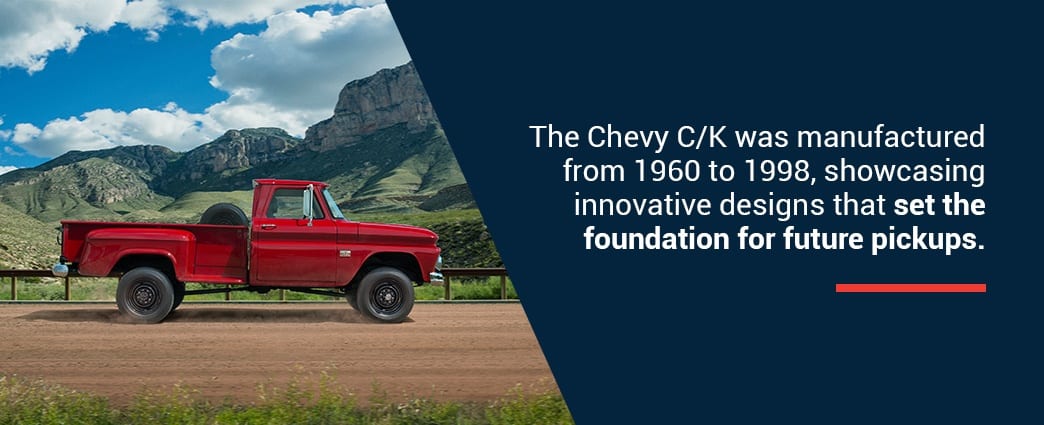 The History of the 1967-1972 Chevy Pickup Truck
The Chevy C/K was manufactured from 1960 to 1998, showcasing innovative designs that set the foundation for future pickups. It was the beginning of light and heavy-duty trucks in the automobile industry with incredible mechanical features and great looks.
Although there were different styles, engines and sizes available within the C/K lineup, the C10 light-duty pickup was the most popular. The Chevy C10 history started with a 6.5-foot bed and 115-inch wheelbase, or an 8-foot bed and 127-inch wheelbase as a second option. The pickup truck increased its load capacity on the front axle to improve the vehicle's weight distribution and came with a larger windshield and cab.
First-Generation C/K Trucks: 1960-1966
The first generation of C/K Chevy pickups debuted in 1960 with independent front suspension. Other significant features included low-profile seats and a drop-center ladder frame, causing the cab to sit lower than usual. The frame felt like you were riding in a car but with the performance of a truck.
The 1961 model had a fresh grille and an upright hood design. It also had a torsion bar front suspension until 1962, along with trailing arm rear suspension. One year later, Chevy engineered the series with a new front suspension with coil springs. The model also had two engine options, including the L6, also known as the straight-6, with 140 or 165 HP.
The 1963 model gained a new grille but kept the original design of the truck's body with a few interior modifications. In 1964, Chevy got rid of the wrap-around or curved windshield and air conditioning was available. The 1965 C/K model upgraded to a 220 HP V8 engine to wrap up the first generation in 1966.
Shop 1960-1966 Chevy truck parts »
Second-Generation C/K Trucks: 1967-1972
The second generation of C/K trucks began in 1967. Nicknamed the "Action Line" until 1972, they were also called "Glamour" pickups. The 1967 Chevy truck extended its driver comfortability and convenience with a redesigned exterior, setting it apart from the previous generation — as well as all other pickups in the auto industry.
These changes transformed the C/K from a vehicle used for farming into a truck for everyone.
Major 1967-1972 C10 differences exist throughout each year with changes to the truck's exterior style, engine options, suspension, transmission and interior comforts.
The 1967 model had a modern look that "wowed" the population with its sleekness. It had a double-wall box constructed of rust-resistant steel and sheet metal. It also sat lower for easy access and was the only model with a small rear window.
Its suspension also went through a massive update. For example, the C/K10 and C/K20 models got an upgrade to a rear suspension coil-spring trailing arm. The system enhanced the pickup's ride compared to other styles with leaf springs. However, the leaf spring rear suspension was still available and was standard on the C/K30 series.
In 1967, the two-wheel-drive trucks had an independent front suspension while the four-wheel-drive vehicles had a solid axle with leaf springs.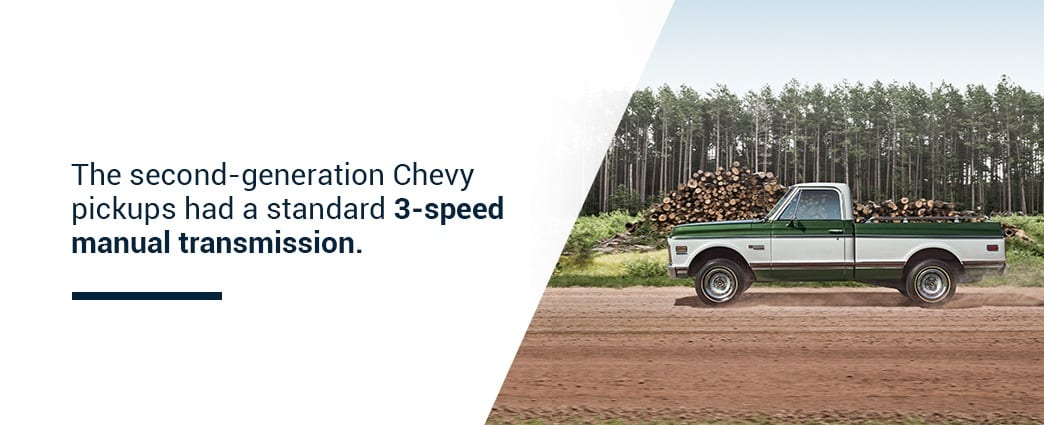 The second-generation Chevy pickups had a standard 3-speed manual transmission. Or, you could customize it to a 4-speed manual, 2-speed automatic Powerglide, Turbo-Hydromatic 350 or 400 3-speed automatic.
Two engine options for the 1967 C/K lineup included the straight-6 and V8, or you could upgrade to one of the two larger V8 versions. Total, there were eight engines available for the second generation.
Key features of the 1967 vehicle included:
Bowtie logo in the center of the grille
Embedded parking lights
Fender emblems
Low-angle hood
Rectangular grille
Small rear window
In 1968, another small block V8 engine hit the production line. The trucks also had an eye-catching change with the addition of offside-marker reflectors on the fenders. The grille no longer had the GMC lettering across the front, and Chevy gave you the option between the Custom Comfort or Custom Convenience package as an advancement.
To celebrate their 50th Truck Anniversary, Chevrolet designed the 1968 C/K models with a white-gold-white theme. The trucks had a white cab roof and rocker panels with a gold body. The company also debuted the Longhorn model in 1968 on the C/K20 trucks, which featured a two-wheel drive option. The Longhorn had a 133-inch wheelbase and an extra 6 inches added to the bed.
One year later, in 1969, the K5 Blazer appeared. It saw a switch from the standard hand emergency parking brake to a foot pedal. It also had a two-spoke steering wheel with a plastic horn button, which replaced the previous chrome wheel with three spokes. The Blazer had upper and lower side moldings to give you a two-tone paint option.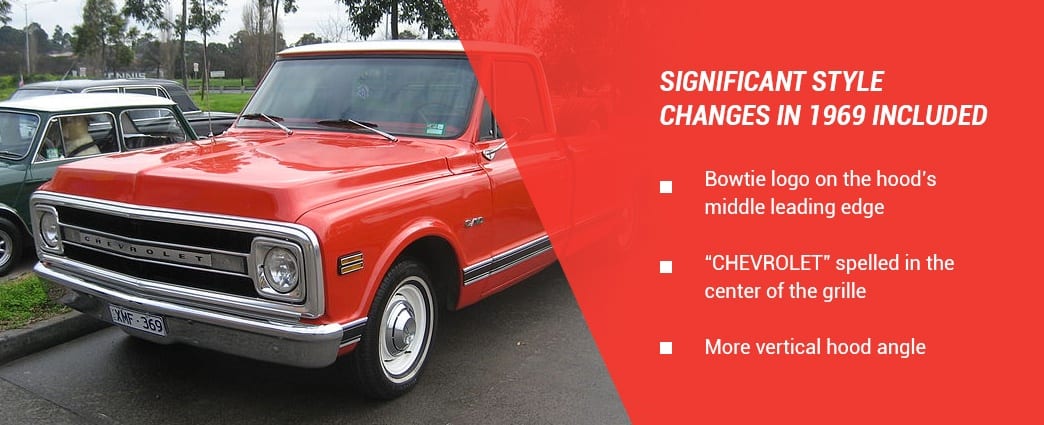 Significant style changes in 1969 included:
Bowtie logo on the hood's middle leading edge
"CHEVROLET" spelled in the center of the grille
More vertical hood angle
Halfway through the second generation in 1970, the C/K pickups gained a wider and longer F-body. It also had an updated grille.
In 1971, the series changed to have an "egg crate" grille, along with a new trim package called Cheyenne. Other advancements included:
Carpet
Chrome trim
FM/AM radio
Improved interior insulation and padding
Lower and upper side molding
Parking lights move to the bumper
Tailgate trim
The Chevy got rid of the drum brakes and replaced them with discs. The two-wheel-drive models also switched to a five-lug bolt pattern while the 4×4 kept the six-lug design.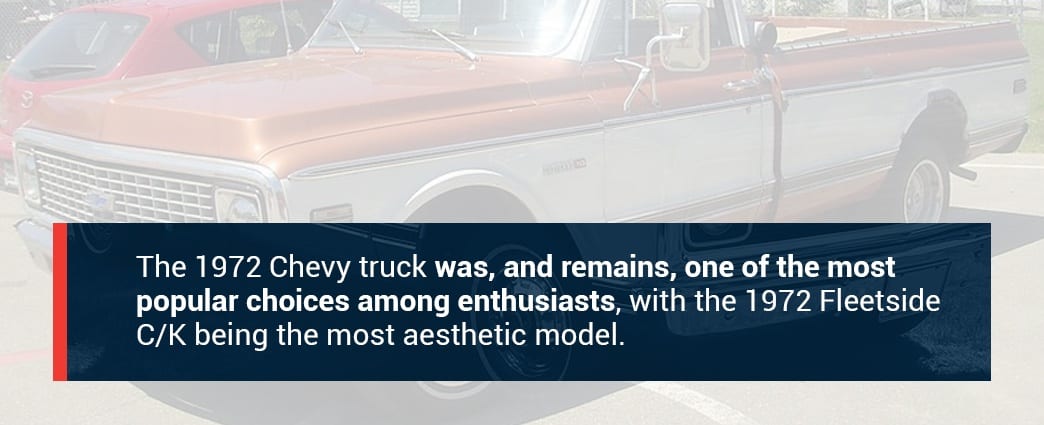 The 1972 Chevy truck was, and remains, one of the most popular choices among enthusiasts, with the 1972 Fleetside C/K being the most aesthetic model.
Several recognizable features include the rearview mirror, which used to be screwed to the top of the cab. The fresh design now had it glued to the top of the windshield. The truck's door panels highlighted armrests, too. The Sierra, Custom and Sierra Grande trims were available with the drop of the Deluxe.
Shop 1967-1972 Chevy truck parts »
Third Generation (1973-1987) and Fourth Generation (1988-1998) C/K Trucks
After the second generation of C/K engines, the third generation came about, lasting from 1973-1987. In 1988, the fourth generation underwent a name change to GMC Sierra until the series' end in 1998. Then, the Chevy Silverado replaced the C/K line in 1999.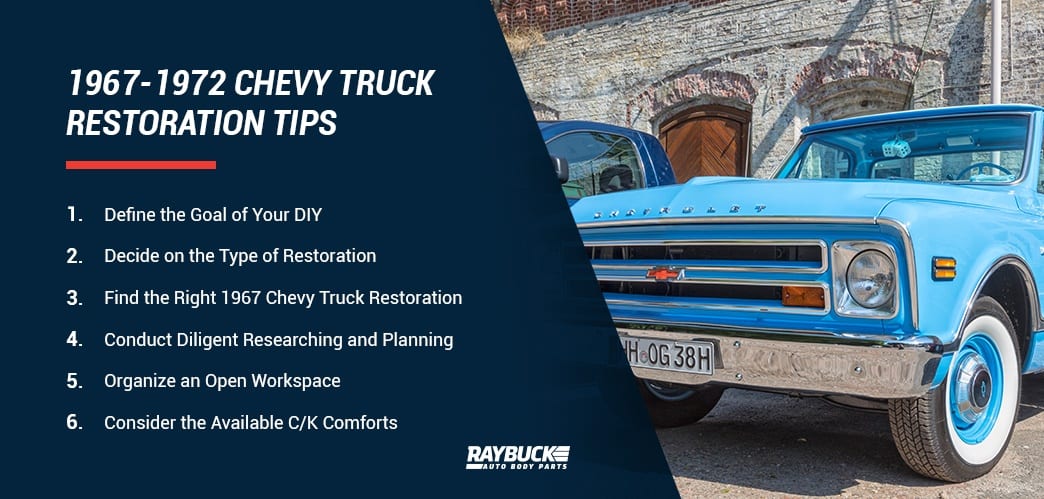 1967-1972 Chevy Truck Restoration Tips
Every Chevy C/K model between 1967 and 1972 is iconic with a range of aesthetic and performance upgrades. A truck restoration is an exciting project, but you'll want to take a step back and devise a plan. Understanding your objectives from start to finish can help form a steady progression.
1. Define the Goal of Your Finished Restoration Project
How do you plan on using your Chevy C/K? You may be looking to enter it into car shows or use it for the occasional Sunday drive. Relying on the pickup for daily travel and trips can be an option, too.
Research the parts available for your DIY and make a schedule to match the timeline of your objectives. Another consideration is whether you want to perform a full or partial restoration.
2. Decide on the Type of Restoration
The second step of any restoration project is to determine your end goal. For example, you can restore your classic C/K to its glory days by replicating the interior features, exterior paint job and engine components.
You could also go the restomod route — keep the original look of the truck while adding a few modern upgrades for enhanced performance and comfort. A restomod is a modern twist on components like the drivetrain and suspension. It combines the unique and classic features of the past with today's technology.
Your third choice is to restore it to your own customizations. You can take ideas from other generations and make the truck something totally unique and your own.
3. Find the Right 1967-1972 Chevy Truck to Restore
If you don't already have a Chevy pickup, the first step is to find the model you want. Are you looking for a particular body style, horsepower, engine type or interior design? You may be more passionate about the 1967 model's originality or the 1971's interior aesthetics. Research is critical during this step to find a truck worth restoring.
C/Ks aren't too difficult to find because of their high popularity. Look for one with fixable problems that will be worth your time and money.
For example, C10 or K20 with a bent frame may not be the best bet, but a pickup with minor rust and damage but a solid undercarriage is doable. Also, consider your skill level to decide how much you can restore independently.
4. Conduct Diligent Researching and Planning
Once you have the Chevy, research where you can find the exact parts. Start by knowing your truck's original components, then find a parts dealer that can provide the solutions you need.
At Raybuck Auto Body Parts, we provide top-tier parts as an alternative to expensive OEM and NOS parts. Our inventory of high-quality solutions from reputable manufacturers can help you economically restore your Chevy.
You will also want to build a budget. Restorations can easily become expensive, so it's important to determine what you need and want from the DIY.
5. Organize an Open Workspace
Working in a spacious and organized area is vital for a smooth restoration project. Have a place for parts, and make sure to label them as needed. Look through the owner's manual to understand the specifics of what you need.
You can also gather the right tools, equipment and devices before you dive into the process. Keeping your space clean and tidy can be the difference between a fun process and frustrating disorganization.
6. Consider the Available C/K Comforts
Because the second-generation Glamour Chevys are known for their driver comfort and convenience, there are a multitude of interior and exterior designs and features to choose from. Think about the sleek look of the 1967 C/K, its small rear window and rectangular grille. The 1968 model is known for its offside-marker fender, while the 1969 model underwent many style changes.
Having an idea of the exclusive luxuries of each second-gen pickup can help you focus on the truck's unique details during restoration.
Following these Raybuck pro tips will help you start your project with a solid idea in mind and your budget, workspace and details figured out.
High-Level Steps to Restore a 1967-1972 Chevy Truck
Start by creating a restoration plan to ensure your project meets your expectations. Second-generation C/K trucks experienced a massive change from work trucks to having the comforts of cars for daily transportation — which is why they're popular for restoration projects.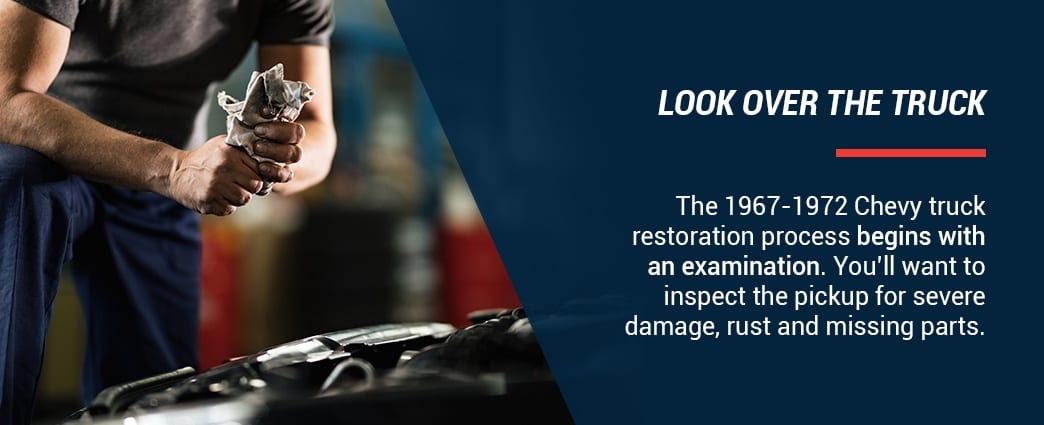 1. Look Over the Truck
The 1967-1972 Chevy truck restoration process begins with an examination. You'll want to inspect the pickup for severe damage, rust and missing parts. If the chassis is solid, then you'll have a good base to work from. Obviously the more solid the body the easier it will be to restore it. Don't worry, though, if portions of the body like the fenders and doors are rusted as we have replacement panels to help you with that.
2. Restore the C/K's Mechanics — Undercarriage, Suspension and Chassis
The purpose of any restoration venture is to get your 1967-1972 Chevy pickup mechanically sound and ready to drive. Consider the suspension, exhaust, engine, undercarriage, chassis, electrical components and other mechanics.
Begin by cleaning the entire truck to get rid of dirt and other contaminants. Cleaning everything off will also help you see damage like rot, cracks or corrosion. If you have the right equipment and space, lift the engine and transmission out to better inspect and work on them.
Take note of what panels and parts need to be replaced or refurbished. Start taking the body panels off the truck's frame (take pictures and/or videos as you go so that you remember where everything goes. This will really help when putting it back together, especially if the project takes a long time to finish).
If you're keeping the suspension, depending on the level of restoration you want to do, you can either pull it all so that it can be restored, or you can just clean it in place. If you've decieded to replace it with something more modern, then just take it all off.
Other major items to replace or restore are:
Brakes: If you're keeping them stock, look at the brake pads, rotors and brake fluid to ensure proper functioning. You may need to replace the brake lines or bleed the brakes. If you're replacing them, yank it all.
Wiring and Hoses: Same as above. For a resto, go over all of these and anything rubber will most likely need to be replaced. If installing all new, you will want to lay out the truck's wiring and hoses to figure out how you're going to route everything.
Engine: Depending on the condition of your engine, you may need to replace it or restore it with a few aftermarket parts.
Exhaust: Similar to the wiring, think about how the exhaust is going to be routed so that you leave room for it during the build. Keep in mind minimum distances that should be kept from wiring, the fuel tank, etc so that the heat transfer doesn't affect any of these items. If it's too tight, you may need to wrap some of the exhaust in ceramic heat shield.
Suspension: Although it's an extensive task, you will want to inspect each suspension component to see if they're faulty. If you want, you can upgrade or replace the suspension system.
Transmission: Change the transmission fluid and inspect it for dirt or metal flakes. Flakes of metal can indicate a more severe issue compared to dirt, which just means the fluid is old. Rely on an expert mechanic to clean the inside of the transmission or to rebuild it.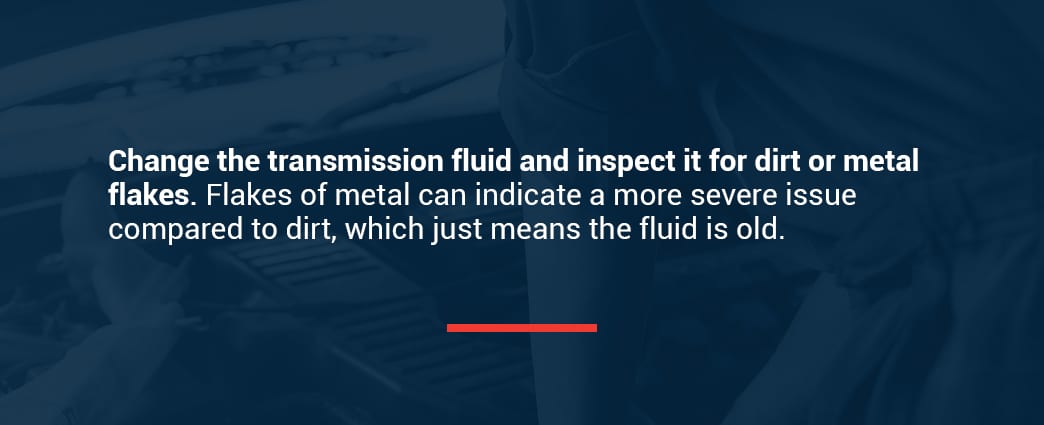 3. Start Disassembling and Refurbishing the Exterior
Once the mechanics are set, you can focus on the body and frame of your C/K Chevy pickup.
Take apart the vehicle by starting on the inside, and look for worn parts that will require replacement. Keep all the pieces organized and labeled (masking tape and a sharpie are your best friends), and lay them out in a way that makes sense when you go back to reinstall them.
Check the exterior components and salvage any parts you can. If you can't use them, start ordering new door panels, rocker panels and fenders to avoid project standstills.
Rust: Rust is the destroyer of almost every classic car that hasn't been maintained. If rust exists on the surface-level of the truck, you may get away with cleaning it off. If the rust has caused deeper damage, you can replace your panels.
Truck bed: Many classic pickups feature a wooden pickup bed, but after years of neglect, the wood often rots. You can restore the foundation with new wood or rely on aftermarket bed panel solutions.
Paint: Light touch-ups are possible if your Chevy's paint has a few chips, but if there is extensive damage to the exterior, you'll need a complete repaint. If you have advanced skills, you can take on the project yourself. You can also trust the expertise of a body shop, especially if you're looking for a period-correct C/K paint restoration. Keep in mind that good paint jobs will easily run into the thousands of dollars.
When you partner with Raybuck, you can feel confident that all the parts you need are in one place.
4. Finish the Interior Components
Interior restorations can range from a deep cleaning to gutting the entire inside. If your Chevy C10 requires a bit more work than a quick clean, you'll want to start by removing each component and cleaning it from top to bottom. With each part, decide if you can restore it or if it needs to be replaced.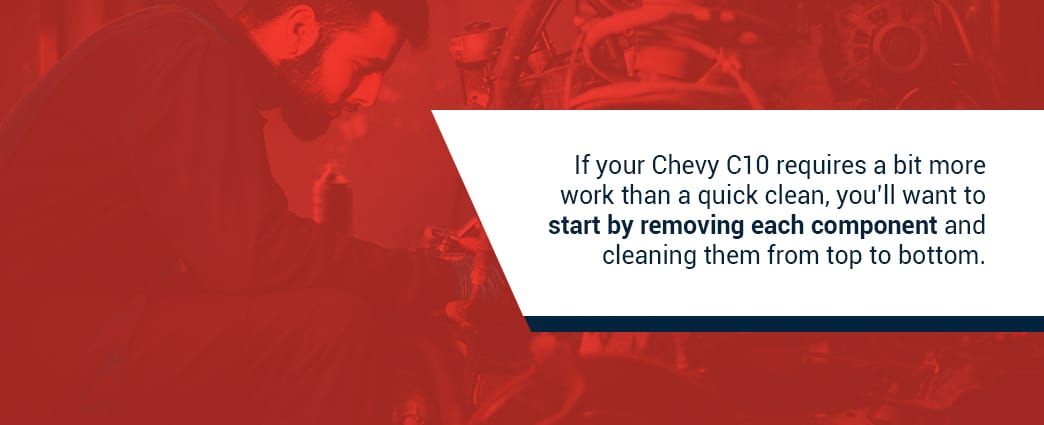 Make sure to eliminate any rust found on the interior body panels. You may need to restore or replace the truck's carpeting and headliner. Other parts include:
Instrument gauges
Pedals
Steering wheel
Vinyl
Put it all back together and get it ready for the road. Depending on the initial condition of the truck, and the extent of the restoration/modification, it may take months or years to finish, but there's no better feeling than getting it out on the road. No matter how frustrating the project gets, keep positive knowing that you'll enjoy it for many more years than you worked on it 🙂
1967-1972 Chevy Truck Restoration Parts From Raybuck
Raybuck Auto Body Parts has a massive inventory of restoration parts and replacement panels for your 1967-1972 C/K pickup. We carry C10 restoration parts and body panels, along with interior and exterior trims, weather stripping, insulation and rustproofing. We partner with trusted brands in the industry to help you accomplish a restoration to your standards.
Our exact replacement aftermarket products uphold competitive pricing standards so that you can save money on your project and get quality results. Our body panels are made from heavy-gauge stamped steel with a thickness that matches or exceeds that of the original C/K part. Our experts work to provide superior solutions to boost the look and performance of your classic second-generation Chevy pickup.
Since 1985, we have sustained a long-standing reputation for quality products and services by honing our product line to be the best in the industry. We are truck enthusiasts, too, and value your C/K restoration venture.
Order Chevy C/K Restoration Parts Today
Browse our restoration solutions and 1967-1972 Chevy C/K body panels. Reach out to our customer service team for more information about our solutions and how we can aid you in finding the parts you need for your Chevy restoration project.