Description
CTW Disposable Paint Gun Cups
The CTW CS line of disposable paint gun cups combines all the steps of paint preparation into one easy system. Simply insert the liner into our hard cup to mix and measure, snap the filter lid on the cup, thread the collar on the hard cup, and you are ready to spray. The closed system allows you to spray with the gun at any angle, even upside down. Cleanup is easy: detach from the gun and throw away the lid and liner, or seal the lid with the stopper for later use. Cups are available in 90ml, 180ml, 400ml, 650ml,  and 850ml sizes.
Each case includes: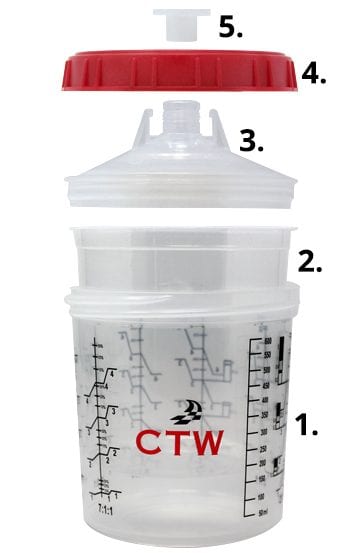 1 Hard Cup
50 liners
50 lids (190 micron lids for solvent based paints)
1 Collar
20 stoppers
CTW Spray Cup System Highlights:
Durable Collar – The rigid, durable collar assures a secure connection to the hard cup, time after time, without stripping or breaking.
Reinforced Nozzle – The reinforced nozzle prevents breakage and provides a very secure connection to the paint gun adaptor.
Precise Application – All lids include a full diameter filter which equalizes pressure, allows for consistent paint flow and prevents spitting.
Collapsible Liner – The high-quality plastics produce a very pliable, collapsible liner which maximizes paint use and minimizes waste.
3M comparison:
90ml – 3M16028
180ml – 3M16114
400ml – 3M16112
650ml – 3M16000
850ml – 3M16024
---
The following is a list of the most common paint gun adapters. Our brother site, Henry's Automotive Warehouse has a full  list of adapters.  Click here to see the full list of paint gun cup adapters
CSA1 : Adaptor for CTW Spray Cup System. Suitable for Velocity /Italco/Star/IwataW400/Warwick, Suits most other brands fitted with a male gun thread
CSA2 : Adaptor for CTW Spray Cup System. Suitable for Devilbiss/Warwick/Velocity VRM ,Suits most other brands fitted with a female gun thread
CSA3 : Adaptor for CTW Spray Cup System. Suitable for Sata QCC
CSA4 : Adaptor for CTW Spray Cup System. Suitable for Iwata WS400 (Super Nova)