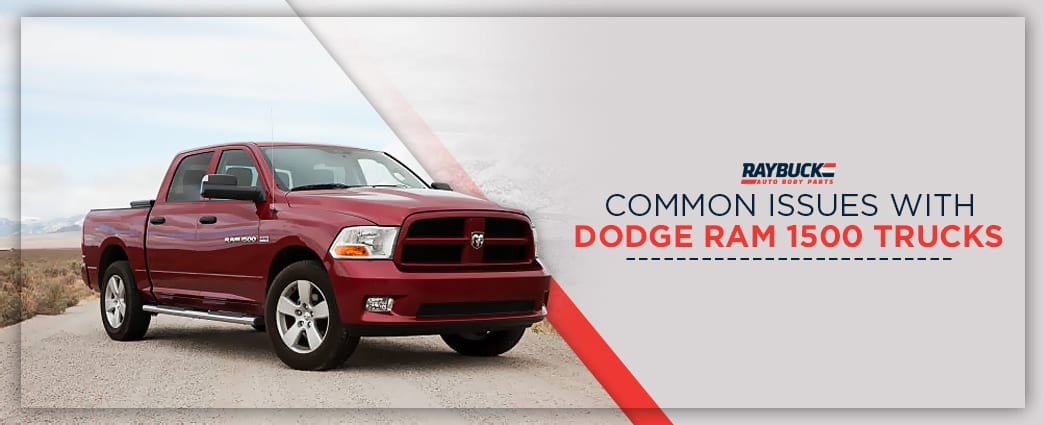 As anyone who has owned a truck knows, all trucks have their issues. The Dodge Ram 1500, while an overall dependable truck, has its own set of problems that may crop up, getting in the way of work, play, and dipping into your bank account as well. If you own a Ram 1500, you've either experienced certain issues or most likely will at some point. We've put together a guide to the most common problems with Dodge Ram trucks so you know what to expect in terms of repairs.
The FIAT/Chrysler Group restructured the Dodge brand in late 2009. All cars and minivans retained the Dodge nameplate, but the Dodge Ram and Dodge Dakota trucks became RAM trucks. This article focuses on the full size pickup formerly known as the Dodge Ram pickup and now known as the RAM pickup.
Quick Links: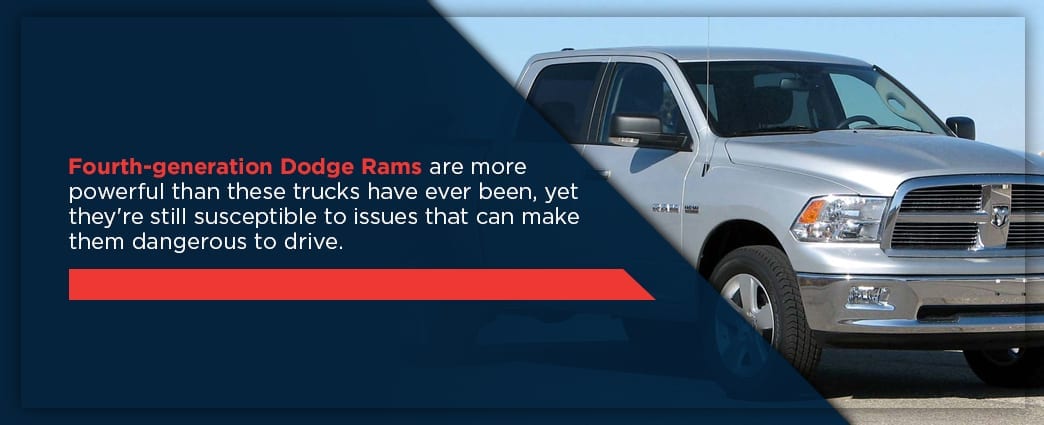 Common Issues With 2009-2017 Dodge Ram Pickups
Fourth-generation Dodge Rams are more powerful than these trucks have ever been, yet they're still susceptible to issues that can make them dangerous to drive. Electrical issues are unfortunately common in late-model RAMs and are some of the worst 2010 RAM 1500 problems.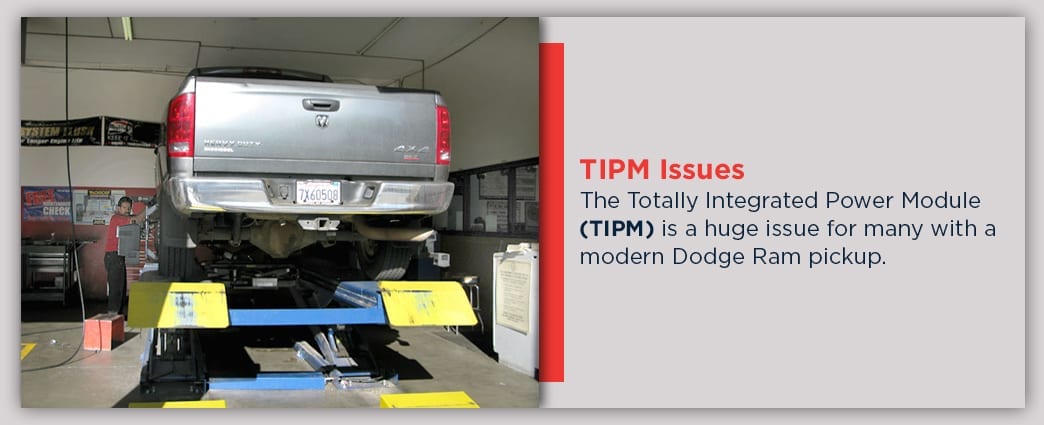 1. TIPM Issues
The Totally Integrated Power Module (TIPM) is a huge issue for many with a modern Dodge Ram pickup. When it starts to go, it wreaks havoc on any and every function that requires electrical input. When the TIPM starts to go out:
Airbags may not deploy in a crash and/or may deploy at random.
The horn may go off at random.
Power windows will stop working or start opening themselves.
The fuel pump may not shut off when the vehicle does.
The starter may crank, but the truck won't start.
Doors may lock and unlock themselves.
Coolant fans may stop operating.
The ABS may have problems.
The A/C may go out.
The radio may randomly shut off while driving.
Most of these issues make it hard, or just plain embarrassing, to drive the truck, but the unreliability of airbag deployment is a life-threatening danger. Many Dodge Ram owners attempt to fix electrical problems individually when the TIPM is the real root cause. Sometimes you can correct the issues by re-flashing and re-configuring the modules, or replacing the relays.
Complete replacement is the only option in many cases. Changing out the TIPM is relatively straightforward, but the component itself costs in the $300 to $500 range for most models.
2. Cam and Lifter Failure
If your 2011 or other RAM in this model year range stalls when stopping, stalls at idle, or seizes up unexpectedly, you may have one of the most commonly reported problems for these trucks — cam and lifter failure. This issue can potentially affect all late models. All cams wear out eventually, but a huge number of RAM owners report severe problems with well under 75,000 miles on the vehicle.
The most common report is of the #3 or #2 cylinder misfiring, in combination with lifters seizing up. In these cases, the cam often shows premature wear and one or more lobes may be heavily grooved and damaged.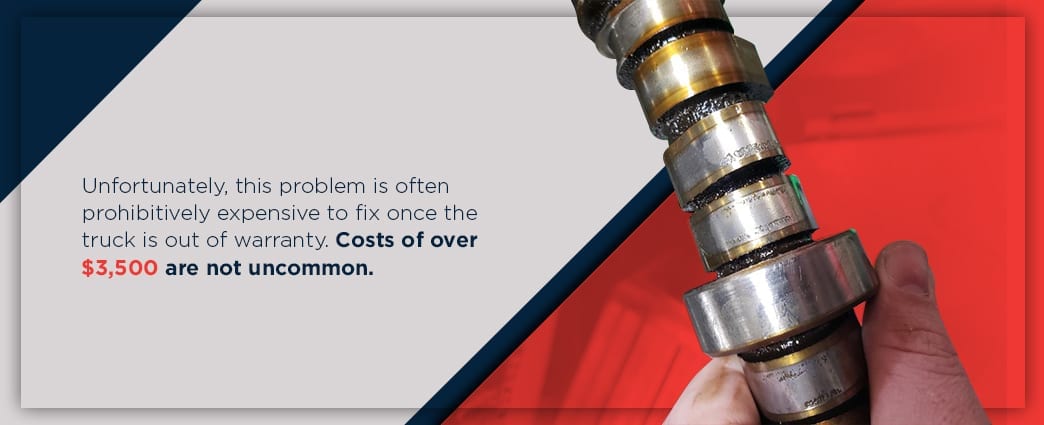 Unfortunately, this problem is often prohibitively expensive to fix once the truck is out of warranty. Costs of over $3,500 are not uncommon. The availability of replacement parts is an issue too, as the problem is so widespread that the required components are often on backorder, even as recently as 2018.
3. Body Structure Issues
One of the most irritating 2017 RAM 1500 problems also plagues other model years. Body structure should be the least of your worries if your car is less than 10 or so years old, yet 1500s are known for less-than-stellar construction. Some of the issues on newer RAM trucks include:
Tailgates falling open at random due to faulty lock mechanisms.
Bumper holes drilled too large.
Defective painting with bubbles underneath.
Rusting, especially on bolts and bumpers.
Rotting of the outer wheelhouse and upper wheel arch area of the bed.
In addition to being ugly, body structure problems can quickly compromise vehicle safety. If critical parts become rusty, they'll affect performance and the structural integrity of the vehicle.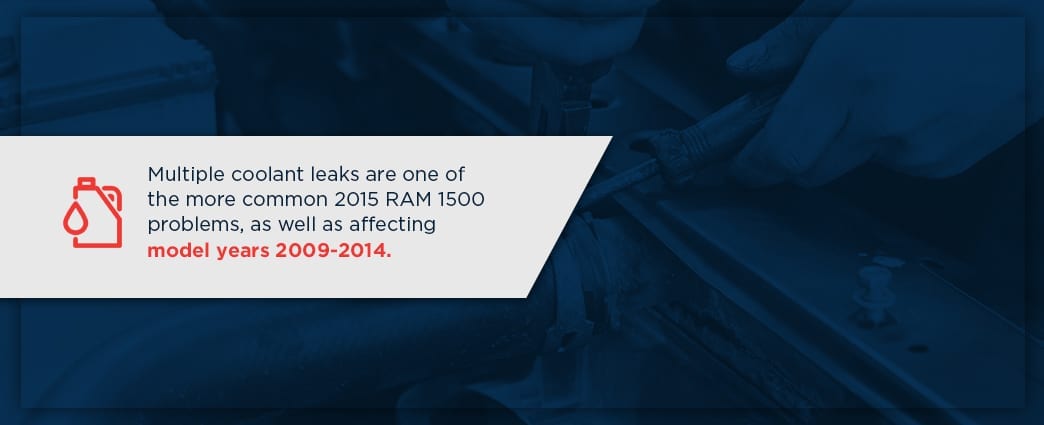 4. Coolant Leaks
Multiple coolant leaks are one of the more common 2015 RAM 1500 problems, as well as affecting model years 2009-2014. Many owners report that the leaking is strange because it's difficult to locate even with a pressure test and that the leak only occurs when the engine is cold. It's possible not to notice the leak until the coolant runs so low that the engine begins to overheat, making this a repair that costs more the longer you let it go.
The sources of coolant leaks can be gaskets, the heater hose, hoses to the water pump or problems with the water pump itself. This can be one of the more irritating problems to fix because the source of the leak is not always apparent. That and the fact that these leaks tend to recur also means repair costs are tough to estimate.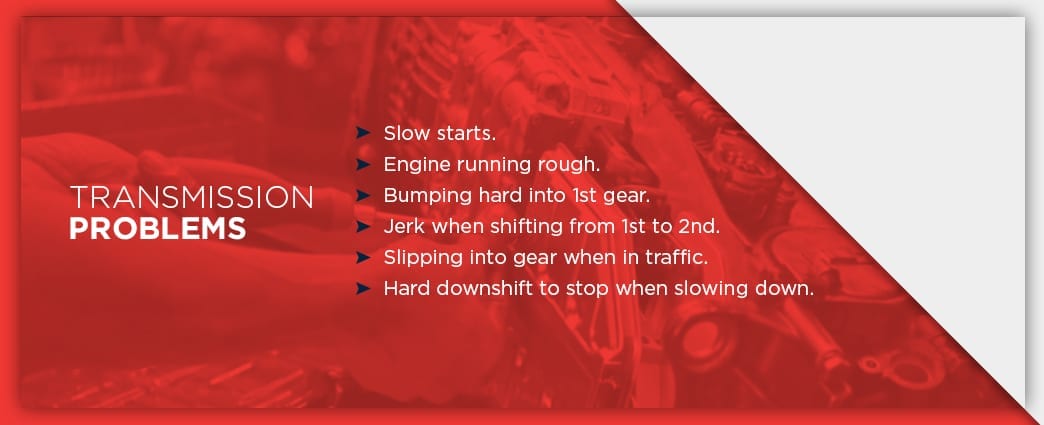 5. Transmission Problems
Transmission problems are extremely common with 2012 RAMs and also dominate the list of the 2014 RAM 1500's most common issues. Problems in the transmission range from causing slight annoyance to making the truck dangerous to drive. There are a variety of ways transmission issues show up in these trucks, including:
Slow starts.
Engine running rough.
Bumping hard into 1st gear.
Jerk when shifting from 1st to 2nd.
Slipping into gear when in traffic.
Hard downshift to stop when slowing down.
In many cases, both owners and dealerships have a hard time diagnosing and fixing these critical issues. Even when the problem is pinpointed correctly, owners have reported frustration with necessary parts being on backorder for months at a time. Transmission issues are one of the leading reasons owners trade their trucks in or pursue lemon law claims.
Shop 2009-2017 Dodge Ram parts »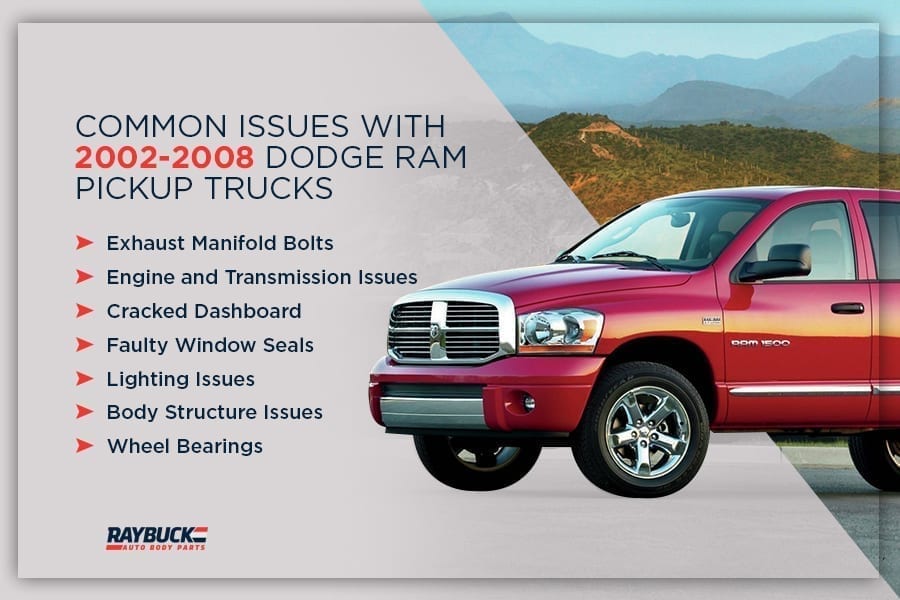 Common Issues With 2002-2008 Dodge Ram Pickup Trucks
While many of the same problems persist across generations, some issues affect 2002-2008 Dodge Rams more than others. 2002 Dodge Ram 1500 transmission problems are particularly frequent. It's important to note that problems with this generation of Dodge Ram are often more difficult to get fixed because the vehicles are at least 10 years old and reaching the end of their warranties, if not outside the warranty period. The common problems range from quick fixes to significant part replacements that may not be worth the time and money if your Ram is toward the older end of the generation.
1. Exhaust Manifold Bolts
A bad or failing manifold leads to decreased engine performance, and broken manifold bolts are common in Dodge Ram 1500s of all ages. The most common symptom of broken or degraded bolts is a ticking sound on cold starts, frequently heard from the passenger side of the truck. The source of the sound is a cold manifold with damaged bolts, which allows gases to seep around the bolts rather than through the exhaust system as designed.
Luckily, this issue is relatively easy to fix or have repaired. However, some owners report having to get their manifold bolts replaced multiple times. There appears to be a real quality control issue for Dodge in these bolts, and owners have been stuck with the bill.
The cost of repair depends on how many new bolts are required and whether old bolts are difficult to remove. Sometimes the bolt head will degrade so much that it breaks off, leaving the rest of the bolt stuck and in need of expertise to remove. Some owners report having paid up to $1,000 to repair this issue.
2. Engine and Transmission Issues
There are a significant number of owners dealing with 2002 Dodge Ram transmission problems, and 2006 Dodge Ram 1500 transmission shifting problems are incredibly common as well. Anyone who has stalled out in an intersection or in the middle of traffic knows how dangerous it is to be stuck with no power steering and no brakes — and it's one of the worst problems with these trucks.
It's most common for the stalling to occur at slow speeds, such as when you're driving around a parking lot or making a turn at an intersection. Some cases are solved by replacing the EGR valve or throttle body or resetting the PCM. However, it's often quite challenging to pinpoint the root issue as there are around 50 different sensors on this vehicle.
Transmission issues — particularly 2005 Dodge Ram 1500 transmission problems — are equally common. Some 2004 Dodge Ram 1500s stall when braking and at idle, as well. The most common report is that on a cold start, the truck won't move when put in gear. The transmission may also slip or refuse to shift at all, which is one of the main 2006 Dodge Ram 1500 transmission shifting problems. Sometimes switching out the solenoids can fix the problem for around $50 to $100 plus labor if you have it done by a shop.
3. Cracked Dashboard
A bizarre yet widespread issue is defective plastic dashboards that simply don't hold up to the test of time. The dash will start with a few cracks that widen over time, often with chunks of plastic breaking off completely. Dodge has never formally acknowledged this happening, and owners rarely ever get any assistance from the manufacturer.
Although this problem is present in models 1998 to 2006, the highest rate of reports is in the 2001-2003 model years. 1996 Dodge Ram 1500 dashboard replacement is common, too.
4. Faulty Window Seals
While window seals are something you'd expect to go out in trucks this old, Rams have always had issues with this part. Window seals may not be a critical component for your truck's functionality, but there are some definite issues once they fail. They tend to stick out, making for an eyesore, and they can make your A/C and heat work harder than they need to. The worst issues occur when the rain hits — your whole interior can get wet, and if it stays that way for a while, mold will form, eventually ruining the interior of your truck.
Luckily, window seals are an easy DIY fix with any number of adhesive kits. You can also purchase and install new window seals for under $25 per window.
5. Lighting Issues
Lighting issues are common in Dodge Ram trucks and are one of the most frequently-cited 2002 Dodge Ram 1500 electrical problems specifically. Owners find that their headlights, taillights or turn signals suddenly stop working, causing irritation at best and a safety hazard at worst.
In some cases, the issue is caused by pinched wiring in the trailer hitch. These cases are easy to identify since the lights shut off immediately after attaching the trailer. Other times, the issue is yet another symptom of problems with the TIPM. Either way, the fix is usually low-cost if you're able to perform the work yourself.
6. Body Structure Issues
As with the most Dodge trucks, Dodge Rams are known for rotting away well before their time. The more common body issues on Dodge Ram trucks include:
Rotting of the outer wheelhouse and upper wheel arch area of the bed.
Rotting of both driver and passenger side cab corners.
Rotting of both driver and passenger side rocker panels, typically starting across the lower door weatherstrip seal.
Rotting of the oil pain.
These rust problems start out as a bubble or two in the paint, and then quickly turn into widespread cancer. In addition to regular undercarriage cleanings, we highly recommend applying some protective coating (rubberized or wax-based undercoating, Fluid Film, use motor oil if you're old school and don't care about the environment) to the underside of the truck. And, as soon as you see that first paint bubble, fix it.
7. Wheel Bearings
The 2002-2008 Dodge Ram trucks are notorious for wearing through front wheel bearings. Wheel bearing replacement in the 2002 Dodge Ram seems to be the most prevalent starting around 75,000 miles. Some owners reporting that they've replaced one or both sides multiple times with under 100,000 miles on the truck.
You can usually hear a wheel bearing going as it will make a higher pitched squeaking/squealing noise as you're driving around. If you notice this type of noise, have it checked immediately. If you wait too long, the bear could lock up, causing that wheel to freeze and the truck to dart/roll in that direction. This could be extremely dangerous, especially at highway speeds.
Shop 2002-2008 Dodge Ram parts »
Common Issues With 1994-2002 Dodge Ram Pickup Trucks
The older the truck, the more likely it is to experience many of the problems we've already covered. The 1st gen Dodge Rams from model years 1994-2002 won't surprise anyone when they experience engine or transmission issues, cracked dashes, or body structure issues. For example, many owners report the 1999 Dodge Ram 1500 stalls while driving.
Additionally, 2001 Dodge Ram 1500 transmission problems aren't all that different from those you'd find in later model years, for example. Here are three of the issues that are common to find in 1994-2002 Rams.
1. Motor Sludge
Rams from this generation, especially the 2002, have a particularly nasty problem with sludge buildup in the engine. This notorious issue can blow the engine or lead to other problems like drops in oil pressure or overheating due to the radiator bursting from backpressure.
Unfortunately, since this issue takes a while to build up, the end result of engine failure usually appears after the warranty is up. This happens even to owners who religiously change their oil, and there's not much you can do about it except replace the motor for a few thousand dollars. Depending on the condition of the rest of the truck this may not be a worthwhile investment.
2. Manifold Gasket Leaks
Engine components get leaky in older trucks, and the Ram is no exception. Many owners in this model year bracket experience excessive oil consumption, sometimes up to a quart every 50 miles. The truck may burn oil rather than leaking. Gas mileage can be cut in half, and oil pressure may suddenly drop before coming back up again.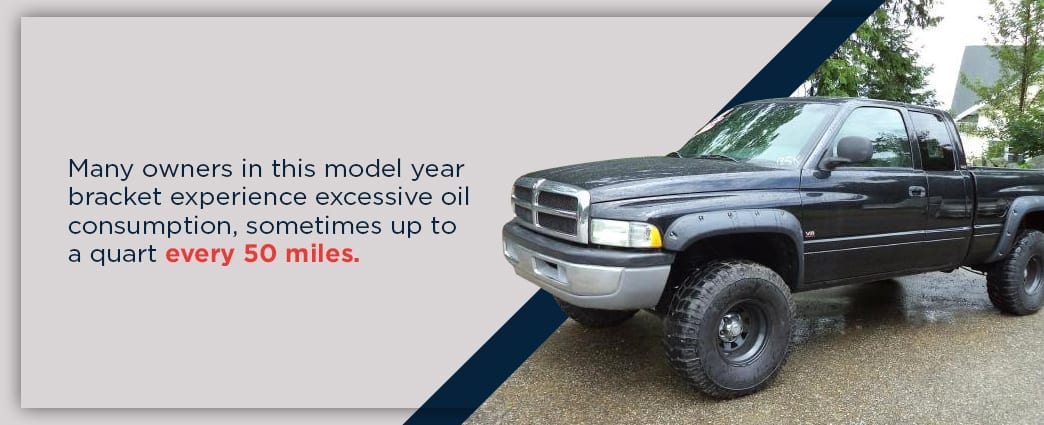 Luckily, this is a relatively easy fix. Replacing the plenum gasket often does the trick at a cost of just a few dollars if you do it yourself.
3. Catalytic Converter Failure
If everything goes right, you shouldn't have to replace a catalytic converter. However, the engine problems that many Dodge Rams tend to have can result in too much fuel entering the converter. It can form a coating on the catalyst and prevent the converter from working or cause it to overheat.
The truck might lose power, you might hear some rattling, and the check engine light may come on. The exhaust might have an unusual smell, too. If a misfiring engine has degraded your catalytic converter, you're likely looking at around $1,000 or more for professional repair.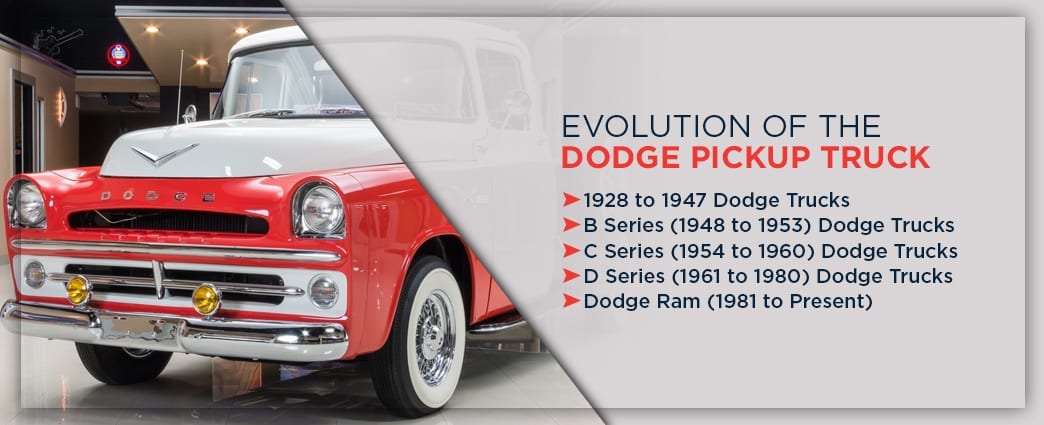 Shop 1994-2002 Dodge Ram parts »
Evolution of the Dodge Pickup Truck
Dodge is the product of two brothers and more than a century of innovation. Horace E. Dodge and John F. Dodge started out making bicycles, and at the turn of the 20th century, they opened their first machine shop. They started out making stove parts and branched out to auto components, selling them to the Ford Motor Company among others.
It didn't take long for the Dodge brothers to try their hand at making automobiles themselves, with the first Dodge vehicle appearing in 1914. Both brothers died in 1920, but by then, Dodge was already one of the biggest players in the industry. Chrysler purchased Dodge in 1928. Dodge Ram history and the evolution of pickups from the company are fascinating topics, so we'll break them down by era.
1928 to 1947 Dodge Trucks
Dodge has always offered light-duty truck models, but in the beginning, you'd be hard-pressed to tell the difference between passenger cars and trucks. Over a couple of decades, trucks began getting their own designs for chassis and body, as differentiation was needed in the growing market.
Light and medium-duty trucks were the first Dodges offered, with heavy-duty models appearing throughout the 1930s and 1940s. The Warren Truck Assembly plant opened in Michigan in 1938, and Dodge still makes trucks there today.
B Series (1948 to 1953) Dodge Trucks
The B series was designed to replace the prewar Dodge truck in a manner that appealed to civilians. It came in several variations.
B1-B: A 1/2 ton truck with 95 hp straight six flathead engine.
B1-C: A 3/4 ton truck with 108 hp straight six flathead engine.
B1-T: Variation with a semi-truck cab.
B1-V: Van variation.
C Series (1954 to 1960) Dodge Trucks
The C series was a complete redesign of the Dodge truck, with high-visibility wraparound windshields. The C series introduced a two-speed automatic transmission called the "PowerFlite." After WWII saw the military successfully use four-wheel drive, Dodge produced a citizen version called the "Power Wagon."
D Series (1961 to 1980) Dodge Trucks
Dodge has always been ahead of the game in terms of putting amenities in its trucks. They came out with the "Adventurer" package in the 1960s, which offered luxuries like padded front seats, carpeting, extra chrome trim and courtesy lighting. Dodge was also among the first to offer more spacious cabs like the ones in its "Club Cab" bodies in the 1970s.
In the later 70s, Dodge went after the people who wanted their trucks to be fun as well as functional. The "Lil' Red Express" was a limited edition that packed a police interceptor motor and big-rig exhaust stacks into the vehicle.
Dodge Ram (1981 to Present)
The "Ram" name first appeared as a rebadge on a light Dodge truck in 1981, after production of the D series stopped. Dodge had some financial issues throughout the 80s, but two things helped revive the brand. The first was the addition of the reliable Cummins B Series turbo-diesel in 1989.
The second was the appearance of the brand-new styling of the Ram in 1994, which was highlighted on the show "Walker, Texas Ranger." The V10 engine from the Viper made for another attractive option. In 2009, Dodge spun their trucks off into the Ram brand. Today, Ram trucks are known for having some of the best amenities and infotainment systems in the industry — making them the prime choice for people who want a luxury feel to their trucks.
Shop Dodge Repair Panels from Raybuck Auto Body Parts
When you need auto body repair panels and parts for your Dodge Ram, come to Raybuck. We have a wide selection of repair panels for your 2009-2017 or 1994-2002 Ram 1500. Whether you need cab corners, rocker panels, truck bed panels or another part, we have you covered with parts to replace your damaged or rusted panels.
Our parts are made using the latest in cutting-edge technology, and continuously update our product line to ensure you get only the best parts in the industry. The panels you get from Raybuck offer perfect fitment and durability thanks to the use of heavy-gauge stamped steel and 3D scans of an original part during the manufacturing process.
We've been a family-owned business since 1985, and we know a thing or two about quality customer service. If you need to contact us, you'll always hear a human voice on the other end of the line who's ready to answer your questions with expertise.