Description
Start Your Automotive Rust Removal Business Today
The Rust Release® starter kit is perfect for your machine shop or car restoration facility. Clean your engines, manifolds, carburetor parts, or any other rusted items. Two dipping tanks are available. The rust removing starter kit contains 2 or 3 x 55 gallon drums of Rust Release®, your dipping tank, and free shipping & handling!
The starter kit provides the complete package for de-rusting on small or large scale based on safe, easy-to-use equipment. The Rust Release® rust remover and dipping tank work together because they are the essential components required to remove rust for cents per pound.

Rust Release is the industrial standard for rust removal!
Rust Release will safely remove rust from steel, copper, iron, brass or aluminum and will not tarnish or pit unrusted metal. It is the safest and most effective all purpose rust removal solution. It will not damage surrounding materials, such as wood, plastic or paint, and is safe on your skin. Rust Release removes corrosion from metal without creating a waste disposal problem, so not only is it cost effective, it's environmentally friendly!
Rust Release works faster and lasts longer than competing products such as Evapo-Rust and Metal Rescue. The primary reason being the pH and surfactant package that is in Rust Release. The pH on Rust Release is 5.5-6 making it a more industrial based product and still safe for disposal.
Use Rust Release on cars and trucks for any type of auto restoration projects. Rust Release is fantastic for automotive rust repairs.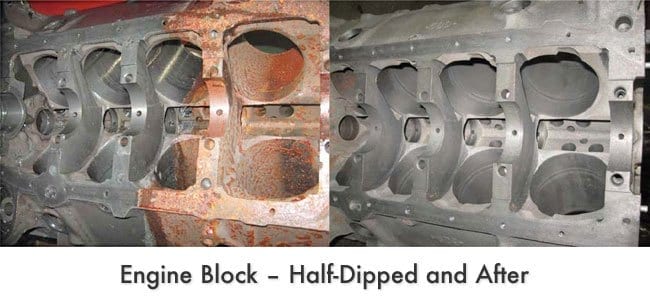 Head-to-Head Comparison of Liquid Rust Removers
Frequently Asked Rust Remover Questions
Q-How do I know when Rust Release is used up?
The bath will turn completely black and will not perform.
Q-Do parts have to be clean before using Rust Release?
No, Rust Release penetrates the dirt and oils. However, grease and dirt will decrease the life of the solution, so we recommended you clean heavy grease and oil deposits prior to dipping.
Q-How long does Rust Release last?
This depends on how rusty the metal is, but one gallon can derust up to 325 pounds of steel.
Q-Will Rust Release harm my paint?
No, it only removes rust.
Q-How do I dispose of used Rust Release?
Rust Release is considered a non-hazardous product to dispose of. However, local laws vary, so it is recommended you call your local waste management service.