Rust Release is the best liquid rust removal tool that you've probably never heard of. It has been around for years but was primarily focused on the industrial market. Companies that had large yards full of steel beams and pipes spent big money removing rust from these products prior to shipping them to a job. Prior to Rust Release, these companies used acidic chemicals or sandblasting to remove the built-up surface rust.  The chemicals were expensive and caused disposal problems since they were not biodegradable. Sandblasting is labor intensive and therefore expensive. Now these companies fill huge tanks with Rust Release and simply dip their products in it. The product can be re-used, and once completely consumed, it can be disposed of in an environmentally friendly manner. The fast acting solution saves time for this cleaning process, and the fact that it is biodegradable makes disposal easy and inexpensive. It's a win-win!
We've partnered with the makers of Rust Release to bring this awesome product to the end consumer!
Shop Rust Release »
5 Ways to Use Rust Release Rust Remover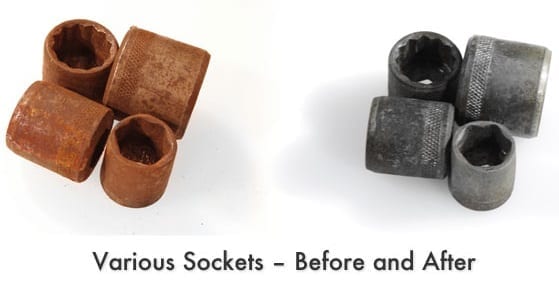 Think of all the uses for this type of product around your house or shop:
Cleaning old hand tools
Removing rust from car parts
Cleaning out an old gas tank
Cleaning an old gun
Removing the rust from your kid's bike's chain (since they left it out in the rain)
Rust Release will safely remove rust from steel, copper, iron, brass or aluminum and will not tarnish or pit clean metal. It is the safest and most effective all purpose rust removal solution on the market. It will not damage surrounding materials, such as wood, plastic or paint, and is safe on your skin. Rust Release removes corrosion from metal without creating a waste disposal problem, so not only is it cost effective, it's environmentally friendly!
Rust Release works faster and lasts longer than competing products such as Evapo-Rust and Metal Rescue. The primary reason being the pH and surfactant package that is in Rust Release. The pH on Rust Release is 5.5-6, making it a more industrial based product yet still safe for disposal. You'll get almost twice as much usage out of Rust Release than from its competitors. Rust Release also works better, and is less expensive, than competing acid-based products. See the chart below for a comparison between Rust Release and acid-based products.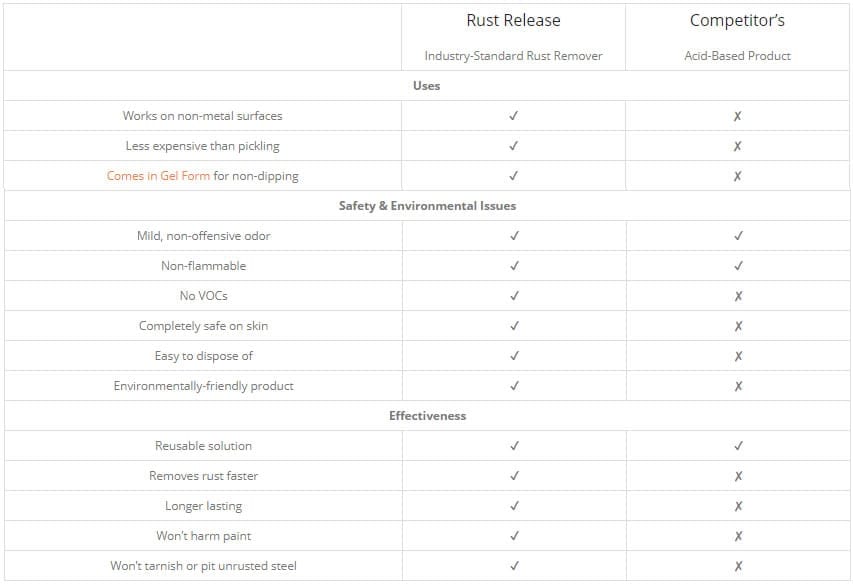 If you restore cars, this product should be in your garage. Since it's liquid, it gets into every crack, seam, indentation, and void in whatever you soak in it, which means that you don't have to worry about internal surfaces still having rust on them. Can't think of why that would be important? Try cleaning an intake manifold, a set of headers, a water pump, brake calipers, rotors, etc. One might argue that a vinegar mix can perform the same task. There are two issues with that theory: Consistency and Cleaning. Rust Release is made in an ISO 9001 controlled environment which means that every batch is nearly identical. A vinegar mix is absolutely going to vary from batch to batch (unless you're using straight vinegar). Once an item is soaked in Rust Release, you simply remove it from the liquid and let dry. With a vinegar mix, you need to clean it with a neutralizer (usually baking soda) and then make sure you thoroughly dry it or else surface rust is going to immediately start forming again. A vinegar solution will also affect other materials, such as chrome, paint, etc. For the low cost of this product, I would just keep some in the garage.
Buy Rust Release Now »

How to Use Rust Release
There are three methods for using Rust Release to remove rust off of car parts and tools:
Fill a container with Rust Release liquid and soak your items in it (soaking time varies based on amount of rust). Remove from tank and let dry. For best results, degrease items prior to soaking them as Rust Release will not remove heavy grease or oil deposits.
On light surface rust, spray your metal items with Rust Release and let dry.
For items that cannot be dipped and soaked, such as a frame rail, soak a towel in Rust Release, place the towel on the area that you want to treat, wrap with plastic and let set, remove plastic when ready and wipe surface off.
Some Benefits of Using Rust Release
Eliminate the need for sandblasting or pickling
Quickly removes corrosion from ferrous and non-ferrous metals
Removes rust faster than the leading acid-based products
Environmentally-friendly product that is organic, biodegradable, and contains no acids or VOCs
Easy to use and is reusable
Non-flammable
Will not tarnish or pit unrusted steel
Will not tarnish paint

Frequently Asked Rust Remover Questions
Q-How does it work?
Rust Release works through a selective chelation process. This process involves a large synthetic molecule bonding with metal and holding it in a solution. Rust Release only bonds to iron, so it can remove iron from iron oxide (rust). Since it only bonds to iron, it will not affect other metals, paints, etc. We suggest taking items out of the solution when the rust is gone. Leaving items in the solution for an extended period of time (days, weeks, etc) after the rust has been removed can cause darkening of the metal and may eventually affect paint, rubber, etc.
Q-What if I can't dip my product?
Soak a towel in Rust Release, place the towel on the area that you want to treat, wrap with plastic and let set. Remove plastic when ready and wipe surface off.
Q-Can I reuse Rust Release?
Absolutely! Just pour the solution back into the container and store it until you're ready to use it again.
Q-How do I know when Rust Release is used up?
The bath will turn completely black and will not perform.
Q-Do parts have to be clean before using Rust Release?
No, Rust Release penetrates the dirt and oils. However, grease and dirt will decrease the life of the solution, so we recommended you clean heavy grease and oil deposits prior to dipping.
Q-How long does Rust Release last?
This depends on how rusty the metal is, but one gallon can derust up to 325 pounds of steel.
Q-Will Rust Release harm my paint?
No, it only removes rust.
Q-Will Rust Release remove bluing?
Yes. It will remove bluing but will not remove powder coating or paint as long as the coatings do not contain oxides.
Q-What is the black film that I get on some items that were submerged in Rust Release?
The black is carbon from the steel and can be wiped off with a rag. Items that are flexible, such as saw blades or springs, are made with high-carbon steel to provide flexibility.
Q-How do I dispose of used Rust Release?
Rust Release is considered a non-hazardous product to dispose of. However, local laws vary, so it is recommended you call your local waste management service.
Questions or feedback on this product? Contact us today or leave a comment below!