Drive a vehicle long enough and its body is going to get some dings and dents. Over time, rust is also inevitable, and no one wants their vehicle to rust. Rust will quickly shorten the life of your vehicle and destroy its resale value.
For all of these reasons and more, using replacement panels to repair rusted or damaged areas will help lengthen your car's lifespan and boost its resale value by enhancing its appearance and ridding it of rust. There are several factors to consider when deciding on an OEM or aftermarket panel or fender, though. Many wonder if aftermarket parts are a dependable path to improving their car or truck. This post is meant to share information and provide key considerations when you're looking to upgrade with aftermarket truck body parts or other replacement parts for your car.

We'll first look at aftermarket parts versus original equipment manufacturer (OEM) parts. It's common for old-school car enthusiasts to share tales of running from one junkyard to another in search of a specific replacement panel for reconditioning and installation. This was a common practice because many times OEM parts were unavailable or prohibitively expensive.
Today there are more options. Original equipment manufacturers offer a wider selection of parts, even for older models, and there is a robust aftermarket parts industry. With the boom of the aftermarket industry in recent years, you can now find almost anything for your vehicle. But can the aftermarket be trusted? If it's not the original manufacturer, are you assured of a perfect fit and look?
The answer is: Maybe. It depends on a number of factors, each outlined below. Know and understand the reputation of any aftermarket manufacturer, know and understand your steel grade and gauge options, and become familiar with key considerations for body panels and rocker panels.
At Raybuck, this is what we do: We help auto enthusiasts just like you consider their options and find high-quality aftermarket solutions for body panels and other replacement part needs. Read on for more information on aftermarket replacement panel quality, and get in touch with us any time to speak to one of our customer service representatives about your specific needs.
OEM vs. Aftermarket Replacement Parts
No matter what kind of vehicle you drive, no matter its age, no matter its manufacturer, you always want the best in replacement parts. But, complicating matters, you want value, too. How does the average driver know what parts represent the best value?

When looking for replacement parts for your vehicle, it's important to understand the key differences between aftermarket replacement parts and original equipment manufacturer parts. Knowing the difference will help you make the best decision for you and your vehicle when it comes to investing in replacement panels.
And that's an important point: There's no right or wrong answer. It's not a black-and-white situation. You must make the best decision for your unique needs and budget. So, without further comment, here's what is meant by aftermarket and OEM:
Aftermarket: Aftermarket parts do not come from the vehicle's manufacturer. If you drive a Ford, an aftermarket replacement panel may fit your Ford perfectly, but it is not made or endorsed by Ford. There's nothing wrong with this. In fact, as an example, the Ford Mustang aftermarket industry is filled with replacement parts that are designed to be superior to the OEM parts. This goes for a variety of makes and models. Aftermarket parts tend to be less expensive than OEM parts and are usually available from independent shops. The aftermarket typically offers more options as well, but be cautious as the selections can be overwhelming. You will want to choose a respected name to help ensure you're getting quality parts.
OEM: You may have already guessed, but OEM parts are made by the original manufacturer. When you choose an OEM part, it means you're getting an exact replacement part for your vehicle. This has obvious advantages such as ease of selection, quality guarantee and most likely a warranty. But OEM parts also tend to be more expensive, and a desire for OEM parts limits your pool of service providers — you will most likely have to go through a dealer's shop. And don't forget, as mentioned above, the quality is not always better when you choose OEM parts. Certain aftermarket options are actually better than the originals.
So what's best for you? Again, there's no black-and-white answer, but after seeing the quality aftermarket parts that Raybuck offers, you'll learn more about our efforts to position ourselves as the most trusted source for aftermarket replacement panels. Keep reading for more considerations as you look for OEM or aftermarket replacement panels.
Are Steel Grade and Gauge Important?
When making a decision about replacement parts, many are curious about aftermarket replacement panel quality. Are you risking quality if you choose aftermarket replacement panels over OEM panels? Usually no, but it depends on the aftermarket manufacturer as steel grade and gauge are important factors.
Steel is made through the mixture of limestone, iron ore and coke. These components are heated at incredible temperatures. Once in a liquid state, bonding occurs. Slag, or waste, is separated, and you're left with quality steel once the liquid material cools and returns to solid form.
So you have a solid steel replacement panel now. How do you know if it's a quality panel? As it relates to steel grade, the higher the better. Higher grades of steel are known to last longer and perform better. A higher steel grade will also help prevent rust and corrosion.
Gauge relates to the weight and thickness of steel. It is measured in pounds per square foot, but is commonly denoted as a fraction or decimal number representing its thickness. So the lower the gauge, the heavier and thicker the steel, and the higher the gauge, the lighter and thinner the steel. Thicker steel is obviously preferable because it helps prevent dents and warping. Since it's more substantial it will have increased durability and safety.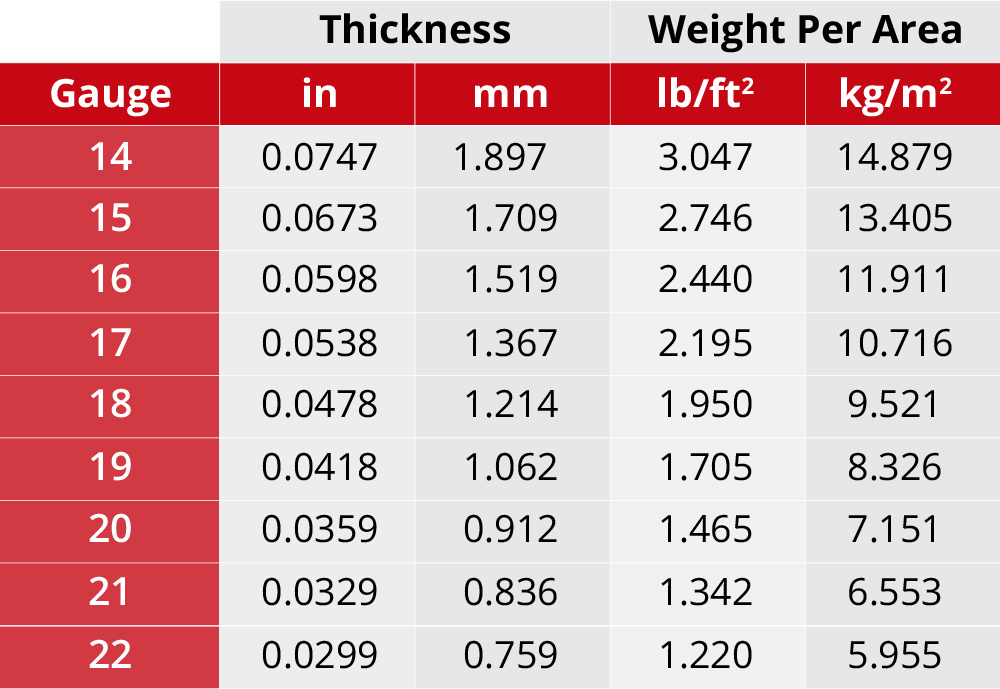 What's the best path for you? Think carefully about the cost of the OEM replacement part and what gauge and grade you're getting for that cost. Then, consider the same for the aftermarket part. The quality of aftermarket parts can vary widely, but often a provider's reputation is a strong indication of the quality you can expect. At Raybuck, we only offer replacement panels that meet or exceed the original thickness of the panels they'll be replacing. This helps ensure quality and durability. As you consider aftermarket providers of replacement panels, check to make sure you're not getting thinner replacement parts in exchange for lower prices.
Replacing Body Panels
When we work with customers who need replacement panels, these customers are most often in need of body panels. And rust is the number one reason behind these replacements. This is especially true of drivers who live in the north, where snow and ice and the salt used to treat roads slowly but surely wears away at the original body panels. This is also true in coastal areas where sand and salty air have the same damaging effect.
When you're looking into aftermarket rust repair, you must again decide what solution provides the best value for your unique situation and vehicle. You'll want to consider:
Damage: How badly is your body panel damaged? Do you need a full replacement, or can the panel be patched or otherwise repaired?
Quality: If you're going for a full replacement, what level of quality do you demand? Think through the considerations listed above in regard to aftermarket versus OEM, grade, gauge, etc.
Cost: How much are you willing to pay for that level of quality?
As with any product, you'll want to find a provider known for high-quality standards of fabrication and accuracy. This can make the difference in fit, look, and performance, as well as ease of installation.
Replacing Rocker Panels
Of all body panels, rocker panels tend to take on the most damage. For those unfamiliar with the term, a rocker panel is the lowest panel on your vehicle located on the sides, and usually stretches from wheel well to wheel well If you drive a truck, your rocker panel may even include a step up into the vehicle.
Rocker panels take a lot of abuse for an obvious reason — their proximity to the road. As mentioned above, northern areas that experience a great deal of snow and salted roads may be harsher for rocker panels. Your front wheels are kicking up this snow, ice, and salt, and it's finding its way onto your rocker panels. The same goes for coastal areas, too, where sand and salt that found its way onto the road are kicked up onto your rocker panels. Even if you don't live in the north or near saltwater, gravel, mud, pebbles and other road clutter can kick up onto your rocker panels, wearing them down over time.
The real problems arrive when paint chips away and metal starts to show. This is when your rocker panels will begin to rust. You can maintain rocker panels by priming and repainting as necessary to prevent rust, but what if your rocker panels are beyond repair ? It's time to make a decision between aftermarket and OEM parts.

We covered the differences above, but know that there's a significant savings when choosing aftermarket rocker panels. Anytime you're considering an OEM part over aftermarket, you can expect to pay anywhere from 50–100% more. Of course, cost isn't everything, but given the vast aftermarket for rocker panels, you should be able to find a quality component that delivers the level of fabrication, accuracy, and value you desire.
Rust-Out Repair
For those who feel they can repair their own panels, you have options. Let's be honest, older vehicles are bound to experience rust after years on the road. There's a direct correlation between the age of your vehicle and the amount of rust it's likely to have — especially if rust has gone untreated. And the aforementioned circumstances of snowy northern areas and salty coastal areas are likely to enhance this issue.
Attack rust early by using rust-inhibiting products, such as neutralizers, paints, undercoating, or wax, and repainting small rusted portions on an ongoing basis. This will help maintain the long-term integrity of your vehicle, as well as its resale value.
If you're replacing an entire panel, or a portion of a panel, consider using a high quality aftermarket panel. For many who have been in the automotive game for a long time, the idea of replacement panels conjures time spent at a junkyard obtaining an old panel and reconditioning it to meet your needs. But the aftermarket has grown significantly in the 21st century, and now you have access to high-quality panels that look and fit just like the originals, and that deliver the durability you want and need. The difference between an aftermarket replacement panel and OEM is virtually indiscernible.
About Raybuck
At Raybuck, we exist to serve the auto enthusiast who is always looking to make his or her vehicle better. We offer a curated selection of replacement parts and accessories that meet the highest standards of quality. This helps ensure you get the look and feel you want as well as the durability and long-term performance you need. We focus on the do-it-yourself enthusiast who enjoys getting under the hood or chassis to learn about his or her vehicle and make needed adjustments and improvements. We offer a wide selection of the highest quality parts at the most reasonable prices.

We've been in business since 1985, which means 30+ years of helping you find the replacement parts that you need for your vehicle. We've also learned a lot through these three decades of service, and our knowledgeable customer service team is here to help you. When you call Raybuck you will never get an automated response, but rather a human being who knows and understands your vehicle and can help you find the parts you need. You can also email us for support if you prefer. For aftermarket truck repair parts and all your other automotive needs, Raybuck is your source for quality products and exceptional service.
Browse our catalog for the aftermarket replacement panels you've been looking for.