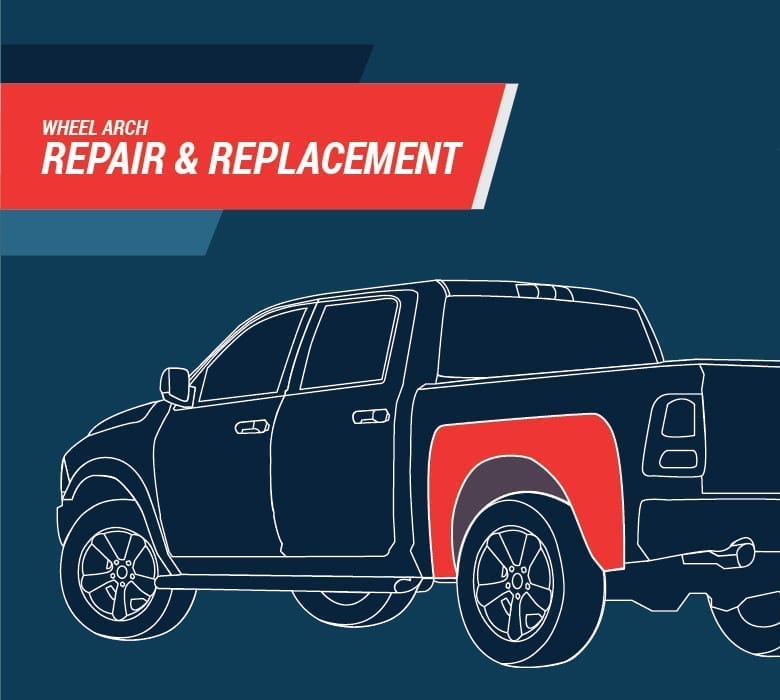 Whatever type of vehicle you drive, over time, it's bound to collect moisture and road debris in its wheel arches. The wheel arch is the space just above and to the inside of your tires. And since your tires are constantly in contact with the road, every bit of debris they kick up has the potential to hit the wheel arch and wheelhouse area of your vehicle.
Most cars have an inner piece – the wheelhouse – and outer skin – wheel arch panel – that form this area that people commonly refer to as the "wheel opening," while many trucks — especially around their rear wheels — may have three pieces that make up this area. Regardless of the make and model of your vehicle, once your wheel opening starts to rust you don't want to wait too long to perform the wheel arch rust repair. Rust in your wheel arches will only get worse over time and eventually spread to other areas of the vehicle, causing even more costly damage.
To help you make a successful repair, we've put together this helpful article on how to repair badly rusted wheel arches. And remember, the knowledgeable staff at Raybuck Auto Body Parts is here to answer all of your questions. We have decades of experience helping restore and keep vehicles like yours on the road.
Quick links:
Why Wheel Arches Rot Out
Your wheel arches take a lot of abuse, even if you clean them regularly. Moisture accumulates in the groove between the inner wheelhouse and the outer skin. Plus, your wheel arches take a beating when your tires kick up dirt, water and other debris while driving.
These factors, combined with the way manufacturers make today's pickup trucks, can lead to more frequent wheelhouse replacements. Most manufacturers put foam in between the two panels on newer pickup trucks. They claim this is for sound deadening purposes. The problem with the foam starts with how it's installed. It's heated to 200 degrees Farenheit, spread in, and then let to expand. The hot liquid foam tends to burn off any EDP or other coating on the areas that it touches, leaving bare metal. Once cooled, the expanded foam will hold moisture when exposed to it. Just think about how much water gets kicked up in this area while driving in the rain. That's a lot of moisture. So now you have bare metal that has moisture-holding foam against it. This is what causes wheel arch panels to rot from the inside out, and it's no wonder wheel arches are one of the most common areas to show the first signs of rust damage on your truck.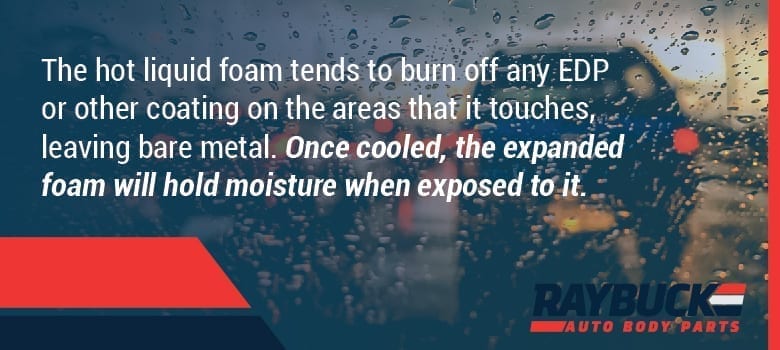 The sooner you replace the outer wheel arch panel, the more likely you are to prevent the further spread of rust. As rust eats away at the inside of your panel, the paint will bubble and flake on the outside of your wheel arches. Installing wheel arch panels as soon as you notice any rust can help stop any further damage and save you money.
How to Repair Rusted Out Wheel Arches
When determining how to repair rusted wheel arches, the most important step is to decide which pieces need to be replaced. The general process is quite similar for cars, trucks, vans and SUVs, though the replacement parts vary a bit. At Raybuck, we stock one of the widest selections of wheel arch panels and inner wheelhouse assemblies in the industry — so getting the right replacement parts is never an issue.
If your rust repair involves just the outer skin — or the wheel arch panel — it will be simpler than if you need to also replace the inner wheelhouse piece(s). But regardless of how extensive the rust damage is to your wheel arches, the following steps can help you make quick work of putting an end to those unsightly rusted areas around your vehicle's wheels.
In preparation for repairs, you should first park your vehicle on solid, level ground where you can get a good look at both the outer and inner wheel opening areas. Always remember to set the emergency brake when you're working on your vehicle to prevent any accidental rolling.
Next, gather the tools and supplies you'll need during the repair process:
Tools and Supplies for Repairing Wheel Arch Panels
A power drill with bits for drilling through metal panels (and possibly a spotweld bit)
A clean respiratory mask
A magic marker and masking tape
A set of vice grips and panel clamps
A flange tool to help make solid weld joints
A hammer and screwdriver set
A metal saw and/or angle grinder
A wrench and socket set
Aftermarket wheel arch repair panels from Raybuck
Protective gloves and eyewear
Prep Steps
Continue prepping your vehicle by removing any fender flares, covers or overlapping pieces that may restrict your access to the affected wheel arches. Depending on your vehicle's make and model, this step may also involve jacking it up to remove its wheels and/or taking off any trim panels and sill covers that can block your access. Now it's time to remove the rusted panels — preferably using an angle grinder fitted with a cutting disc. When you're removing rusted panels, remember to leave sufficient material for the replacement panel to be welded to.
Repairing Your Wheel Arches
As for the repair, the next steps depend on the level of rot you're facing. If you only need to replace the outer skin — or wheel arch — it's a basic cut and weld process that you're looking at. If, on the other hand, you need to replace the inner wheelhouse too, the repair process is going to get a bit more involved. A number of spot-welds will need to be drilled out on the wheelhouse's inner lip — as well as along the outer lip closest to the bed skin.
Regardless of the extent of the rot you need to repair, you can either butt-weld or flange and weld the replacement piece in place. The processes include the following steps:
Create a flange around the perimeter of the cut-out area while laying in the new panel using a handy flange tool from Raybuck
To butt-weld, figure out how much of the existing area needs to be cut out
Mark the area with a marker or tape and lay and clamp the replacement panel over it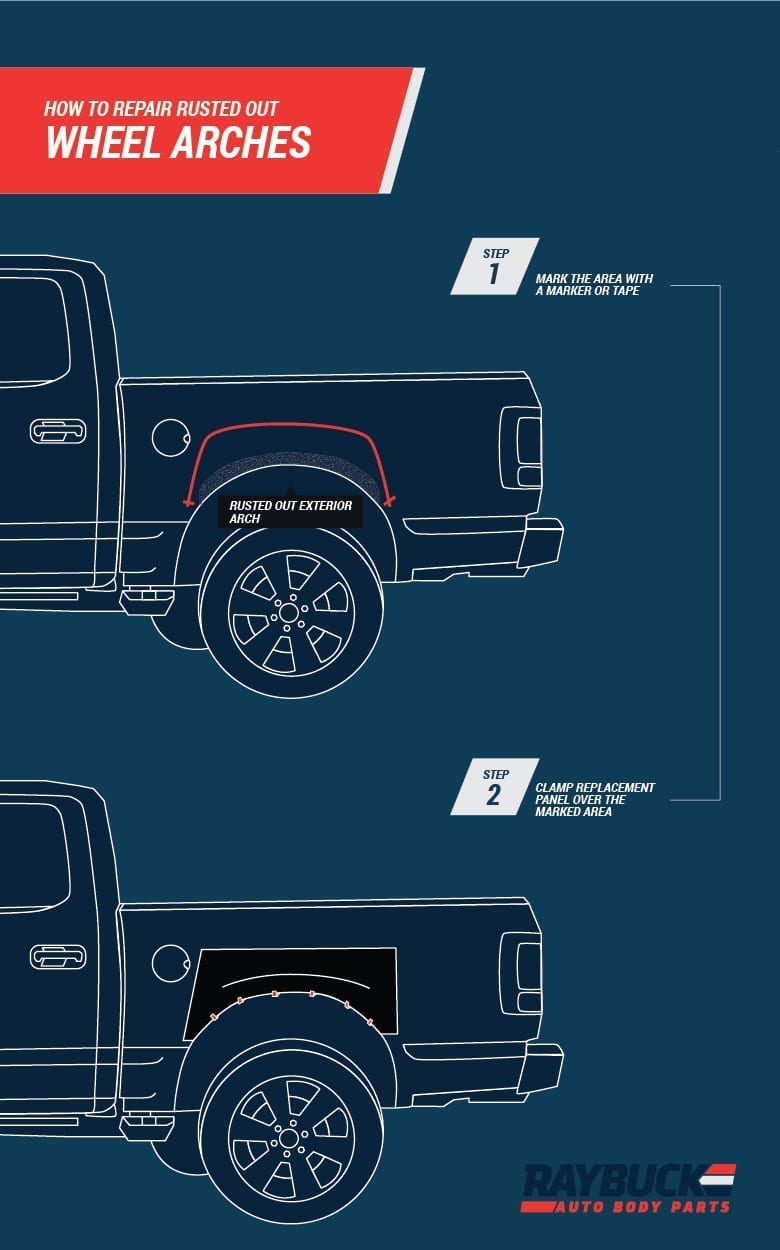 Use your grinder and cutoff wheel to cut both at the same time
Ensure the two panels are not touching all the way around, as they'll expand and warp once heat from the weld is applied
Use clamps to hold the panels in place and help maintain the gap and panel alignment
Weld the panel in place, making sure to alternate weld areas so as not to apply too much heat to any one area, causing it to warp
Grind down high-weld spots with your angle grinder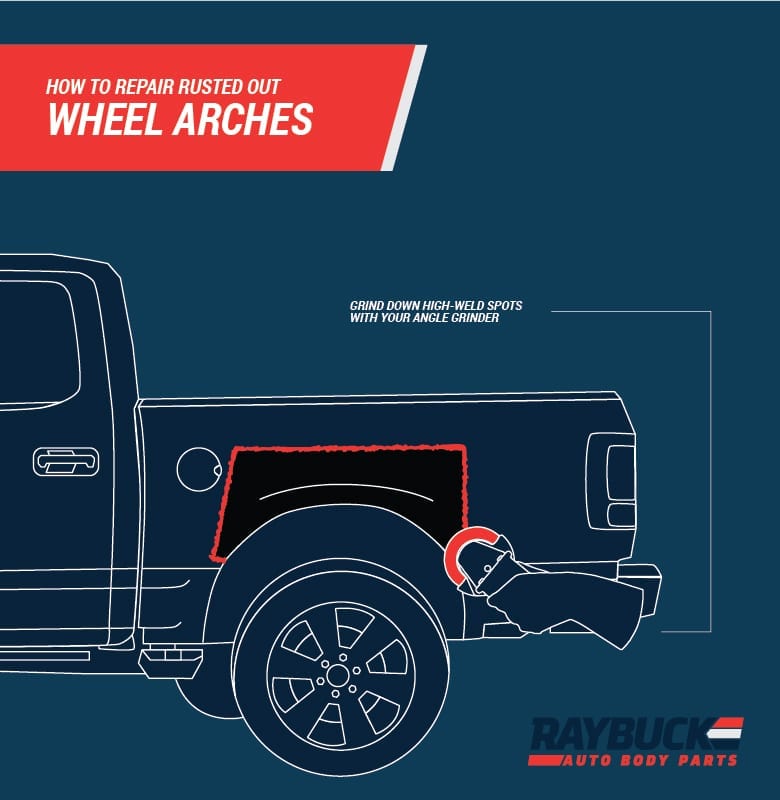 Apply body filler as necessary, sand and prime
Paint over the outward-facing repair panel using automotive grade paint, or take it to a professional for painting
Paint or coat the inner panels (wheelhouse area) with undercoating
Shop Wheel Arch Repair Panels From Raybuck Auto Body Parts
Since 1985, we've been supplying high-quality aftermarket parts at competitive prices. That's why our wheel arch repair panels are made of heavy gauge stamped steel of equal or greater thickness to the OEM parts they're replacing — to save you money while extending the life of your vehicle.
Along with replacement wheel arches, we stock a huge inventory of cab corners, bed panels, door skins and much more. If you have any questions about which replacement parts to order, contact us for all the help and support your vehicle deserves.