In 2003 Ford released a limited production "Heritage Edition" trim package as part of its 100th Anniversary celebration, and there were 15,000 of these models produced.  This model had a two-tone paint scheme and other special styling differences that set it apart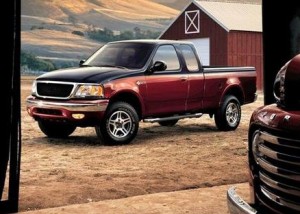 from the other F150 models.  A picture of one of these models is shown to the right.
There tends to be confusion when talking about the Heritage, though, as there is also a 2004 Heritage (not Edition).  The 2004 Heritage is actually just a 2003 F-Series that was carried over into 2004.  There is no special branding or code associated with it as it was not a special trim package, but merely a run over from the previous year.  So even though you purchased a 2004 F-Series truck, you could have either a 2004 Heritage that has the older body style (1997-2003), or one of the newer body style (2004-2008) trucks. When ordering parts, please double-check the year and the style to make sure that the parts match your truck.