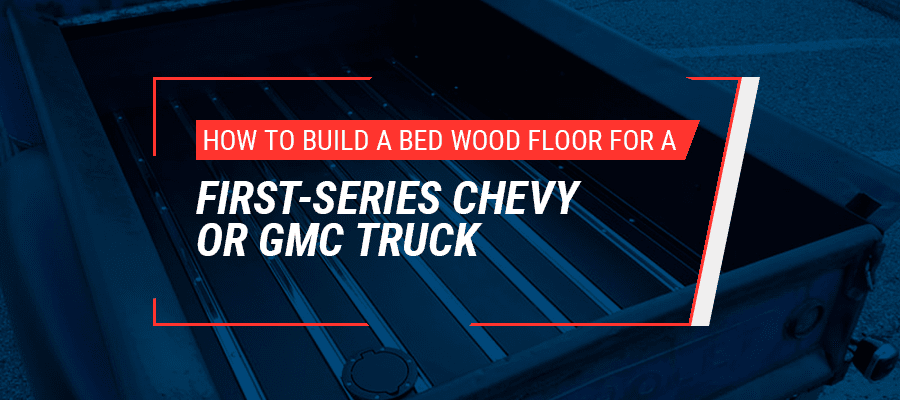 All Chevrolet and GMC trucks left the factory with bed wood materials through the early 1970s. The planks met with cross sills and reinforcement strips for a finished look. If your first-series Chevy or GMC truck needs restoration work, follow the instructions below to see how you can make a new wood truck bed yourself.
Materials You'll Need
You can buy flooring kits with planks in the correct dimensions for Chevy and GMC trucks, but some owners choose materials individually for personalized results.
The number of wooden boards originally included in Chevy and GMC trucks changed throughout production. For example, a 1957 Chevy truck bed contains eight wooden boards, while models from the 1940s have nine. Verify your truck's production year to determine the number of wooden boards you'll need. Here's a general guide:
1947-early 1951 trucks: Nine wooden boards
Late 1951-1972 stepside trucks: Eight wooden boards
1973-1987 stepside trucks: Seven wooden boards
You'll also need a series of metal bed strips, metal angle strips, and cross sills. Some cross sills bolt to the truck frame and some will only bolt to the bedsides.
Make sure you have the following tools:
Tape measure
Power drill
Electric saw
Router
Chevy and GMC Wood Truck Bed Plank Dimensions
The sizes of the original wood planks depend on your vehicle's model year. These pieces will also look different based on whether your truck follows a stepside or fleetside layout. If available, measure the existing planks in your truck bed to determine the length and width of updated planks. If the wood has rotted away, you should still be able to measure the distance between the mounting holes on the bed cross sills.
Chevy first-series trucks should have a 1/16″ gap between bed strip edges and raised sections of wooden materials to account for expansion. Select wood boards that are 3/4″ thick. Check out the information below to see specific widths for specific model years.
1947-early 1951 first-series trucks:
4 1/4″
5″
5 1/2″
5 1/2″
6 3/8″
5 1/2″
5 1/2″
5″
4 1/4″
Late 1951-1955 first-series trucks:
4 1/4″
7 1/4″
5″
7 1/4″
7 1/4″
5″
7 1/4″
4 1/4″
Product Links
The lengths of first-series beds changed according to payload capacity. Most beds from the first-series Chevy and GMC era were either 77″ or 85 3/4″ in length. The 1/2-ton bed models were equipped with shorter planks than the 3/4-ton builds.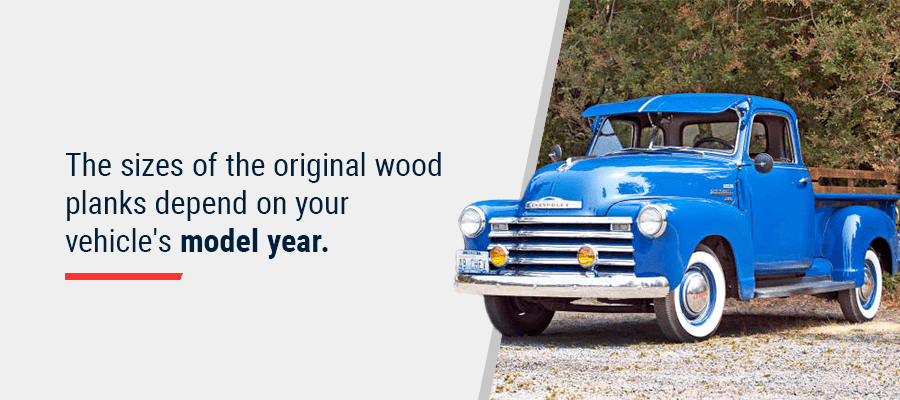 About Bed Plank Board Grooves
Original Chevy truck beds featured metal strips that helped secure the wood planks to the cross sills. Automotive enthusiasts identify these metal materials as wear strips, or bed strips. To install bed strips, you'll need to make sure the planks have grooves so you can fasten them securely.
Some may think that the wood planks were bolted directly to the cross sills, but they are not. Using bed strips to secure the wood allows the wood planks to expand and contract with temperature and moisture changes. General Motors was careful in deciding the bed plank board groove dimensions as engineers wanted to ensure the wooden beds could get wet without buckling or separating from the supports below them.
Outer bed planks require grooves on the inside edges. All connecting boards in between should have grooves on both sides. We recommend buying bed strips before cutting your planks to size. The smaller you make your grooves, the more the metal strips will stick out above the bed wood.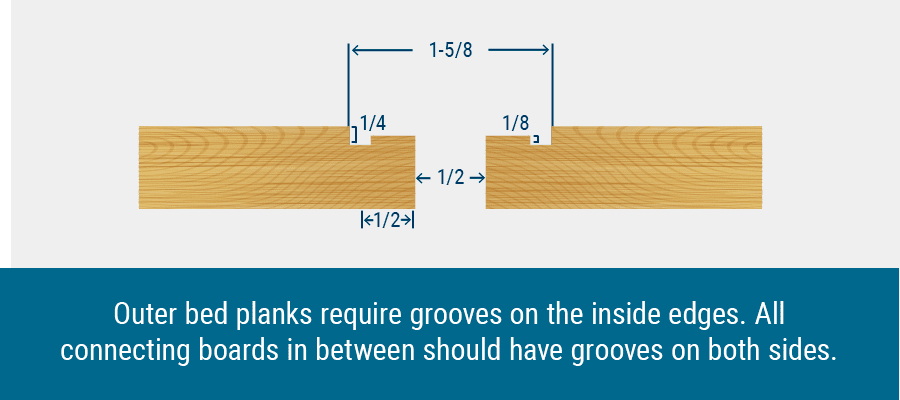 Use these dimensions to cut grooves in centerboards that are 3/4″ in thickness:
1/8″ for the inside groove
1/4″ at the bottom for the bed strip
1/4″ for the outside groove
The metal bed strips should sit higher up in comparison to the wooden planks. This layout reduces the chance of loading materials landing in the crevices of boards, which can cause premature wear.
Steps to Building a Chevy or GMC Wood Truck Bed
Use the guide below to finish your truck bed restoration job:
Gather the dimensions of your bed frame.
Cut the wooden planks to size.
Use a router or table saw to cut the grooves along each plank side.
Lay the wooden planks from left to right over the bed frame.
Position metal bed strips between the planks.
Thread fastening bolts through the metal strips down in between planks.
Install a metal angle strip along both sides. These strips bolt to the cross sills and not the bedsides. They secure the outside edge of the two outer wood planks.
Fasten your installations using hardware nuts.
Make adjustments as needed until the planks are completely straight.
Purchase Bed Strip Kits From Raybuck Auto Body Parts
Raybuck Auto Body Parts will help you restore your first-series Chevy or GMC truck with rust repair panels and other components. You can bring your vehicle back to like-new condition by ordering automotive parts today.
Our team is here to help you decide on restoration solutions. Reach out to learn more about Chevy and GMC parts.