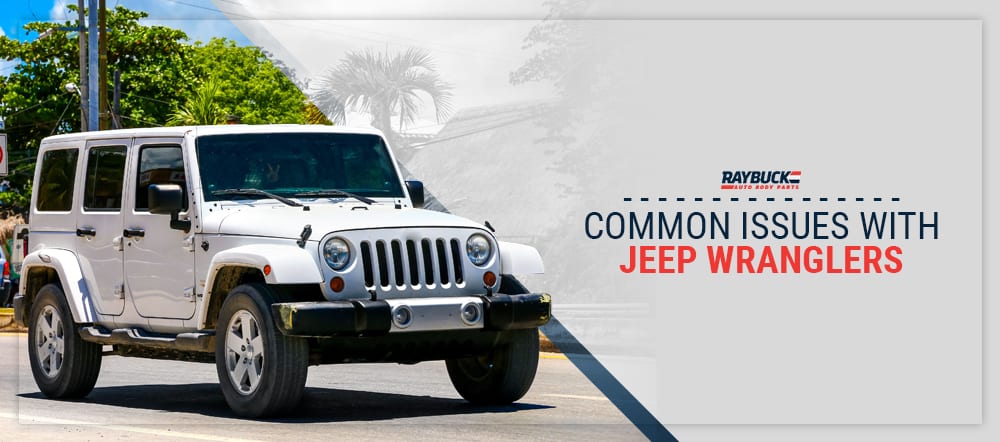 There's no denying the rugged appeal of the Jeep Wrangler. This tough vehicle can tackle everything from a morning commute to off-road adventures with ease. But Jeep Wranglers still have a variety of issues that can lead to extensive and costly repairs. Each generation has its own set of problems to watch for. We've compiled an overview of the most common Jeep Wrangler problems and what to know before buying a Jeep Wrangler.
Quick Links:
A Brief History of the Jeep Wrangler
The Wrangler as we know it did not appear until 1986. However, the Wrangler gets much of its style and capability from the Jeep CJs that came before it.
The CJ (1945-1986): Before World War II, Jeeps were only used as military vehicles. Near the end of the war, the first CJ, or "civilian Jeep," was released. It had a tailgate, a canvas top and lower gearing to make it more civilian-friendly while keeping a classic Jeep look.
The YJ (1986-1995):The first Wrangler was the YJ, which was introduced at the 1986 Chicago Auto show. It had the same frame as the CJ, but got a new look with rectangular headlights. The YJ's suspension and interior features came from the Cherokee.
The TJ (1996-2006): The release of the TJ in 1996 marked the beginning of the second generation Wrangler. Improvements to this generation included a stiffer body and frame, coil springs and round headlights. The engine choices remained the same as the YJ, making the TJ less of a relaunch and more of a heavy redesign.
The JK (2007-2018): Today, most Wranglers have a four-door cab — but this option didn't appear until the JK debuted in 2007. The third generation offered traction and stability control to increase safety, and kept features like removable doors, soft tops and fold-down windshields.
Common Issues With 2007-2018 Jeep Wranglers
The third generation of Jeep Wranglers is considered the least dependable. It has the most complaints and lowest-rated reliability among consumers, with multiple issues affecting every part of the vehicle. Let's take a look at some of the most common issues with Jeep Wranglers of this era.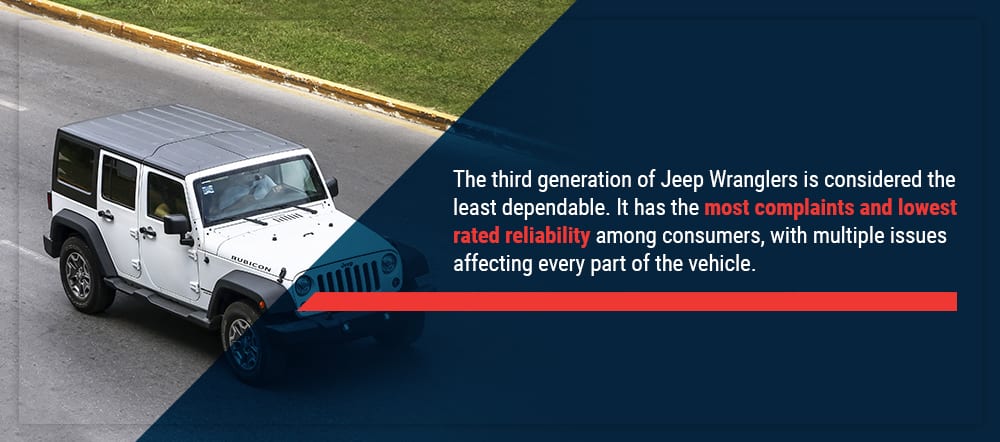 1. TIPM Failure
A vehicle's electrical system depends on a functional totally integrated power module (TIPM). The TIPM facilitates everything from the fuel pump moving gasoline and power window function, to the headlights and throttle control. Without the TIPM, even the radio won't work correctly.
Fiat-Chrysler vehicles from 2007 to 2015 are notorious for early TIPM failure. The Liberty, Grand Cherokee and Wrangler from these model years are all susceptible to this inconvenient and dangerous issue. Symptoms of TIPM failure include:
Fuel pump remaining on and burning out due to constant use
Airbags refusing to deploy or deploying at random
Engine stalling while the vehicle is in motion
Starter cranking but refusing to start
Horn honking at random intervals
Power windows getting stuck
Doors locking or unlocking without input
Many owners describe a faulty or failed TIPM as making the vehicle feel "possessed." Chrysler acknowledged the issue by sending out a recall for the 2007 Wrangler. The company blamed the dangerous stalling on a TIPM timing error. Even though many other year models were affected by the issue, none of them received a recall. Owners had to pay for repairs or replacements out of pocket.
TIPM issues are expensive, with the average TIPM repair cost at $1,200. Many reports occur while the vehicle is still under 40,000 miles.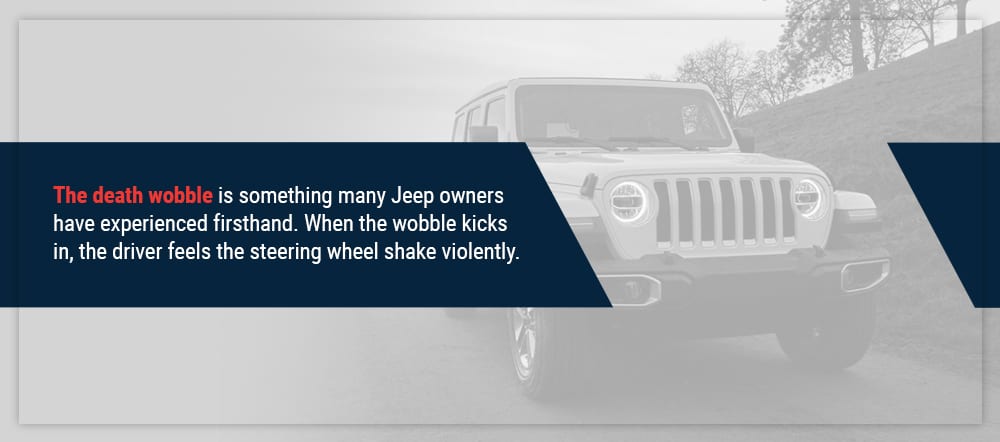 2. The "Death Wobble"
The death wobble is something many Jeep owners have experienced firsthand. When the wobble kicks in, the driver feels the steering wheel shake violently. It usually happens after hitting a pothole or experiencing another jolt, and can sometimes be triggered by pressing hard on the brake pedal.
While it may feel like the vehicle's axle or wheels will fly off, that isn't something to worry about — no one has died as a result of a death wobble. If it happens, keeping a cool head can help drivers regain control and continue safely to a mechanic.
The death wobble occurs when steering components come loose or become damaged. It can also happen when someone installs suspension or steering parts incorrectly. The first step of diagnosis is to see if any parts have been bent or broken in the front suspension. Possible causes of the death wobble include:
Ball joints
Drag link and tie rod ends
Front track bar
Lower control arms
Upper control arms
Steering knuckles
Steering stabilizer
Suspension bushings
All these parts need to be inspected for excessive wear and damage. When troubleshooting the death wobble, try tightening all the hardware to the manufacturer-specified torque. Improper wheel alignment and unbalanced tires aren't typically the source of the death wobble, but these conditions can make the issue much worse.
Most reports show no clear solution to the death wobble, and many owners have attempted to have the issue fixed multiple times. For the 2007 Wrangler, owners report spending almost $900 on attempted repairs, and few of those repairs permanently fixed the issue. Despite how common this problem is, Chrysler has not issued a recall.
3. TPS Failure
The throttle position sensor (TPS) relays information to the engine control module (ECM). It communicates how open the engine throttle is at any point so the ECM can properly alter emissions, ignition timing and fuel metering. The TPS is vulnerable to failure due to its complex combination of electrical and mechanical components.
When the TPS fails, its voltage readings will be incorrect and the check engine light will come on. The TPS sends information to the ECM that affects shift points in the transmission, leading to unexpected shifting issues that can be very dangerous while driving.
Signs of TPS failure to look for include:
Bucking or jerking when the engine is under moderate stress
Strange surges in speed
Engine stalling suddenly and for no reason
Reduced power and fuel economy
Hesitation under acceleration
Delayed shifts
Difficulty changing gears
The average cost for a TPS replacement on a Jeep Wrangler ranges from about $130 to $150. Labor costs are estimated between $70 and $90, while the parts are typically priced around $60.
Shop 2007-2018 Wrangler Parts »
Common Issues With 1997-2006 Jeep Wranglers
Though the second generation has fewer registered complaints over time, there are still some 1997 Jeep Wrangler problems that affect all the model years in this range.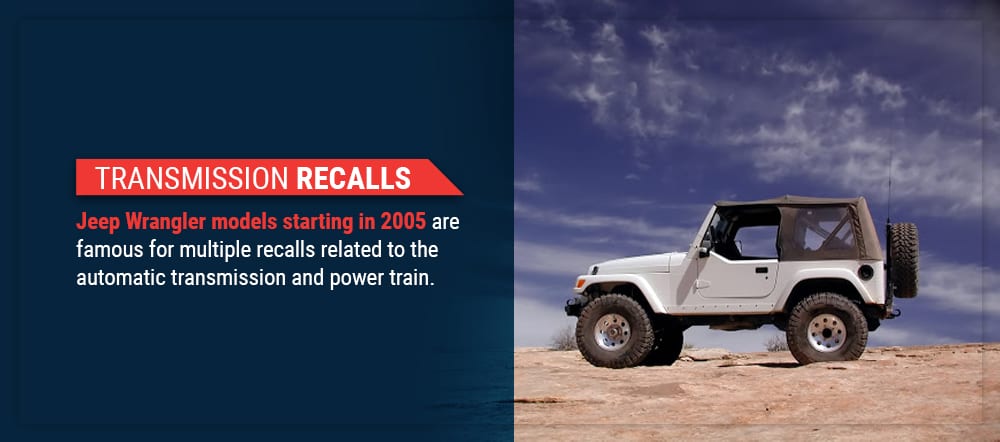 1. Transmission Recalls
Jeep Wrangler models starting in 2005 are famous for multiple recalls related to the automatic transmission and power train. The transmission may slip or get stuck in one gear. If the vehicle gets locked in one gear while driving on the freeway, the consequences could be deadly.
Although the issue is under recall and Jeep pays for the repairs, transmission issues typically come with long repair times.
2. Engine Popping
Backfiring or popping sounds in the engine can come as a shock, especially if it's never happened before. In many cases, backfiring sounds as loud as a gunshot could cause you to jerk the vehicle while driving. Some of the common culprits of backfiring in Wranglers include:
Incorrect engine timing
 Failed spark plugs
Running rich with too much fuel and not enough air
Plug wires, if equipped
Backfiring happens under a variety of circumstances and repair costs vary based on the specific issue you're having.
3. Leaking Door Seals
Door sealing should be a simple component that doesn't fail early, but Wranglers are famous for having sealing issues. Leaking in the A-pillar is well-known among 1987 Jeep Wrangler issues, and it remains a concern for the other generations. Door leakage is especially common among 2002 Jeep Wrangler problems.
Poorly sealed doors create a damp environment that may cause unpleasant odors. If the issue gets bad enough, the moisture might damage electrical systems. Fortunately, door seals are easy to find and install. You can find Jeep weather stripping for this purpose for under $50 per door.
4. Differential Pinion Seal Leaks
The pinion seal helps keep fluid from leaking out of the differential. If the differential leaks fluid, it can fail, causing your Wrangler's gears to seize and lock up the rear wheels while driving. The main symptom of low fluid in the differential is a whining noise while driving.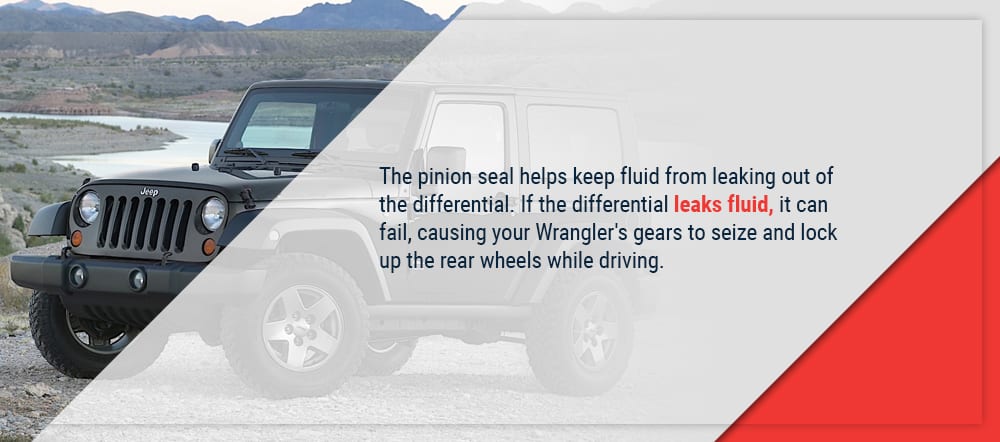 The average cost for a pinion seal replacement is between about $210 and $255, most of which is labor.
5. Transfer Case Leaks
Transfer cases are found in AWD and 4WD vehicles and split the transmission's power between the front and rear wheels. As a self-contained component, it has its own fluid which commonly starts to leak in Wranglers. If your transfer case is leaking, it may be a simple seal failure. It could also mean there is a problem with the overall transfer case, like a bad bearing.
Although the average cost of the parts required is around $30, getting a transfer case oil seal replacement may cost between $150 and $190.
Shop 1997-2006 Wrangler Parts »
Common Across Multiple Jeep Wrangler Generations (1997-2017): Ignition Switch Issues
A Wrangler part to pay special attention to is the ignition switch. The majority of ignition switch complaints for second generation Wranglers are because of age, but you'll find malfunctioning ignition switches in the third generation, too. The ignition switch is not the slot you push the key into — that's the lock cylinder. The ignition switch is usually found behind the lock cylinder, and it has three central functions:
Accessory power: This is the result of turning the key to the first position, which allows you to roll down the windows, turn on the radio and use other electrical accessories.
Ignition: Moving the key to this position starts the ignition and the fuel pump, pressurizing fuel and ensuring the engine is ready to go when it turns over.
Starter: Moving the key to this position cranks the starter.
When you have ignition switch issues, the symptoms don't just affect the car starting. Here are several signs your Wrangler has a problem with the ignition switch.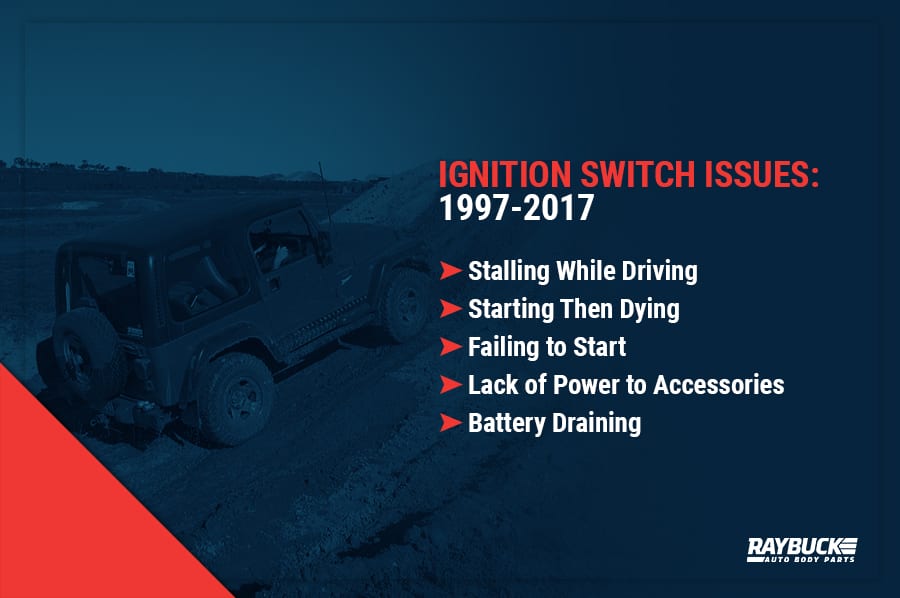 1. Stalling While Driving
A clear and dangerous sign of ignition switch issues is stalling out while driving. This happens when the failing switch cuts off the fuel pump or stops power to the ignition. The engine can't run until it picks that signal up again.
2. Starting Then Dying
In some cases there are no problems starting the vehicle, but it immediately dies. When this happens, the fuel pump or ignition is not getting power while the key is in the run position, but power is there when the starter is engaged.
3. Failing to Start
There is more than one way a bad ignition switch can stop your Wrangler from starting. In some cases, the starter cranks but the switch fails to turn on the fuel pump or ignition. This results in the engine turning over but not sparking. The other possibility is that the starter doesn't turn over.
4. Lack of Power to Accessories
Some cases of a failing ignition switch don't keep the car from starting or running. Instead, the vehicle may start and drive fine while none of the accessories work. A few vehicle parts don't require a key in order to be safer, including:
Headlights
Brake lights
Horn
Dome light
Other features like power windows, rear defrost, climate control and radio are tied to proper ignition switch function. If those accessories are off or acting erratically, you likely have an ignition switch issue.
5. Battery Draining
While the majority of ignition switch symptoms involve components not getting power, the opposite can also happen. Components may continue to receive power even when you turn the key to the off position. If you're experiencing unexpected battery drainage, it may be due to ignition switch failure.
Although this problem causes extensive issues, it is relatively cheap to fix. Getting a full replacement typically costs between $115 and $140, with the majority of that cost covering labor. This is a fairly simple DIY fix for those familiar with electrical systems.
Common Issues With 1987-1995 Jeep Wranglers
The oldest generation of Wranglers is the most reliable of the bunch. There are still some issues to be aware of — even if most of them are related to age.
1. Exhaust Manifold Bolt Failure
The manifold is constantly shrinking and expanding over the course of a duty cycle. Over time, it may stretch further than it is able to retract. This can fracture the mounting stud and make the manifold permanently misshapen. This process also stretches the bolts, creating enough tension for them to fail.
Manifold bolts are cheap, but if the bolts aren't replaced quickly or get stuck in the manifold, your Wrangler may need a new manifold. An exhaust manifold replacement averages between $950 and $1,100.
2. Body Damage
Wranglers are made for off-roading, which means older Jeeps are more likely to have body damage. Luckily, you don't have to resign yourself to dented and damaged body parts and panels in your first generation Wrangler. Raybuck offers a wide selection of repair panels for 1987-1995 Wranglers so you can keep your Jeep in perfect shape.
3. Oil Leaks
Even with good maintenance, vehicles this old are susceptible to oil leaks. There are multiple systems within a Wrangler that can leak oil, so diagnosing the problem can be challenging. Each system has a different color of fluid that will mix with the leaking oil and can be used to pinpoint the source of the leak:
Engine oil is amber when it's new, but turns brown or black over time.
Power steering fluid is the most ambiguous — it can be red, green, brown or transparent.
Transmission fluid is red.
Engine coolant can be transparent, red, orange or green.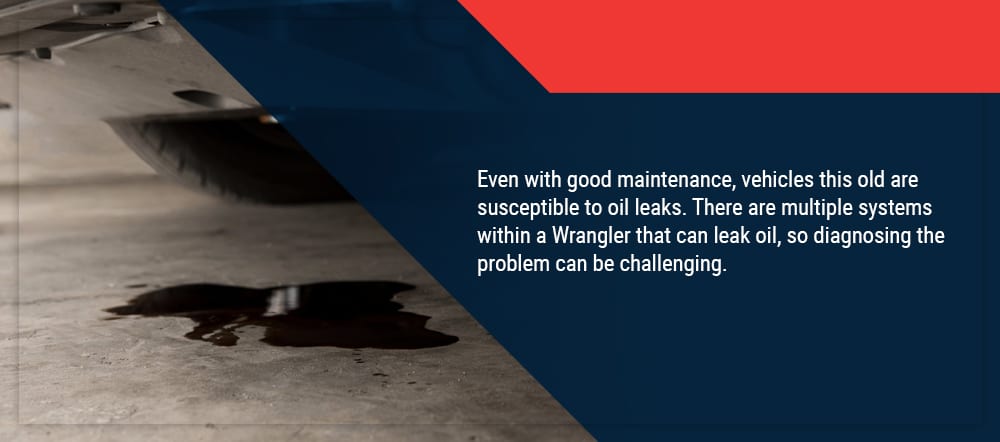 Oil leakage is one of the more affordable fixes in older Wrangler generations. It can cost between $90 and $110 to get the leak diagnosed, and the repair cost varies depending on the leak source.
Shop 1987-1995 Wrangler Parts »
5 Tips for Buying a Used Jeep Wrangler
Despite potential issues with Jeep Wranglers, there are plenty of solid vehicles out there. Here are five tips to think about if you're considering a used Wrangler.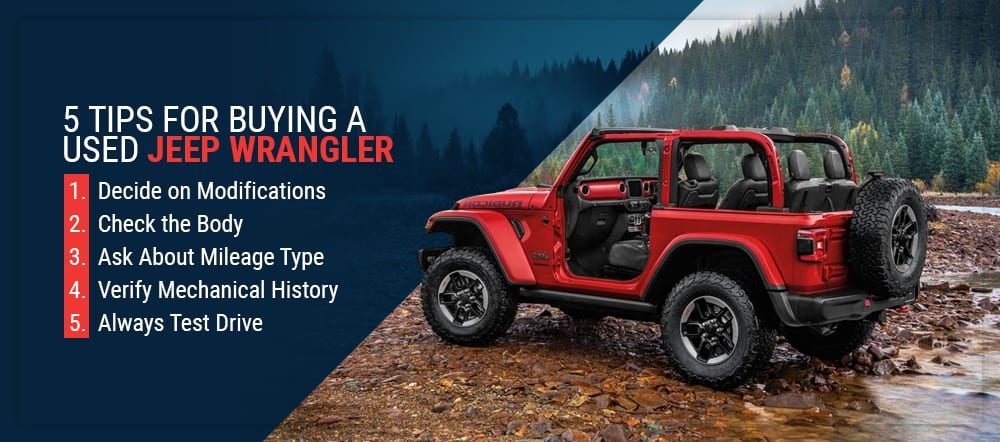 1. Decide on Modifications
Modifications are common in Wranglers, and they can be a good option if you care about performance. However, a modified Wrangler will be more expensive than stock, and modifications may increase the chances of component failure due to poor installation. If you choose a modified Wrangler, it's important to find out who completed the installation in case you need repairs related to the modification.
2. Check the Body
Before you get under the hood, check the body of the vehicle:
Undercarriage: Always check the undercarriage first, as it's the most visible indicator of how much life is left in the vehicle. It doesn't matter if there are few miles on the transmission or the vehicle has a newer engine if the undercarriage is in poor condition.
Outer panels: Significant denting can be a sign of hard use, and rusting might be a red flag. While rust on the undercarriage is a serious sign you should not buy the vehicle, it's relatively easy to get replacement panelsand fix up the vehicle if the rust hasn't spread to the frame.
Tires: Inspecting tires for uneven wear patterns is important in spotting things like alignment problems or improper rotation. For example, if you see the front tires are more worn than the back, the front tires have been bearing too much of the engine weight and will need to be replaced earlier.
3. Ask About Mileage Type
Overall mileage is important, but you should also ask how the vehicle was driven. A Wrangler with low mileage might have been driven under severe off-road conditions, which could make another vehicle with high mileage and gentle use a better option.
4. Verify Mechanical History
If everything looks good under the hood, you should still ask for a full record of maintenance and repairs the vehicle has received. A spotty maintenance history could set you up for early part failure.
5. Always Test Drive
A test drive is a chance to uncover symptoms or issues with the vehicle. Take your test drive in the morning so you can hear how the engine sounds on startup. Listen for unexpected idling upon warm-up, stuttering during idling and loud ticking. During your drive, pay attention to how shifting feels and note any unstable handling, jerks or vibrations that could indicate a death wobble in the future.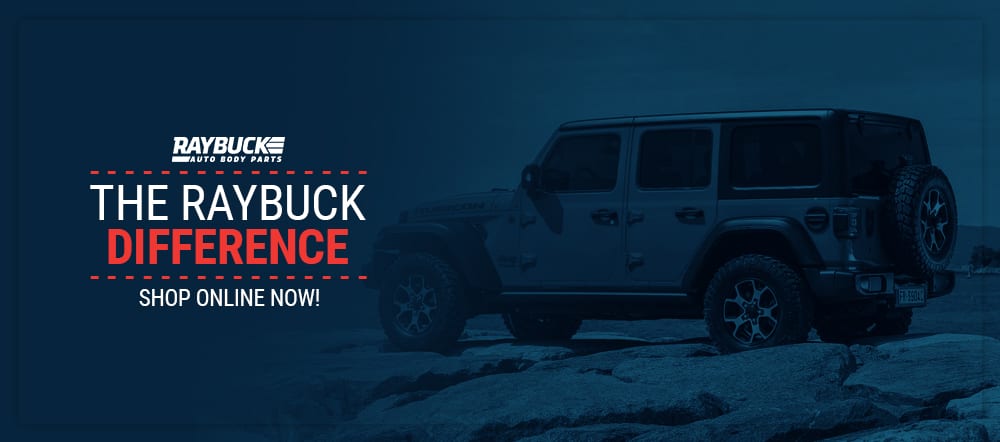 The Raybuck Difference
No matter the age of your Jeep Wrangler, you can keep it looking like new with body parts and rocker panels from Raybuck Auto Body Parts. We offer competitive pricing on 1987 to 2017 Jeep Wrangler body panels without compromising on quality. Our dependable aftermarket parts are the smart alternative to buying OEM parts, and we work hard to provide customer service you can count on.
If you're interested in body parts and panels for your Jeep Wrangler, shop online, give us a call at 800-334-0230 or send us a message through our contact form today.