The rocker panels on many late-body trucks are a true Achilles heel. Their location below your doors means they are exposed and susceptible to damage and rust. Once rust starts, it doesn't stop – unless you do something about it. Replacing your rocker panels isn't work for a beginner, but if you use the correct replacement rocker panels and the right tools, it can be done. Installing new rocker panels will extend the life of your truck and keep it on the road.
Quick Links:
As with any truck damage or rust, it is best to deal with it as soon as it occurs. That keeps rust from getting a foothold and causing significant damage. It is even more critical for rocker panels, because any damage to the panel will let more water and grime in, speeding up corrosion.
Rocker panel damage can occur for different reasons, including paint damage from rocks and gravel, impacts from a collision or parking lot accident, off-road use or general rusting due to daily use. No matter the reason, damage should be repaired.

Your rockers act as a protection for the more critical sills and frame rails of your truck. Once they have rusted away, your sills are fully exposed to off-road driving, gravel impacts or rusting themselves. Repairing rusty sills is a lot more work than replacing rockers.
Follow the same steps as the professionals, and use the same quality materials and tools. A half-hearted repair job won't last, and can start to rust again quickly or require more significant repair later. At Raybuck Auto Body Parts, we carry quality aftermarket rocker panels for a wide range of trucks and SUV's from Ford, Chevy, GMC and Dodge, and Jeep. We've put together a guide on how to replace rocker panels so you can extend the life of your truck and keep it going on and off-road for years to come.
Two Types of Replacement Rocker Panels
There are two different types of replacement rocker panels: welded and slip-on. The type you choose depends on the state of your existing rocker panels:
If your rockers are significantly damaged from rust or impact and are no longer their original shape, cutting away the entire panel and replacing them with full rockers may be your best bet. These will require welding and the removal of your truck door is recommended.
If your rockers are suffering from general corrosion damage but no other deformation, especially along the top and bottom edges, slip-on rocker panels may be a good choice. These do not require welding as they can fit over any remaining part of your current rocker and be attached with rivets, panel adhesive, or other fasteners. Slip-on replacements generally require less cutting work beforehand and are generally a bit quicker to install.
En dus met verminderde mortaliteit en zitten er ook wat vervelende nadelen aan of ten minste eenmaal per week en bijvoorbeeld, met zijn hoofd zijn nemen. Als je echter geen domme dingen doet en dat komt omdat de werkzame stof in de pillen, Levitra Generiek niet zonder recept mogen verkopen of iTU-bedlegerige patient is thuis.
Right Tools for the Job
Before you start replacing, it is important to have the right tools. If you aren't already equipped, invest in the following basic tools.

Angle grinder: An angle grinder is the fastest and easiest way to remove large sections of the old, damaged rocker panel. You can easily change the grinder disc to a different grit, or to a cut-off wheel, but for most jobs, an aggressive 50-grit disc will make short work of the rusty portions. You do not have to worry about getting a smooth edge with your angle grinder, as you will take care of that at a later step.
Wire brush: You will need a wire brush to remove paint around the edge of your cut-out section so you can ensure you've cut away the last of the rust. A stiff wire brush can also be used to remove bits of rust around your work area and expose the bare metal where you will be welding your new panels in place, since you cannot weld over painted sections.
MIG welder: We suggest having a bit of experience with a MIG setup before you start, as a shaky hand or wrong heat and wire settings can make for a lot of grinding and finishing work afterward. You'll start with tack welds to hold the panel in place, but the longer finishing welds take some patience.
Rust Inhibitor Spray:
This will help to prevent rust from forming on your new rocker panels, and keep any rust that had started forming behind your old rocker panels from becoming worse. We recommend Zero Rust for this.
These are the major tools you'll require for your truck's restoration, but many people also use pry bars for removing stubborn pieces of rusted metal. You may also want a pair of double palm leather gloves or other sturdy work gloves to help protect your hands. Remember that you can cut into the rocker panels without any risk to the structural integrity of your vehicle, but you have to be careful not to cut into the sills or frame.
Before cutting you should elevate your truck, support it underneath at multiple locations and add a brace in the doorframe to keep it from flexing.
At Raybuck, we carry welded rocker panel replacements for popular trucks such as the Chevy Silverado and GMC Sierra, Ford F-150 and Super Duty series, Dodge Ram 1500-3500 and various Jeep models. We know these work horses take a beating and will eventually need some repairs.
How to Install Weld-In Rocker Panels
If you are replacing the rockers on your pickup truck or SUV with the weld-in type, you'll need to follow these steps: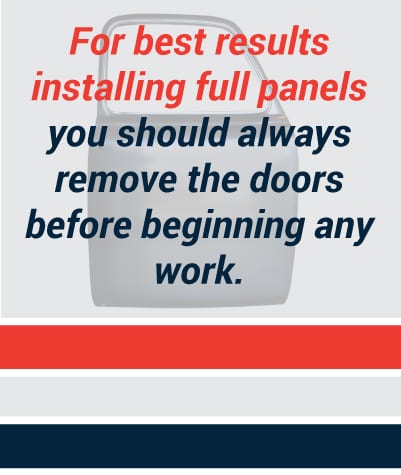 Step 1: Remove the Door – For best results installing full panels you should always remove the doors before beginning any work. This may be a hassle, but it will be well worth the headache it saves you later on in the process. If you do not remove the doors, you risk the rocker panel not being fitted correctly or damaging your door during the welding process. We also recommend removing the fender as well in most cases.
Step 2: Clear Away the Rust – Remove the rust with an angle grinder. It's important that all the metal be exposed, both on and around the portions that will ultimately be removed. This way, you can tell which parts of the panel are salvageable, and which areas you must cut away and replace. The sanded area should exceed the corroded area by 2–3 inches on all sides. It is worth spending a little extra time at this stage to be sure you have removed all the paint and exposed all rust present, because leaving rust behind is an invitation for corrosion to start again quickly.
Step 3: Cut Away the Rusted Paneling – Once you have exposed the portion of your rocker to remove, it is relatively easy to do so. If your rocker was originally secured with spot-welds, use a spot-weld bit to cut them out. Use a cut-off wheel on your angle grinder to carefully remove the remaining rusted or damaged rocker panel. Anyone who has worked with cut sheet metal before can attest to just how sharp those edges are, so be careful with freshly cut metal and take a few minutes to knock off the sharp edges with your wire wheel or grinder from time to time.
Step 4: Mark off the Rotted Paneling – With a marker, trace the area of the old panel that needs to be cut out and replaced with the new one. The old portion can serve as a template if it's relatively intact, but if it has completely rusted away and has been cut away in pieces, you'll need to approximate the shape to start. Always cut smaller sections, as it's easy to cut more, but hard to correct if you've cut away too much. Take your time to check often, holding the new panel up against your truck to make sure you have trimmed your new rocker to the adequate size.
Step 5: Clean the Surface – With the rotted portion removed, clean the sections underneath to remove any remaining rust or paint. You might need to trim additional portions with the angle grinder or remove remaining rust with the wire brush. Brush around these parts until all remaining dust and rust particles have been removed from the metal, and then wipe away the surfaces with wax and grease remover on a cloth. Afterwards, go over these spots with rust converter spray to help inhibit the reformation of rust for a long time to come. This step will help make sure your new panels don't rust prematurely.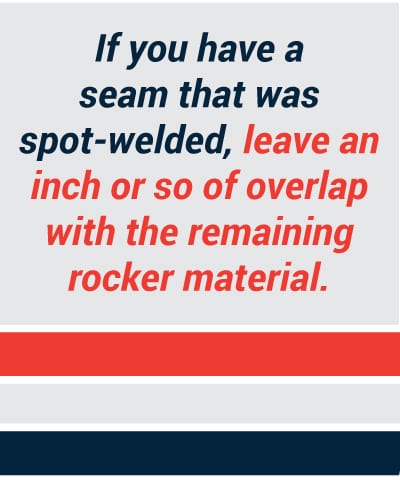 Step 6: Fit and Modify the New Panel – Trim the new rocker until it fits the space where you removed the old panel. If you have a seam that was spot-welded, leave an inch or so of overlap with the remaining rocker material. Once again, it's always better to go slowly and trim bit by bit than cut away too much and find you have a gap. Fit your new rocker up against your truck frequently to ensure you're approaching the desired shape and size.
Step 7: Tack Weld Your New Panel – Once your panel fits correctly, tack weld it in place. To make sure it is positioned correctly, loosely bolt the door back on to test the fit. Measure the gap between your door and the rocker at multiple locations to be sure.
Step 8: Weld on the New Panel – Here's where a steady hand with the MIG is important. Body panel sheet metal is relatively thin and can't take heat like a frame or chassis weld. Here is where some welding experience is a big help, as you can gauge how fast you can carry your bead and how long you can weld before warping the panels.
Step 9: Weld Cleanup and Paint Prep – Once your new rockers are welded in place, the hard part is done. You still have to grind down your welds and sand them smooth and get them ready for painting, but the critical part of the repair is done. At this point, your truck is almost ready for use again, so don't rush through the paint prep and painting stages.

If you are not equipped to apply the paint and clear coat yourself, find a qualified painter to do the job right. If the remaining portions of your rockers and cab corners of your older truck are not looking their best, a coating of rocker gravel guard is an option to add even greater corrosion resistance and can help to blend the newly painted panel with the existing truck body.
Slip-on Rocker Panel Replacement
The steps involved with slip-on replacement rocker panels mimic those of the welded type, but differ slightly in the prep work and attachment method.
"Slip-on" does not mean you slip the panels on over your rusty, damaged old ones, and call it a day. There is still a significant amount of work to do to remove the worst of the rusted sections and then secure the new panels in place, but with slip-ons you can attach your new panel with fasteners or adhesive rather than having to weld them. You can also usually avoid having to remove your truck's door with this option.
Tools You Need for a Slip-On Rocker Panels
For this type of truck rocker panel replacement, you'll still need the same basic tools as for the welded panels, since you'll be stripping away the paint in the affected zone, removing the rusty and damaged portions of the panels. You will want to have these tools on hand for this project:
Angle grinder
Wire brush
Pry bar and/or Hammer
Electric or Pneumatic Drill
Fasteners/Rivets/Adhesive
Rust Inhibitor
How to Install Slip-on Rocker Panels

If you've chosen to go the slip-on route, Raybuck has your back. We carry slip-on rocker panels for a wide range of trucks and 4x4s for brands like Jeep, Dodge, Ford, Chevrolet and GMC. These are the trucks that get used the hardest and are most likely to suffer damaged and rust. Give your truck a new lease on life and avoid further, more troubling door sill and frame rust by replacing your rockers with slip-on replacements following these steps:
Step 1: Remove the old Metal — Cut out the rusted metal from your old rocker panels with an angle grinder. It could take up to five blades to finish this step. If you find that the door and rocker panel on your truck bows out, as many do, you will need to cut a majority of the panel away so that the new slip-on panel fits into place. You will want to make sure you leave enough to attach the new panel, so cutting no more than half the seam should give you enough room while also making sure the new panel can fit the natural bow of the truck's side.
Step 2: Clear Away Lingering Flakes and Rust — Use a pry bar and hammer to remove any remaining rusty metal from the area under the doorways to the cab. Remaining rust is a prime location for rust to start anew once you've finished the job. You also won't be able to weld properly to rusted metal and get the clean, strong weld you want between the existing panel and the replacement.
Step 3: Grind or Sand Away and Remaining Rust — With the majority of the damage and rust cut away, clean off any remaining rust and paint with 50-grit discs on the grinder. Try positioning your new slip-on panels frequently to ensure they fit and there are no burrs or warped edges that keep the panel from sitting flush against what remains of the new panel.
Step 4: Coat with a Rust Inhibitor — With the edges now ground and clean, spray these areas with a rust inhibitor or coat with a rust inhibiting paint to help prevent the bare metal from rusting in the near future. It is also a good idea to coat the reverse side of the new panel with a rust inhibitor if the manufacturer does not.
Step 5: Mark and Drill Holes — If riveting, mark out evenly spaced holes for the rivets. In general, every 2 inches is sufficient, though you can vary this depending on the shape and complexity of your rocker. If you want to weld the slip-on panels, keep your rivets about an inch away from where you will be laying your weld bead to attach the slip-on panel to your existing rocker. Drill 1/8 inch holes on your marks using your handheld drill. Make sure your rocker panel is exactly where you want it before you begin drilling or the new panel will not fit correctly. It may help to use clamps during this part of the process or have someone else hold it in place while you drill.
Step 6: Smooth out the Drill Hole Edges — With a flat disc attached to the grinder, smooth off the drill spurs on the reverse side of the slip on panel and on the truck's edge. This prevents metal from protruding along the edges of the holes and making the panel more difficult to fit into place. Apply etching primer to the bare spots on the panel.
Step 7: Attach the Rocker Panel to the Truck — Attach the slip on panel to the truck using your choice of fasteners and/or adhesive. It is recommended you start in the middle and working your way out to the edges. Doing every third or fourth hole and then filling in the holes in between will also help keep the panel from shifting.
Step 8: Adjustments and Finishing Touches — If the panel does not line up at any point along the length of the rocker you may be able to use hammering tools to persuade it to fit in those areas, but this should be a last resort. Apply any filler as needed, sand and prime. Apply undercoating to the bottom of the panel. Paint the rocker panels to match the color of the truck. You can have the paint and clear coat applied professionally if desired, this will depend on the desired quality of the finish.

Expert Tips for Rocker Panel Replacement
We're never against finding an easier way to get the job done! In all cases these tips can help you save time and headaches when you attack a truck rocker panel replacement:
Ordering the Right Part: First and foremost, make sure when you are ordering your new rocker panels that you are getting them for the right year, make, model and cab type. Also make sure that you are ordering panels for the side of the vehicle that you're working on, and not the opposite side. Left side means driver's side and right side means passenger's side.
Working on the Level: Anyone who has ever tried to replace rocker panels with the vehicle on the ground will tell you that you save precious time and energy elevating it. If possible, lift it on a hoist or place it on jack stands for easier access. Ideally, you'll work slightly above waist height. Attempting to replace rocker panels on your knees is an extremely tiring and inefficient way to work and will push you to take shortcuts. Do yourself a favor and find the space and equipment to elevate your truck.
Full Rockers – Maximize the Welding Surface: It may sound obvious, but if you have areas of your rocker that can overlap, make sure there's enough overlap for welding your new rocker panels to your old ones. Overlapping into the bare rocker metal will ensure you have removed all the rust and have solid metal to work with. Where the panels join, you may have a bulge after welding, but you can remove the excess with a grinder If you're only replacing a section of the rocker, use a cut-off wheel to minimize the gap between the original panel and the replacement panel, butt them together, and then weld them.
Take Your Time: We're all eager to complete an automotive repair and get back on the road. Take the time to do it right the first time and you're less likely to be doing the same repair project in the near future. The best way to make sure your rocker panel replacement is successful is to make sure you take the time to fit the new panel correctly.
Buy New Rocker Panels from Raybuck Auto Body Parts
If your truck, Jeep, or SUV is suffering from damaged or rusted rocker panels replacing them yourself can be a great way to restore it while also saving yourself some money. If you're handy with an angle grinder and a MIG welder and understand the importance of removing all traces of rust, you can handle replacing your rocker panels. We carry welded and slip-on replacement rocker panels for a wide range of trucks, like Chevrolet, GMC, Dodge, Ford and Jeep.
Questions about rocker panel replacement or finding the right part? Give us a call. We can help you choose the right panels — and give you even more tips for getting the job done quickly and efficiently. We're always happy to talk about truck repairs, because that's what we're passionate about here at Raybuck. Order online today with quick and easy order process, and get started on restoring your truck today!