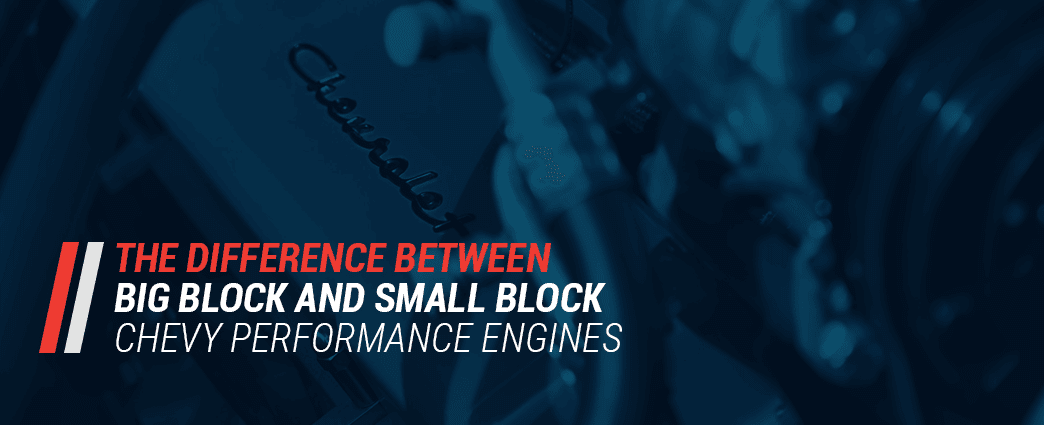 Within the classic car community, debates between enthusiasts about big block vs. small block Chevy engines can get intense. Many drivers have strong opinions over which one is the "better" engine, but each engine type presents its own advantages and holds a unique place in the history of muscle car manufacturing.
Block Engine Basics
Nearly all of today's engines belong to what is known as the "monobloc" family, which was introduced by Cadillac with the 1936 Monobloc V8. However, when referring to block engines, the term applies specifically to the V8 pushrod engines designed after 1955. These engines, alternatively referred to as overhead valve engines, are a staple of classic muscle cars. They're highly desired by car enthusiasts due to a few key features:
Ease of maintenance: Pushrod engines are significantly easier to work on than overhead cam engines, which can simplify maintenance.
Weight distribution: The engine and its components make up a significant part of a vehicle's weight, but block engines sit lower in the car, giving the car a lower center of gravity. Many drivers like this for the sake of performance and safety.
Drive feel: Block engines tend to have an easier time getting low-end torque, which can provide a specific drive feel that some drivers prefer.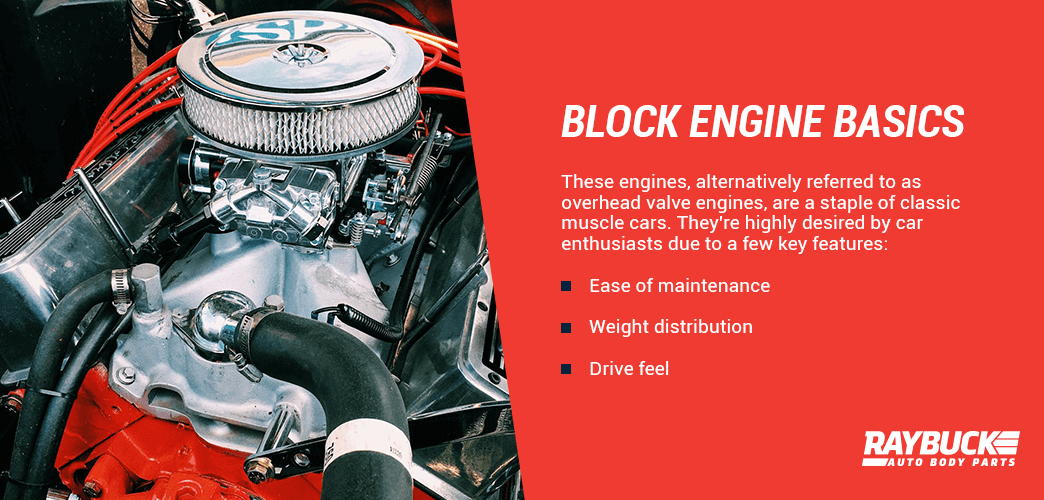 Big Block vs. Small Block Engines: What's the Difference?
Block engines are referred to as big block or small block. These common names focus on their differences in size, but these engines also differ in function. To understand these differences, you first need to understand the metrics that differ between the two engine types.
1. Displacement
Displacement is a measurement of the volume of an engine's pistons, often referred to in cubic inches or liters. As an example, 400 cubic inches is equivalent to 6.6L. In older cars, displacement is most commonly described in cubic inches as this was the standard unit at the time of manufacture.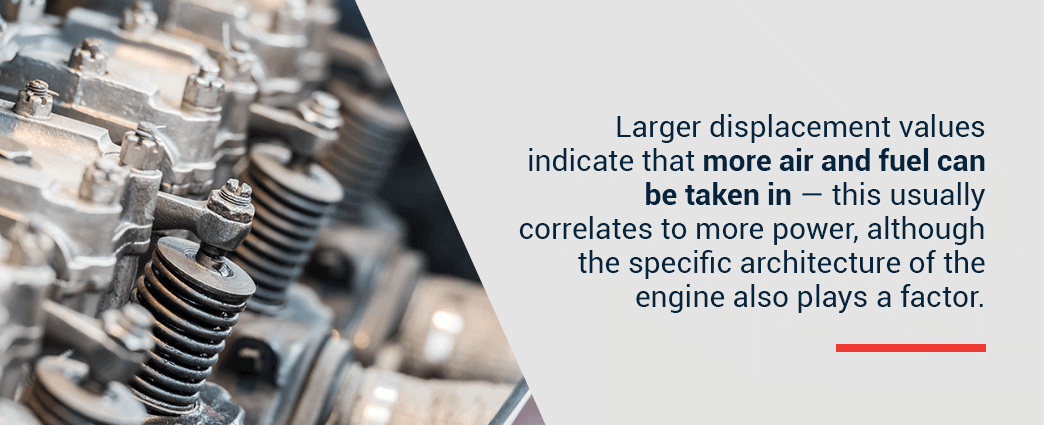 This measurement is often used to express how powerful the engine is, but it's important to remember that displacement doesn't always relate directly to power. Larger displacement values indicate that more air and fuel can be taken in — this usually correlates to more power, although the specific architecture of the engine also plays a factor.
2. Bore and Stroke
While displacement is usually considered the primary delineation between small and big block engines, displacement volume depends on two other engine measurements that play a significant factor in the big vs. small block determination:
Bore: Bore size refers to the diameter of an engine's cylinders. Big bores result in improved breathing, which increases the amount of power produced by the engine. Smaller bores create more pressure and torque, though they tend to have greater limits on red line numbers.
Stroke: The stroke is the distance a piston has to travel up and down in the cylinder of an engine. Pistons with shorter strokes do not have to travel as far each cycle, so they can produce more strokes in the same amount of time as an engine with longer strokes. This increases rpm, which increases the engine's maximum power. Longer strokes lose less energy to heat, resulting in greater energy efficiency.
3. Size, Shape and Weight
Though size and shape are not primary functional factors for Chevy big block vs. small block engines, they are important to know and consider. When displacement is the same between two engines, the features that determine whether an engine is a big block or small block often come down to physical proportions, engine "families" and the shape and placement of the valves.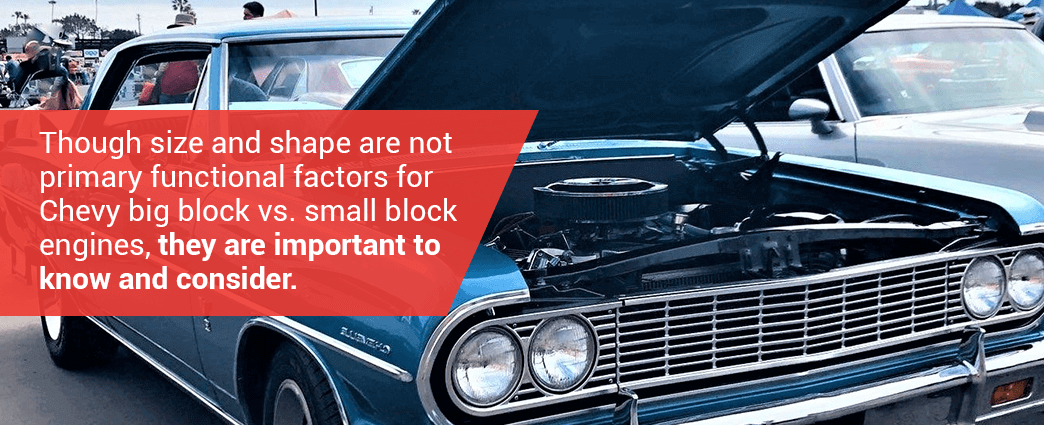 Chevy Big Block Engines
Big block engines are beloved among enthusiasts for their power and typically come in 2-bolt and 4-bolt mains. This engine type is characterized by the following metrics: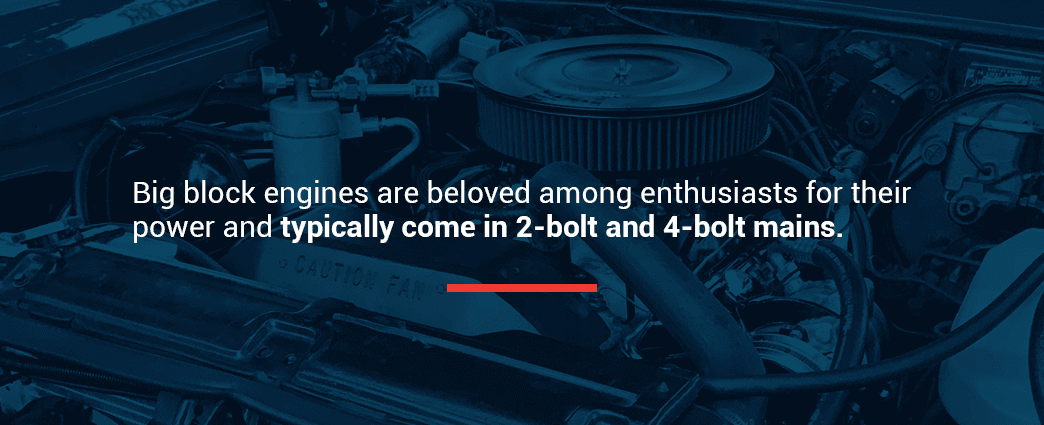 Displacement: Big block engines tend to have displacements of 400 cubic inches or more. There are exceptions to this rule, such as the Chevy 396 engine which is referred to as a big block engine due to its architecture.
Bore and stroke: These engines tend to have larger strokes, smaller bores and bigger valves and ports than small block engines. This increases both efficiency and displacement, which is necessary for larger vehicles that need more power. As a result, big block engines can perform consistently in higher-demand situations.
Size and shape: Big block engines are physically larger than small block engines. They are more square in shape, with an overall  "Y" shape due to the additional space needed. The cylinders are placed further away from one another to maximize airflow — big block engines are sometimes referred to as "porcupines" because of their canted valve setups. This valve setup is used to achieve increased spacing between valves, causing it to resemble the quills on a porcupine.
Weight: Because of their increased size, big block engines also carry more weight. This extra weight adds pounds to the front axle that can negatively impact handling and acceleration.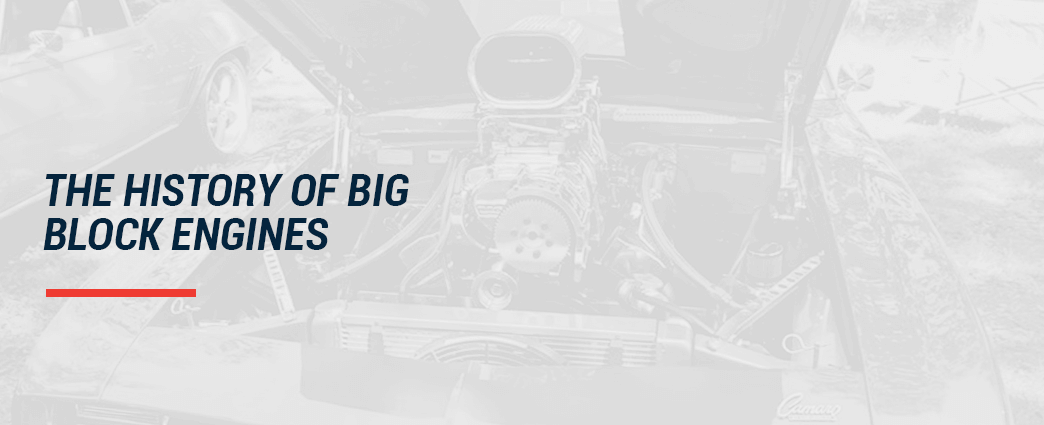 The History of Big Block Engines
Big block engines, also known as "Rats" or "Turbo-Jet" motors, were introduced by Chevrolet in 1958 with the Mark 1 or W series. This engine series was designed to provide the extra power needed for the heavy passenger cars and trucks developed after World War II. These motors boasted 348 to 409 to 427 cubic inches of displacement and provided over 430 horsepower, which gave these heavier cars the power and torque they needed. They also had a design that featured offset valves and scalloped rocker covers, which became staple features of classic big block engines.
Chevrolet had a corner on big block engine production through the early to mid-60s, producing the W series of big block engines from 1958 to 1965. In that time, they also developed Mark II, Mark III and Mark IV big block engines, the latter of which was featured in the flagship Corvette model and continued through 1974. The big block engines became so beloved that many Jeep owners even elected to swap out their engines with the Chevy big blocks.
In the late 60s, Ford and Chrysler followed the trend by producing their own big block engines. The big block engine did see a significant slowdown starting in the 70s, however, as fuel prices increased and emission control became more of a concern in light of the growing environmentalist movements.
Big Block Engines Today
The last of the true Chevy big block engines was the Generation VII Vortec 8100, which was produced from 2001 to 2009. With modern materials allowing engines to produce more power with less materials, many experts agree that today's "big block" engines are simply small block engines with large displacements.
While the big block engine may not be in production anymore, the big block is still well-loved within the classic car community. Many car enthusiasts love the way big block engines sound and feel, so they choose to install them for restorations or custom builds.
Chevy Small Block Engines
Small block engines, also referred to as "mouse motors," are the small but mighty iteration of the block engine. Small block engines are characterized by the following metrics:
Displacement: Older small block engines typically have displacements of less than 400 cubic inches. More recent iterations, however, have achieved larger displacements due to improved airflow. By creating additional airflow, these smaller engines can achieve similar displacements as big block engines.
Bore and stroke: Small block engines have larger bores and smaller strokes. The shorter strokes of small block engines tend to result in less displacement, but make quicker revving possible.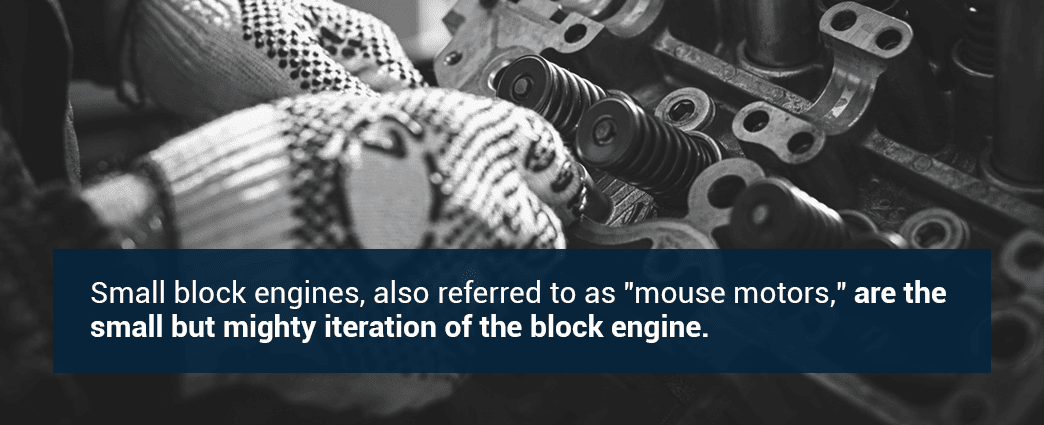 Size and shape: Small block engines are smaller than big block engines. These engines tend to have a more characteristic "V" shape associated with V8 engines.
Weight: While small block engines may not produce as much power as big blocks, they make up for it in being lighter-weight. The light-weight nature of small block engines puts less weight on the front axle, improving handling and acceleration.
The History of Small Block Engines
The small block was the V8 that started it all, predating the big block by decades. The first small block was the Chevrolet Series D V8 engine offered from 1917 to 1919. While historically important, this short-lived series didn't make a huge impact and was quickly outshined by the standard six-cylinder Chevrolet engines used in passenger cars through the mid-50s.
Unlike with the big block engines, Chevrolet actually fell in with the small block V8 trend after other automobile companies had already produced their own models. The Ford Flathead V8 started the trend in the 1920s, quickly becoming popular with hot rodders for the engine's power potential, and then converting to an overhead valve Y-Block configuration in the mid 1950s. Cadillac, Oldsmobile and Chrysler followed suit with the OHV V8, Rocket and HEMI, respectively.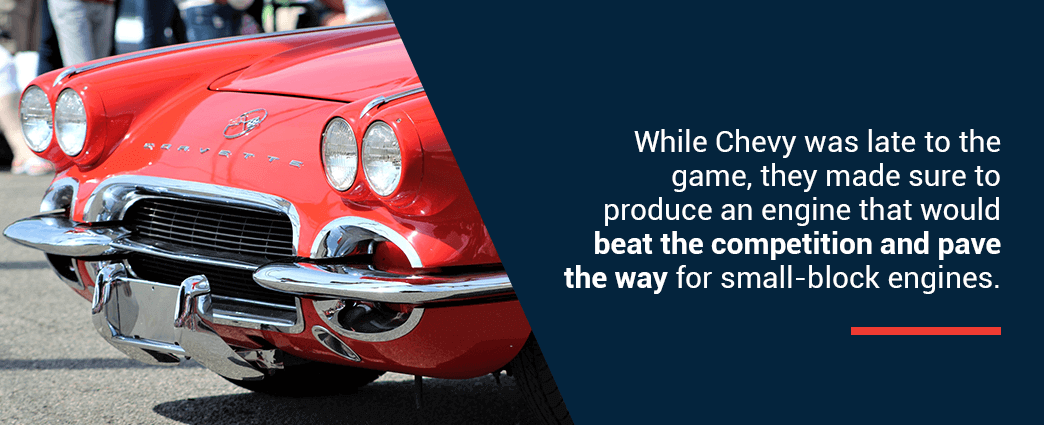 While Chevy was late to the game, they made sure to produce an engine that would beat the competition and pave the way for small-block engines. In 1955, the 265-cubic-inch small block, called the "Turbo-Fire," debuted in the Corvette and Belair models, delivering two times as much horsepower in half the weight of the Ford Flathead. This small block V8 cut the 0-60 mph time of the Corvette by 1.5 seconds and featured a 4.4-inch bore spacing that became a design staple of small-block engines. The small but powerful engine quickly earned the nickname of "Mighty Mouse," which led to small block motors being called "mouse motors."
The popularity of the Turbo-Fire model exploded because of its size, durability and power, becoming the engine of choice for hot rods, muscle cars and drag racing. GM quickly developed a lineup of 283, 327, 350 and even 400-cubic-inch engines, changing the bore diameter and stroke length of the design for more capacity.
Small Block Engines Today: LS1 Engines and Beyond
The Chevy 350 cubic inch small block was the GM standard until it was discontinued in 2003. While the old small block models are discontinued, modern small block engines are still being produced — GM produced its 100-millionth small block engine in 2011, and many small block engines are built in Mexico as crate engines for restoration and custom-build enthusiasts.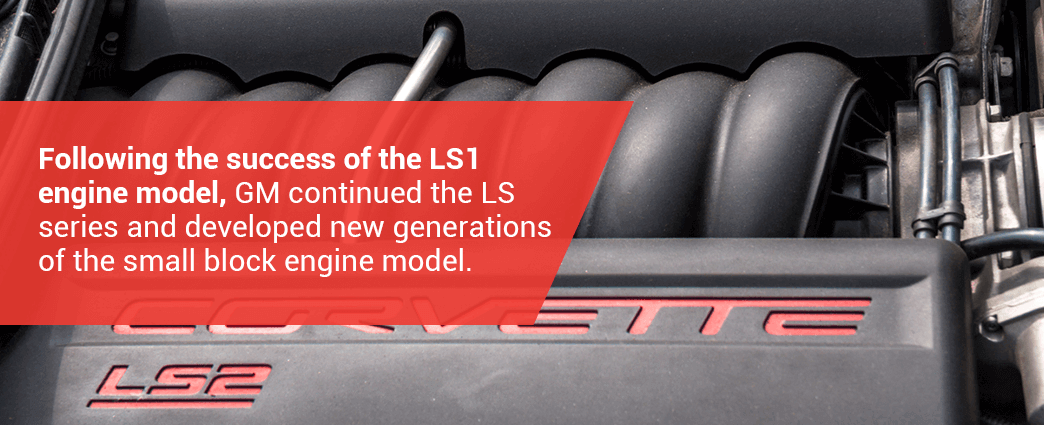 While Chevy still uses small block engines in many of their vehicles, they don't look or function the same as they used to. GM discontinued the traditional small block design with the third generation of small block engines, starting with the LS1 in 1997. This all-aluminum model featured smaller bores and longer strokes than in previous generations, producing 346 cubic inches of displacement and 345 horsepower in the Corvette. The Chevy LS1 engine was produced between the 1997 and 2004 model years and was featured in the Corvette, Camaro, Firebird and GTO models.
Following the success of the LS1 engine model, GM continued the LS series and developed new generations of the small block engine model. Chevrolet is currently manufacturing the fifth generation of small block V8 engines with the Gen V LT1, which was introduced for the 2014 Corvette Stingray. At this point, Chevrolet has phased out big block engines entirely for the more efficient small block models, and you can find these models in everything from Corvettes to trucks.
Quality Restoration Parts
When it comes down to it, the determination of what a big block engine is versus what a small block engine is comes down to the size of the engine and when it was manufactured. Big block engines are larger in size and weigh more, but they produce more consistent power and torque to overcome the weight. Small block engines are smaller for better acceleration and handling, but more recently built models can be just as powerful as big block engines. Whether one is better than the other comes down to the user and what they are looking for.
If restoration is your goal, Raybuck Auto Body Parts can help with your interior and exterior details. We carry everything necessary for restoring classic Chevy and GMC cars dating back to 1939. With 35 years in the industry, a massive catalog of products and competitive pricing, we are restoration enthusiasts' online source for quality New Old Stock alternatives. Regardless of whether you're getting a car show-ready, restoring a classic car or bringing your project to mint condition, Raybuck can help with repair panels, replacement parts and hands-on restoration expertise.
If you're interested in Chevy restoration parts, use Raybuck's advanced website search options to search for parts by year, make and model and checkout securely online. If you want to learn more about our parts or receive expert advice to inform your purchase, get in touch with Raybuck's team today.