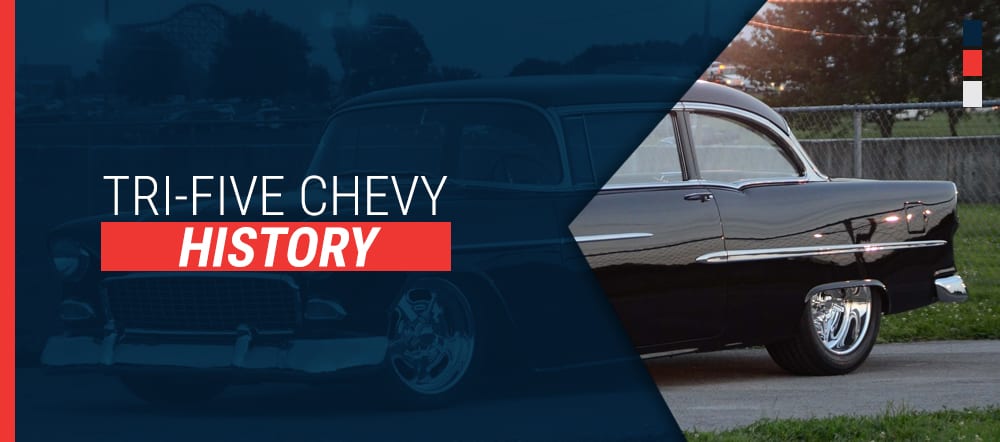 Of all the car models to achieve great popularity in the past century, few have stood the test of time like the Chevrolet Tri-Five. Manufactured from 1955 to 1957, these vehicles have acquired a cult following that has only caused their popularity, and value, to increase.
As a Chevy enthusiast, you appreciate the history that the Tri-Five Chevy cars embody. If owning one of these cars is a dream of yours, we'll outline some of the major differences to help with your decision.
Quick Links: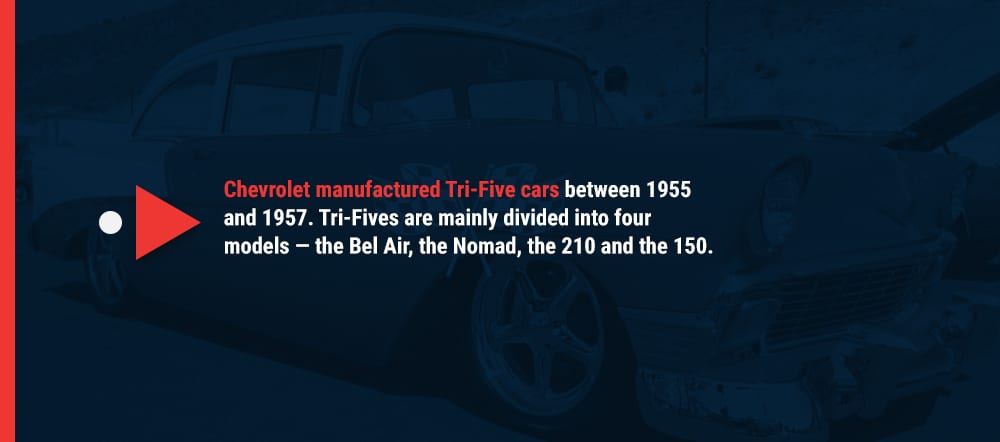 What Is a Chevy Tri-Five Car?
Chevrolet manufactured Tri-Five cars between 1955 and 1957. Tri-Fives are mainly divided into four models — the Bel Air, the Nomad, the 210 and the 150. The 1955 model was also referred to as the "shoebox" because of its squared-off body, which was dramatically different than any previous Chevy car. These cars share many characteristic features of the time period. In the decades since, these vehicles have become a standard representation of 1950s suburbia.
Much of the initial appeal behind Tri-Five cars came from the combination of a more powerful engine and a visually pleasing exterior. These cars broke away from the common appearance of sedans and station wagons to take on a sleeker, Cadillac-inspired look. They also adopted a V8 engine, with the option to have fuel-injected instead of a carburetor.
Millions of these cars were manufactured to meet the widespread residential and business demand, so it's no surprise that many of them are still around today. Some still exist in their original form, while others have been modified to have a more modern look or performance.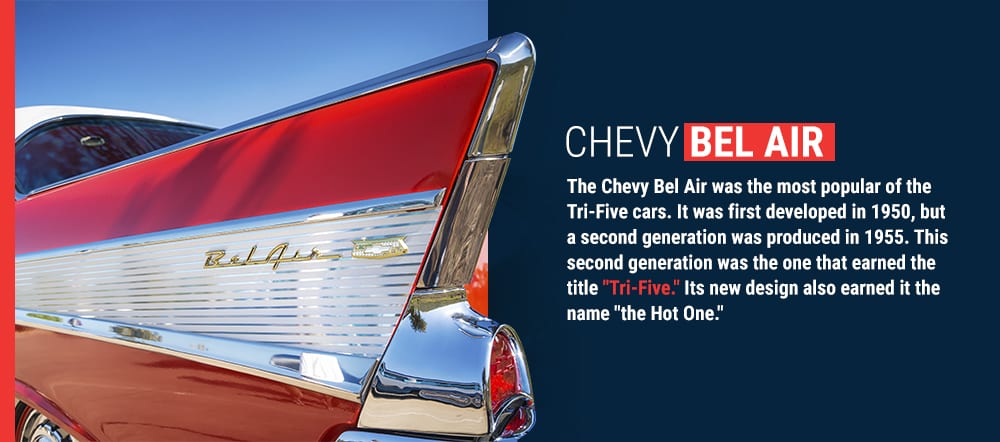 Chevy Bel Air
The Chevy Bel Air was the most popular of the Tri-Five cars. The Bel Air was first introduced in 1950, but a second generation was produced in 1955. This second generation was the one that started the "Tri-Five" legacy. Its new design also earned it the name "the Hot One." Where the first generation only used straight-six engines, 1955 saw the introduction of the V8 engine for Bel Airs. Air conditioning also became available as a feature.
The model primarily targeted suburban homeowners with its sleek look. It succeeded at capturing public interest, receiving praise from publications like Motor Trend and Popular Mechanics. People liked how smoothly it drove and how much power it had. The Bel Air was available in a few different body styles, including.
Hardtop, both two-door and four-door
Four-door sedan
Two-door convertible
Station wagon, both two-door and four-door
In addition to the V8 engine and air conditioning, the Tri-Five Bel Air came with several notable visual features. These included:
Full wheel covers
Chrome spears on the front fenders
Chrome bands on hardtop models
Stainless steel window moldings
Interior carpeting
A few of the Bel Air's visual elements changed over the years — including the headlight lids, which grew more prominent each year. Likewise, tail fins became more prominent towards the late 50's. Another element that changed was the grille. In 1955, the grille was smaller and similar to those on Ferraris. It widened in 1956 with an overall positive reception, and remained wide in 1957. 1957 also saw the installation of two hood rockets instead of one.
Another change was the replacement of the torque tube driveline with an exposed driveshaft. This made it easier to perform maintenance on the transmission or clutch. The new 12-volt electrical system also made cold starts easier.
The Bel Air was frequently offered in convertible form. In 1956, some convertible models came with moisture sensors that automatically raised the top in the event of rain. Seat belts were available the same year, but only 7.4% of Bel Air owners were reported to have ordered them.
The following engine options were offered for the Bel Air:
3.5L "Thriftmaster" I6
3.9L "Blue Flame" I6
4.3L "Turbo-Fire" V8
4.6L "Super Turbo-Fire" V8
The 4.6L V8 was known as the "Super Turbo-Fire" V8 due to its high horsepower. First offered in 1957, it came in two types — carburetor or mechanical fuel injection. Carburetors pumped fuel directly from the tank to the engine, whereas fuel injection sprayed fuel into the air being combusted in the engine. Fuel injection allowed for a smoother throttle response in the Bel Air, and cars with this type of engine were nicknamed "fuelies."
Production of the Bel Air continued into 1958, proving to be a greater financial asset for Chevrolet that year than in 1957. Due to the styling changes, the post-1957 models were not viewed as the cultural icon that the Tri-Five models were.
Chevy Nomad
The Chevy Nomad was first produced in 1955. Though distinct enough to earn its own name, the Nomad was marketed as a Bel Air to capitalize on its success. It resembled the Bel Air in many ways, with a new V8 engine and air conditioning options. The Nomad was a sort of hybrid car — with a front resembling a Corvette and the rear of a station wagon, all built on the chassis of a Bel Air sedan.
The Nomad was mainly marketed toward suburban homeowners. However, the Nomad's distinct build lent it a higher price than the standard Bel Air. It was the most expensive model Chevrolet offered at the time, besides the Corvette. Though it kept the Cadillac-inspired look of the Bel Air, it was built as a two-door hardtop station wagon. This structure gave it a roomier interior than a regular Bel Air.
Many of the Bel Air's visual features remained part of the Nomad. But the Nomad also bore some new features, including a wrap-around windshield and chrome stripes on the tailgate.
One of the 1955 Nomad's most distinct elements was the amount of chrome it had. Compared to the Bel Air, it had more decoration, though in 1956 and 1957 the amount of chrome decreased.
The Nomad also experienced the same changes as standard Bel Airs: a widened grille, dual hood rockets, taller tail fins and more prominent headlight lids. Unlike Bel Airs, it had no posts — the metal framework surrounding the window — on the doors. Other changes in 1956 included gas caps that were hidden behind flip-down taillights and padded dashboards.
The Nomad made a name for itself partly due to its appearance. It tended to look sleek and shiny — even the engine looked nice beneath the hood. Most Nomads had a two-tone color scheme inside and out, as was common for cars at the time.
Aside from visual appeal, the top distinguishing feature of the Nomad was its station wagon rear. This structure meant the Nomad didn't have a convertible option like the Bel Air, but it also meant it came with extra storage space. This space was complete with a flip-down tailgate, usually decorated with bold chrome stripes.
The following engine options were offered for the Nomad.
3.5L "Thriftmaster" I6
3.9L "Blue Flame" I6
4.3L "Turbo-Fire" V8
4.6L "Super Turbo-Fire" V8
Like with the Bel Air, the Nomad included the "Super Turbo-Fire" V8 in both carbureted and mechanical fuel-injected forms in 1957.
Low sales ultimately led to the Nomad being discontinued and replaced by a new body beginning in 1958. But the passing decades gradually led to the Nomad being viewed as an icon of the 1950s.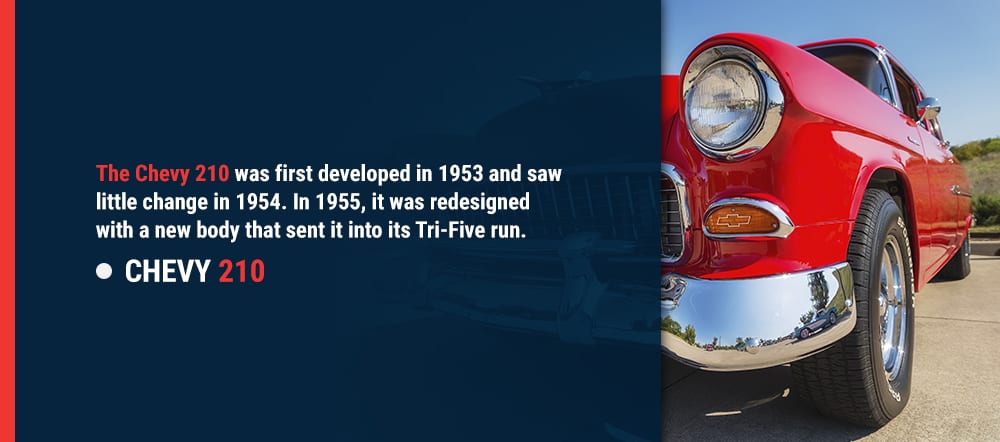 Chevy 210
Where the Bel Air and Nomad were the poster cars of the Tri-Five years, the Chevy 210 was the midrange variety. It served as a more affordable option with reduced flair, though it maintained the basic structure and design of the Bel Air. The model number 210 was created by shortening the production series number 2100 by one digit.
The Chevy 210 was first developed in 1953 and saw little change in 1954. In 1955, it was redesigned with a new body that sent it into its Tri-Five run. The new body was accompanied by a move to V8 engines in place of the straight-six ones.
The 210 was marketed toward lower income homeowners compared to the Bel Air and Nomad. While it wasn't as flashy as those models, it was just as efficient. Its visual appeal made it one of the more popular cars of the day. Chevy 210s came in a few different body styles, including:
Hardtop, both two-door and four-door
Four-door sedan
Two-door coupe
Station wagon, both two-door and four-door
The Chevy 210 had many of the same features as the Bel Air and Nomad, though not as high-grade. There was still plenty to admire, including:
Full wheel covers
Chrome spears on the front fenders
Stainless steel window moldings
Rubber flooring
The 210 also underwent many of the same changes as its counterparts over the years. The grille expanded, the headlight lids pushed outward, the hood rockets doubled and the tail fins rose higher.
The engine changed, as well. In 1956 the 210 came with a higher power output rating, and in 1957 it could be made with the "Super Turbo-Fire V8" engine as well. To mark this transition to V8 engines, all applicable 210s came with a V-shaped trim on the hood underneath the Chevrolet logo. Unlike the Bel Air and Nomad, this trim was often painted the same color as the body on the 210.
From 1955 to 1957, the following Chevy 210 engine options were offered:
3.9L "Blue Flame" I6
4.3L "Turbo-Fire" V8
4.6L "Super Turbo-Fire" V8
Like the Bel Air, the 210 initially came in a convertible form. But this option was short-lived — it was only available in 1953, before the start of the Tri-Five years. After that, all 210s were closed-top.
At the end of 1957, the 210 was discontinued. Its replacement came in the form of the Biscayne, which was built to look similar to the 210. While not as sought-after as Bel Airs, 210s are still prized today — particularly rare ones, like the 210 convertible.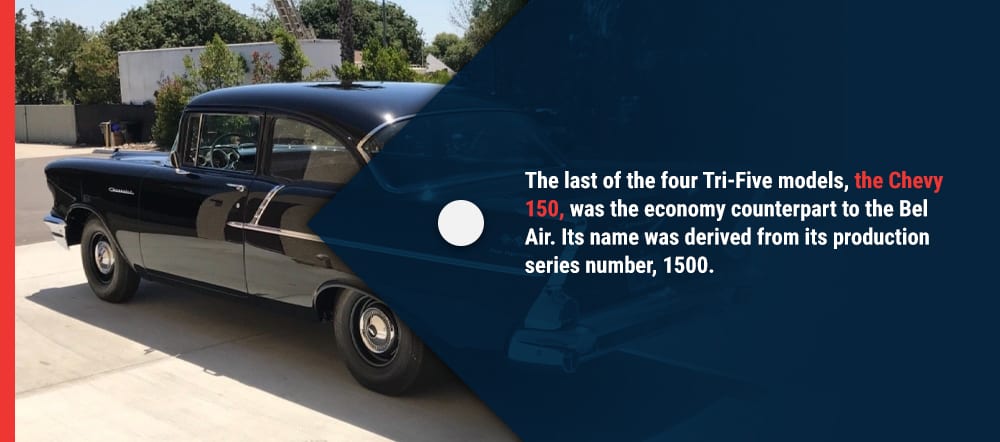 Chevy 150
The last of the four Tri-Five models, the Chevy 150, was the economy counterpart to the Bel Air. Its name was derived from its production series number, 1500. It was the cheapest of the four Tri-Fives, though it maintained the same basic shape and structure. Like the 210, it was first developed in 1953 before being remodeled in 1955 for the Tri-Five years. At that time, it gained the V8 engine as an option, though it typically lacked the air conditioning of the Bel Air.
In contrast to the other three models, the 150 was not marketed to homeowners or individual consumers. Though some homeowners bought the 150, residential use was not the main source of revenue the 150 brought in. Because of its inexpensive but efficient build, the 150 worked well as a fleet car for businesses and government organizations.
Any institution that required its workers to use standard-issue vehicles was likely to buy the Chevy 150 in bulk and customize it. One prominent example was the police force. Many 1950s police cars were 150s. Accordingly, the 150 is the model of choice for many current-day film and television depictions of 1950s police cars.
The Chevy 150 came in the following body styles during the Tri-Five years:
Sedan, both two-door and four-door
Two-door utility sedan
Two-door station wagon
Where the other three Tri-Five models bore a variety of visual features, the 150 had few. It was designed to be efficient rather than attractive. Next to a Bel Air, it might be seen as bland because the vehicle looked much less sleek than its counterparts. Besides the lack of chrome trim, it also had less prominent tail fins and headlight lids. It also didn't automatically include accessories like mirrors and ashtrays to keep the vehicle's price down. The 150 was never released in a convertible form.
What it lacked in aesthetics, it made up for in speed. With its 2-speed Powerglide automatic transmission, the 150 was a favorite of drag racers. This led to the release of the "Black Widow" variety in 1957, named for the black and white paint job it sported. The Black Widow was specifically designed for drag racing and was equipped with heavy-duty brakes and dual shock absorbers.
The Chevy 150 came with the following engine types:
3.9L "Blue Flame" I6
4.3L "Turbo-Fire" V8
4.6L "Super Turbo-Fire" V8
As always, the "Super Turbo-Fire" V8 was available in both carbureted and fuel-injected forms when it was released in 1957.
Like the Chevy 210, the 150 was discontinued in 1958 and was replaced by the Delray. However, despite it being the cheapest of the Tri-Five models, the 150's legacy exceeded expectations. In fact, its association with drag racing led to it being used in the 1973 George Lucas film "American Graffiti." In the film, Harrison Ford's character, Bob Falfa, drives a Chevy 150 while drag racing. This legacy ensures that it remains valuable to Tri-Five enthusiasts today.
4 Tips for Buying a Chevy Tri-Five
If you wish you could buy a Chevy Tri-Five car today, you're in luck. They may not be produced anymore, but there are still plenty around from the 1950s. There's a whole market for Tri-Five cars, and it's not just for elite buyers. If you know what to look for, you can find some good options for a surprisingly low cost. Here are some tips to keep in mind when shopping for a Tri-Five car: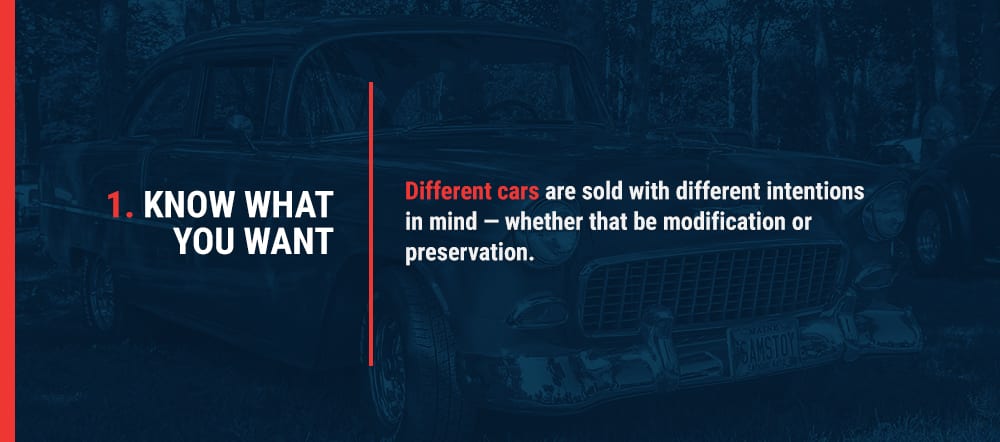 1. Know What You Want
The first thing to determine is the application you have in mind for your Tri-Five car. Do you want to have a perfectly restored model that looks like it came off the 1957 assembly line? Or do you want a less expensive project car that you can restore and modify yourself? Depending on what you're looking for, you'll need to keep an eye out for different things. Different cars are sold with different intentions in mind — whether that be modification or preservation. Aim to find a vehicle that best fits your needs and intended application.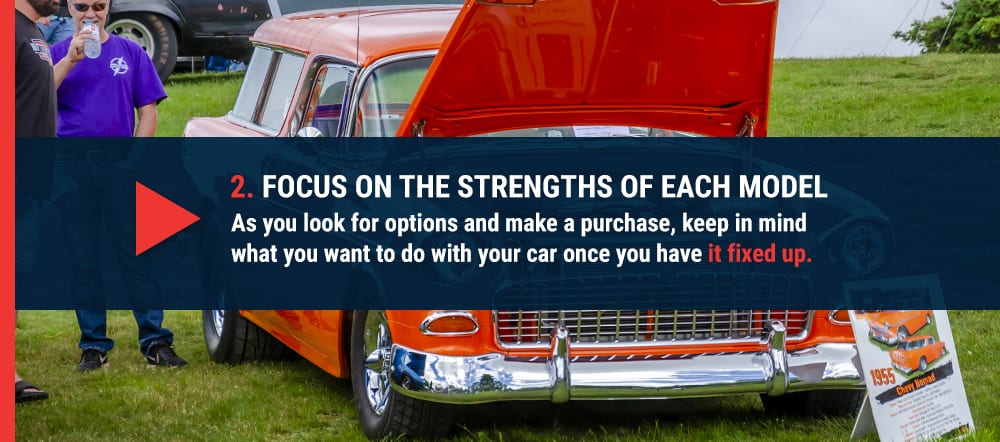 2. Focus on the Strengths of Each Model
As you look for options and make a purchase, keep in mind what you want to do with your car once you have it fixed up. Whether you plan to modify it or not, you know a station wagon will give you more storage space than a sedan. If you don't plan on modifying it, you can bet that a Bel Air in good condition will look nicer than a 150.
While you look around, consider how you picture yourself using the car. If you plan to use it for road trips with lots of baggage, a Nomad might be a good investment. If you want to use the vehicle for drag racing, you'll likely want to choose a 150. Each model has advantages that may be more valuable to you depending on your end goal.
3. Know Where to Look
You probably won't have a hard time finding a Tri-Five dealer. With the help of your favorite search engine, you can have a whole list of dealers and other marketplace sites displayed for you in seconds. Even without using the internet, Tri-Fives aren't too hard to find. There's no shortage of classic car dealers, and a regular dealer or car shop can probably point you in the right direction.
The great news here is that you can afford to be picky. Do some initial research on which dealers are reputable before you start getting serious in your search. If you find an option that fulfills some of your goals but not all of them, keep looking to see if someone else has a better option.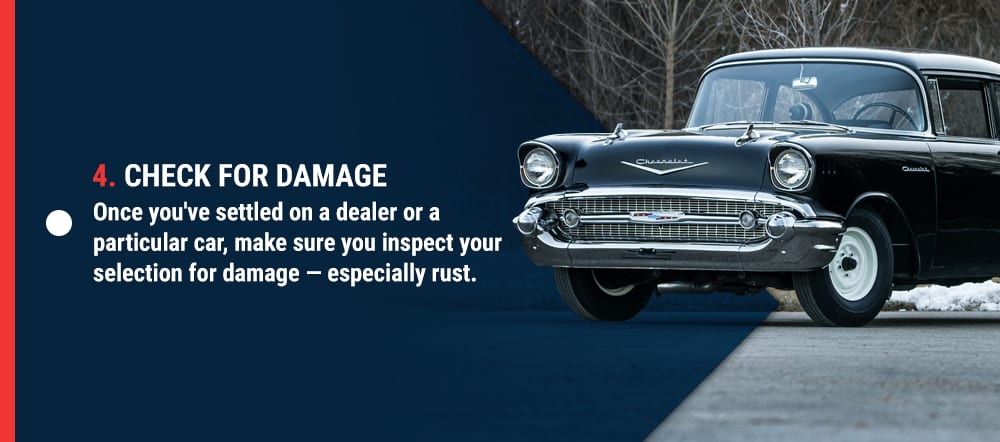 4. Check for Damage
Once you've settled on a dealer or a particular car, make sure you inspect your selection for damage — especially rust. Old cars rust very easily, even restored ones, and you want to be aware of any issues before you sign on the dotted line. Take special care to look in areas where water might accumulate after a rain, like the floor braces. Look for signs of body work or a quick paint job that may be covering up damage or corrosion. If you're looking for a project car, a lot of times you're better off finding one that is rough but hasn't been touched, versus one that looks nicer but was done quickly and poorly.
Shop Chevy Tri-Five Parts Online
Once you have your Tri-Five car, there's a good chance you'll want to make a few modifications — more than a few, if you plan on improving it. But where can you find new parts for cars that were manufactured 70 years ago? Look no further than Raybuck Auto Body Parts. We offer a wide variety of Tri-Five replacement parts to help you complete your project. To get started selecting the parts you need for your classic Bel Air, Nomad, 210 or 150, browse our selection or get in touch with us today.